13 (+2) best NPS tools in 2021
Our list includes 13 + 2 best NPS survey tools, which will be introduced more thoroughly in the upcoming sections:
Trustmary
Promoter.io
Delighted
Lumoa
Hotjar
Retently
Nicereply
Survicate
SurveySparrow
Wootric
Qualtrics
SatisMeter
YesInsights
Reveal by Omniconvert
Zonka Feedback
Let's get started with the descriptions.
1.Trustmary
Trustmary's core business is collecting and showcasing testimonials, but Net Promoter Score measurement is included in its Pro package.
With Trustmary, you can:
get more feedback (NPS, CSAT, CES, open feedback)
find happy customers from your customer base, and
convert more sales with the reviews you get
Trustmary offers ready-made survey templates for measuring NPS and other common customer satisfaction metrics, as well as simple automation options for asking more questions from detractors.
You can switch it up by using a chatbot NPS survey or collecting open feedback in video form.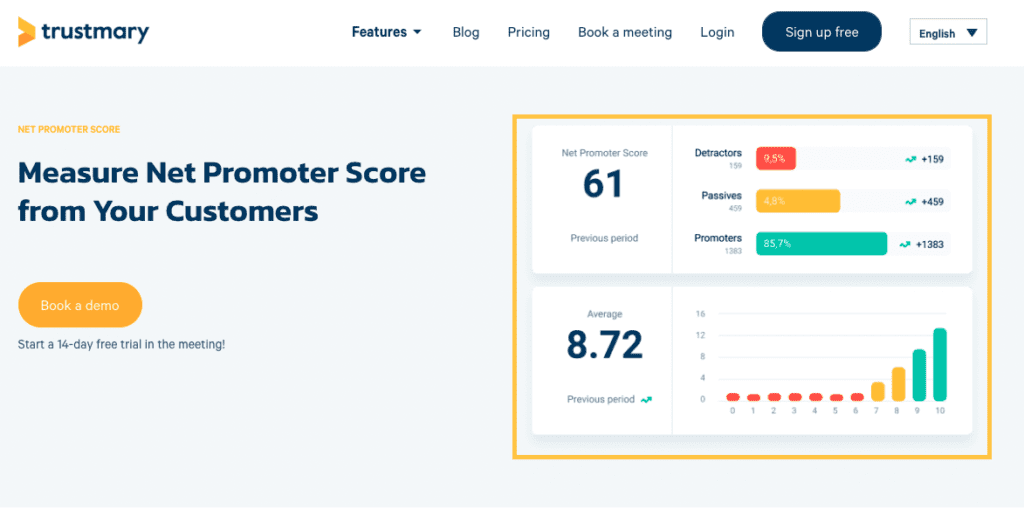 Pros:
Cons:
Some difficulty with segmenting NPS surveys
Pricing:
Starting from $299/month.
2.Promoter.io
Promoter.io is an NPS software tool that helps you gather customer feedback using the Net Promoter System. It allows automatic scheduling, drip surveys, customer segmentation, lifecycle NPS measurement, and a lot of other useful features.
If you are looking for a comprehensive solution, it is definitely something you should try. You can start a free trial first and see if you like it.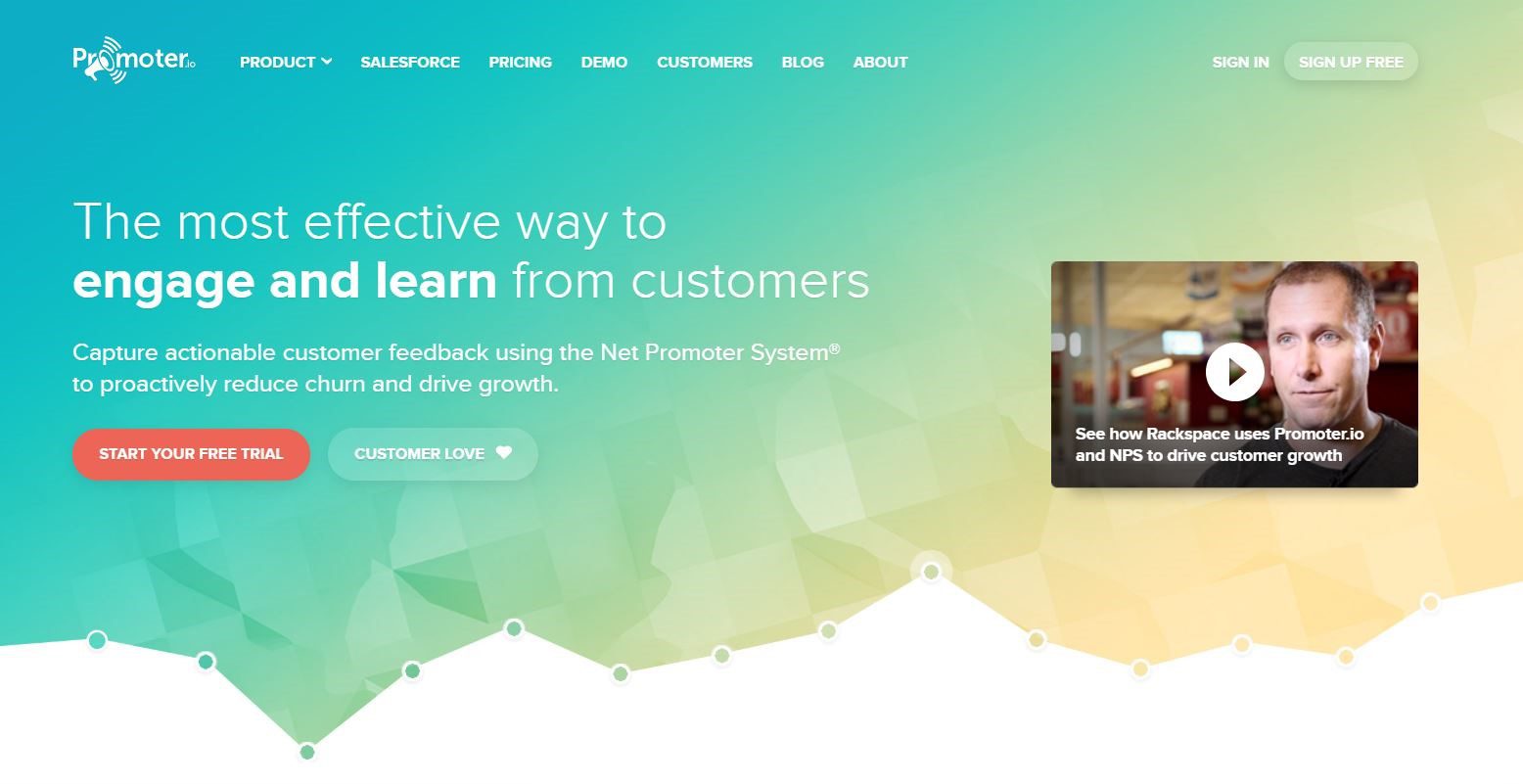 Pros:
Specialized in NPS
Segmentation
Scheduling
Cons:
Not the simplest tool
Focuses especially on NPS, limited in that sense
Pricing:
3. Delighted
Delighted is a customer feedback collection and survey tool that includes NPS.
NPS is just one of the measurements it has, but you could argue it is the most important one. It has quite comprehensive integrations, a lot of automatization for NPS measurement and analytics, and a lot of other cool stuff.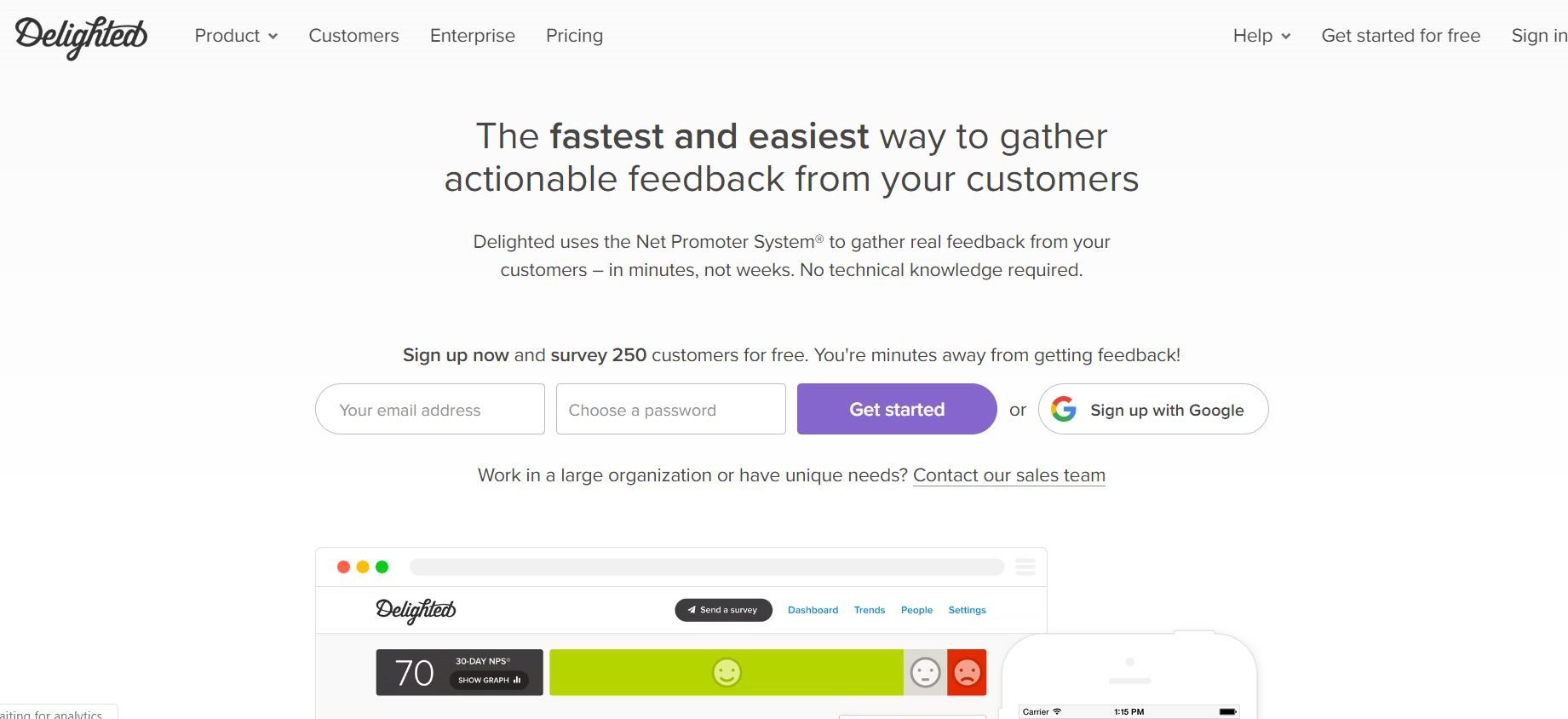 Pros:
Integrations (though not all of them work super well, based on reviews online)
A lot of different metrics aside from NPS
Specifically made for measuring customer experience
Cons:
Focus extensively on customer experience
Measuring NPS across multiple product lines, not the easiest to implement
Pricing:
4. Lumoa
Lumoa is an AI-powered Customer experience platform that helps you automatically track and act based on customer insights. It is still a relatively small startup compared to the biggest ones on this list but developing quickly.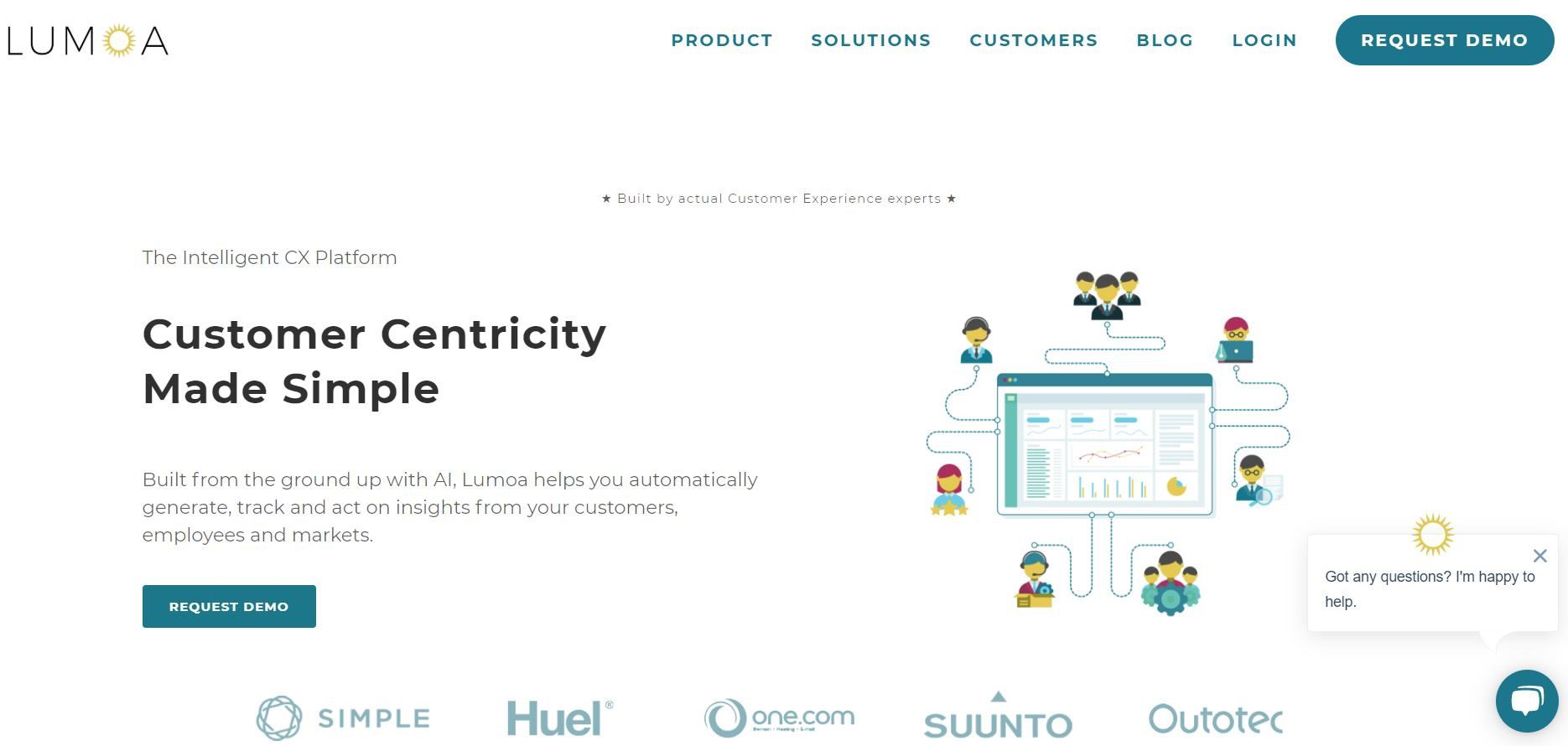 Pros:
AI based translations to gain insights from different languages
Fast implementation
Developing quickly based on customer feedback
Cons:
Misses many nice to have functionalities bigger tools have
Pricing:
5. Hotjar
Hotjar is the tool on the list that no one really thinks of as an NPS tool. As NPS is just a small part inside of it, most don't even use it.
Hotjar is probably most well known for heat maps and screen recording functionalities.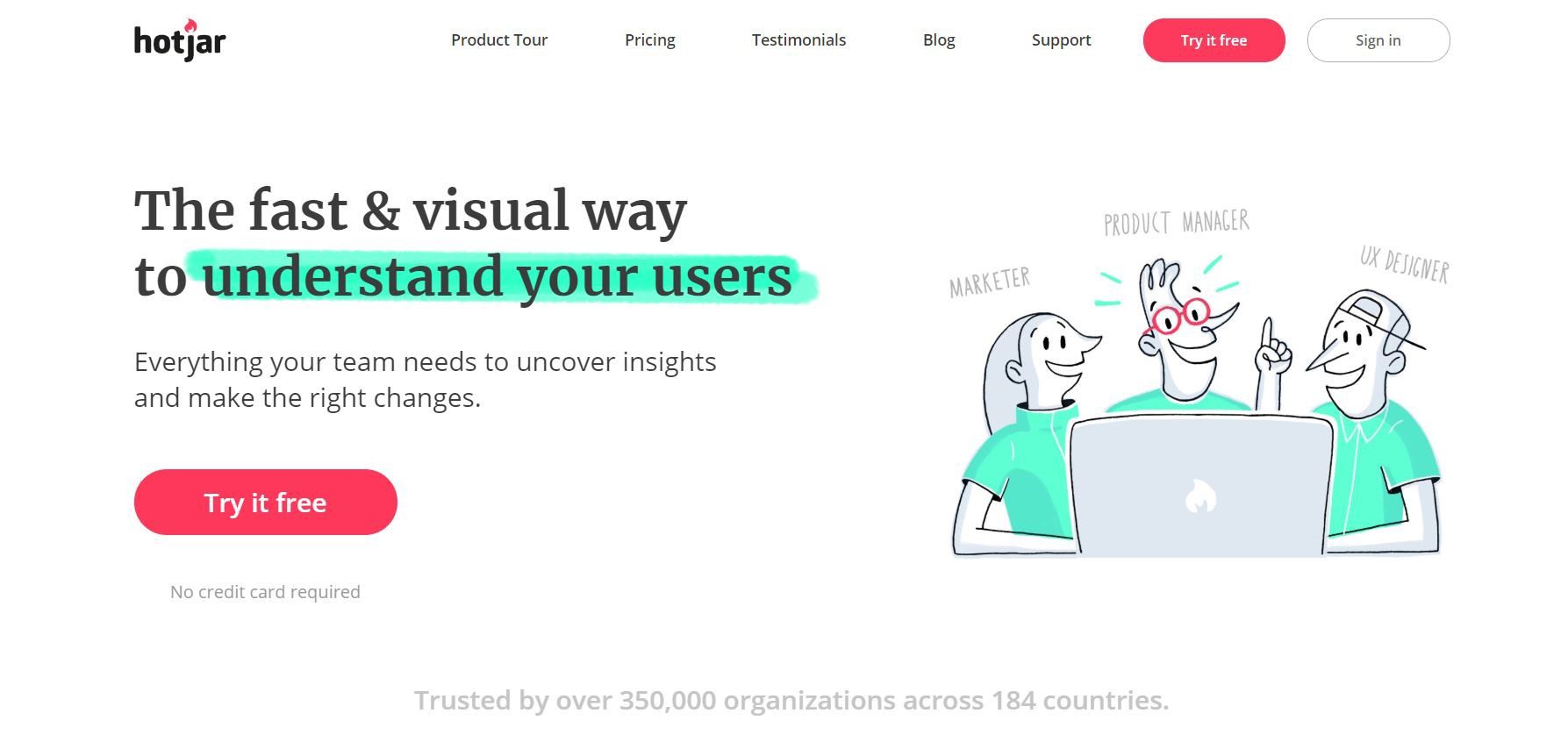 Pros:
Has a lot of other features aside from NPS surveys
Allows you to gain also practical insights on what the customers do, instead on what they say they do
Cons:
Not specifically made for NPS measurement
Missing a lot of features related to analyzing and segmenting NPS
Pricing:
6. Retently
Retently is a software that focuses especially on NPS, and they do it well. Outside of Net Promoter Score it does not do a lot and does not necessarily allow you to customize things you would like to.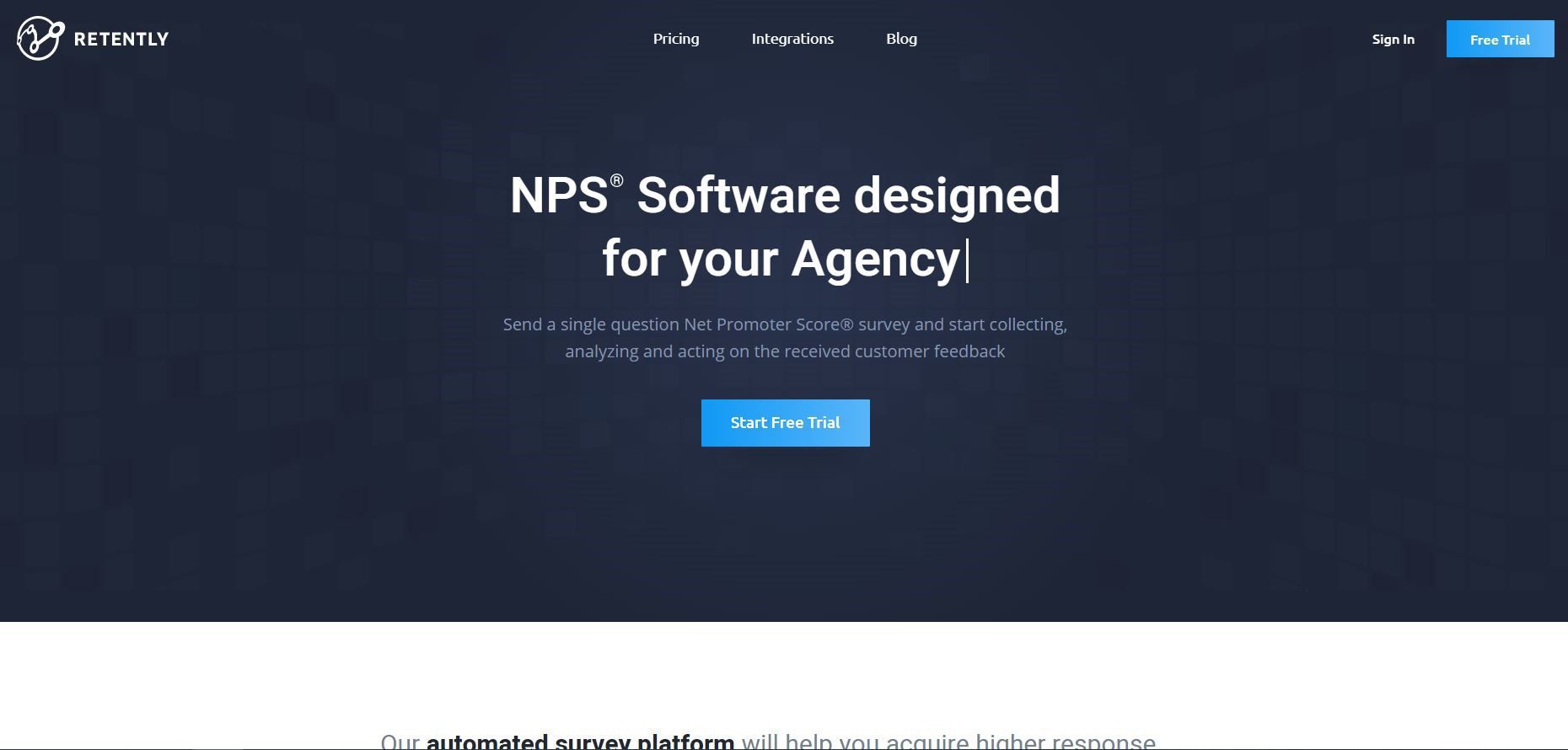 Pros:
NPS Measurement
Ease of use
Cons:
Not very flexible outside NPS
Pricing:
7. Nicereply
Nicereply helps companies get more customer feedback with Customer satisfaction score (CSAT), Customer Effort Score (CES) and Net Promoter Score (NPS).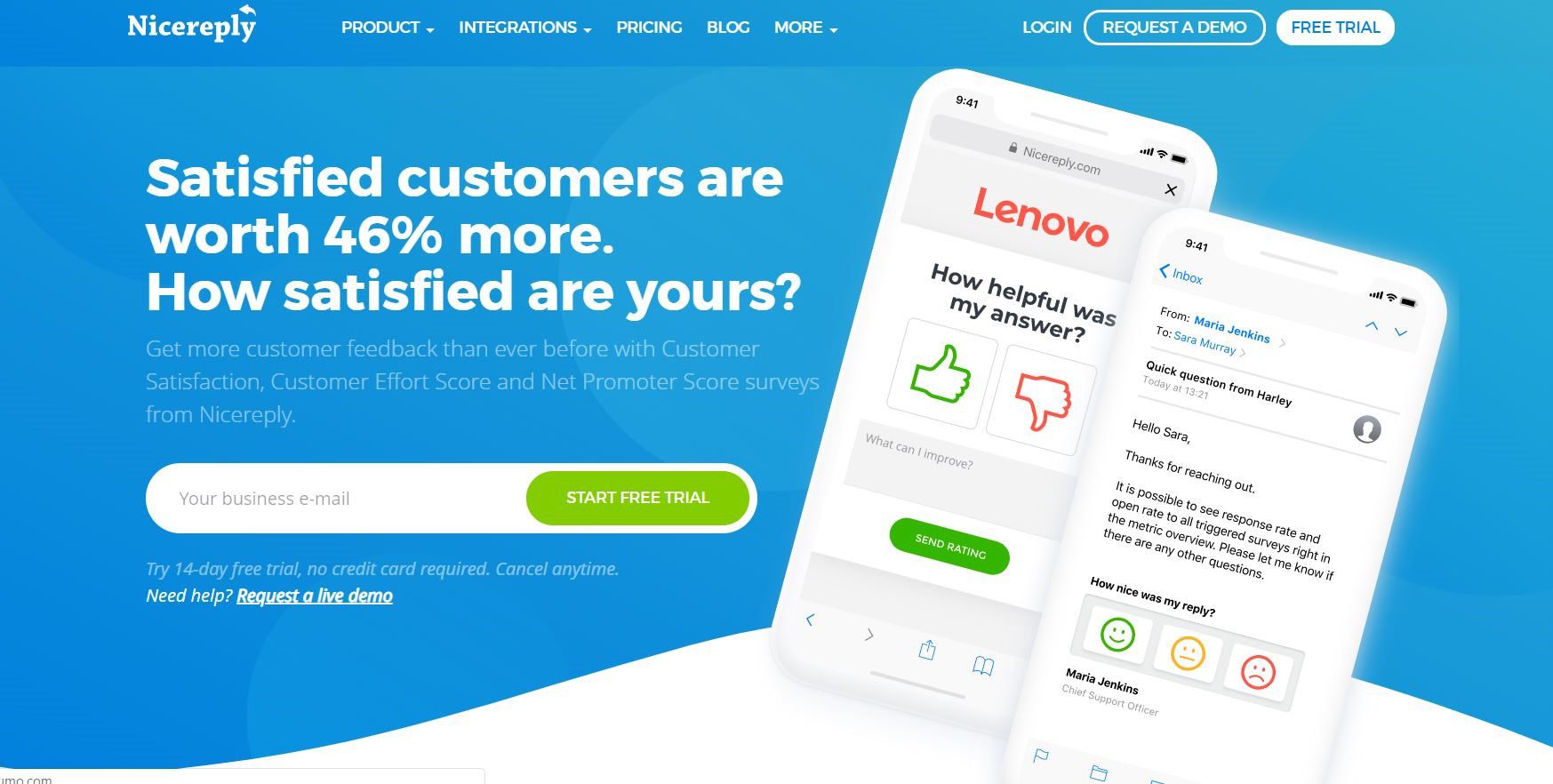 Pros:
Easy of use
Reward features
Pricing
Cons:
Not the most intuitive to use
Limited outside the key features
Pricing:
8. Survicate
Survicate is a survey and NPS software tool that allows you to send surveys by email, chat, or with links practically in any channel. It also allows targeted surveys on websites and different apps.
The free plan includes 100 surveys per month.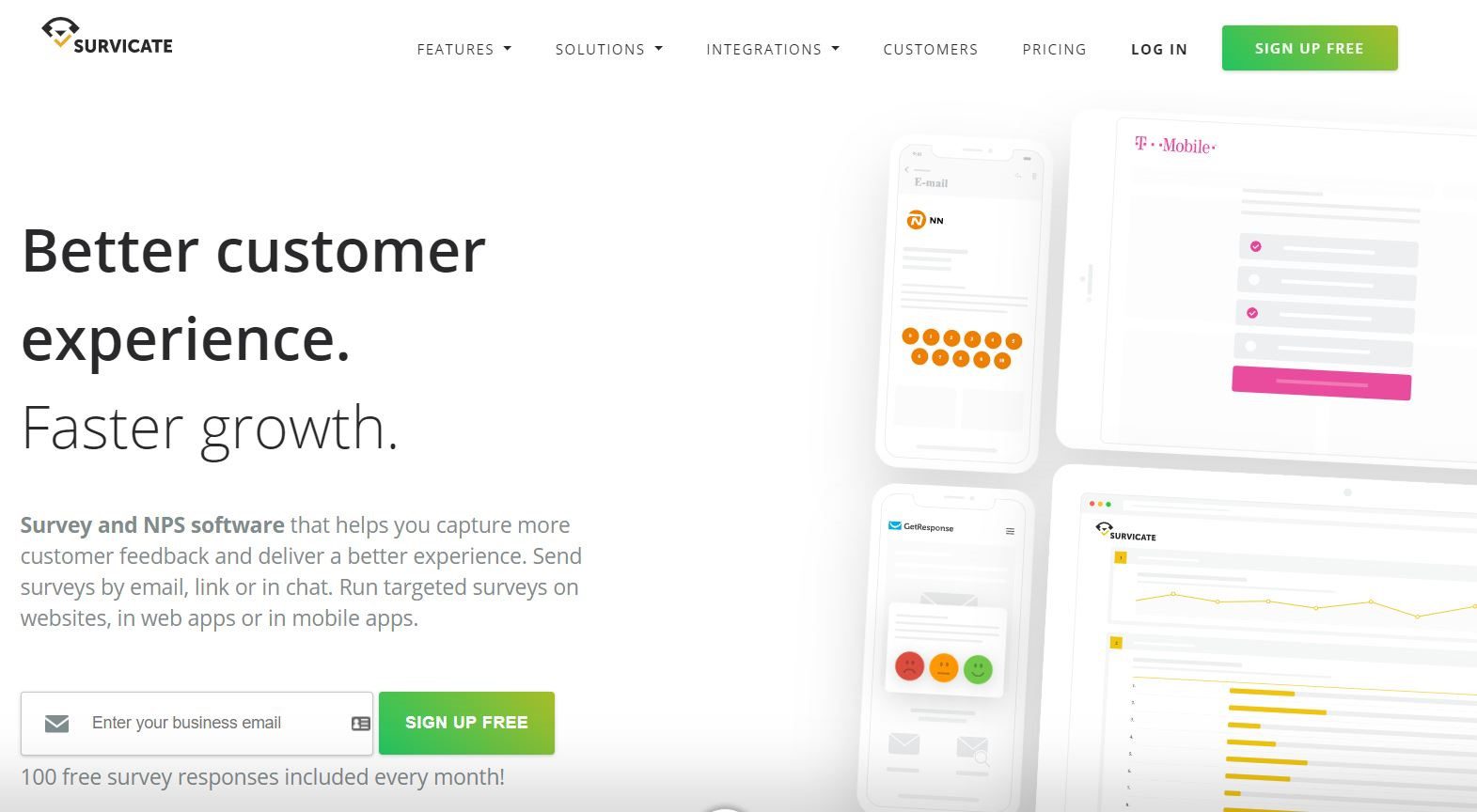 Pros:
Free version
Easy to setup
Surveys
Cons:
Hard to navigate all answers
Pop up surveys can be irritating
Pricing:
9. SurveySparrow
SurveySparrow focuses on surveys as its name says. NPS is one form of measurement it allows.
It also helps you predict trends and develop smarter plans.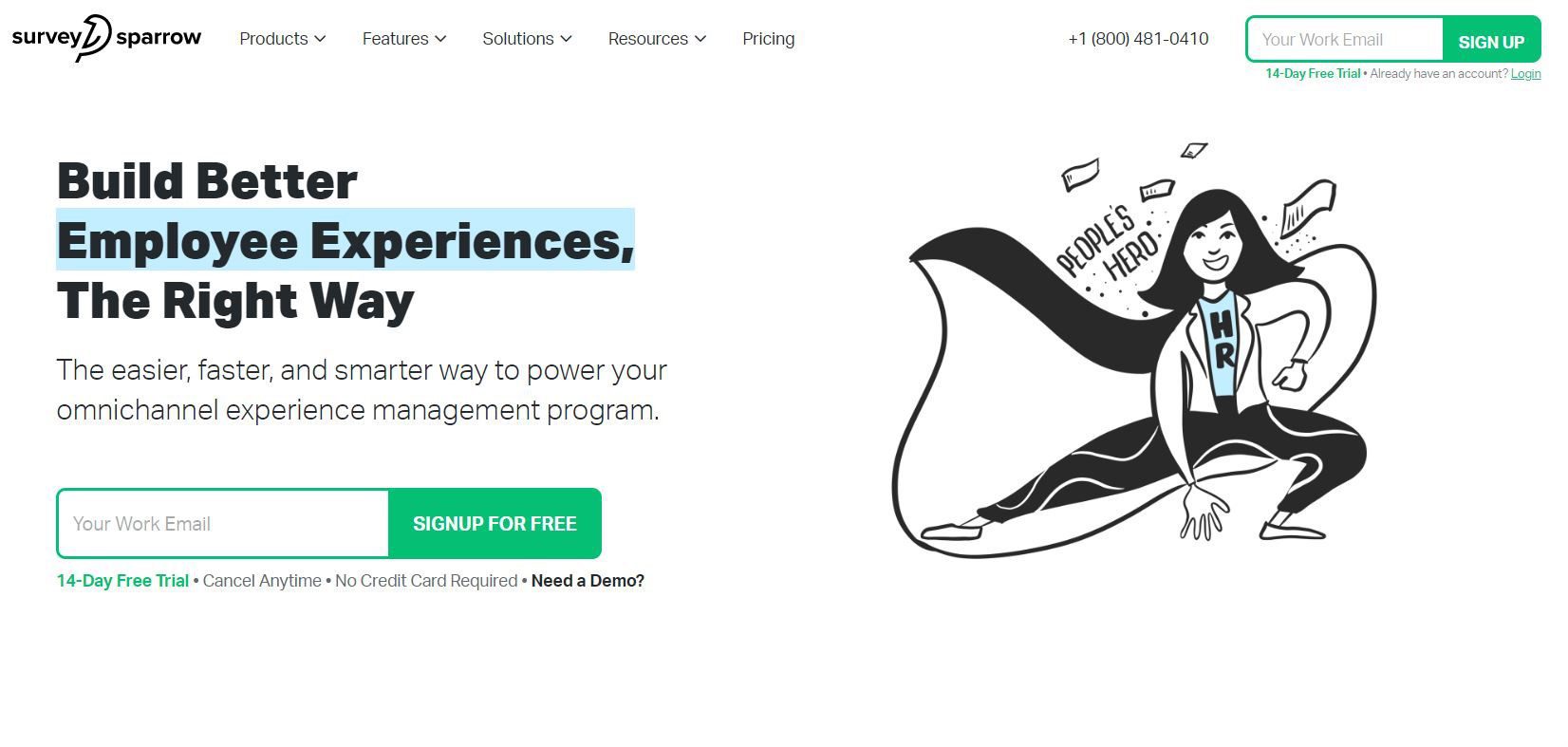 Pros:
Open integrations
Chat based surveys
Comprehensive survey options in general
Cons:
Some people have trouble with customer support
Lack of email marketing features (reminders etc)
Pricing:
10. Wootric
Wootric is a machine learning-powered platform for gathering insights from customers and employees. With it, you can gain insights from different parts of the customer journey.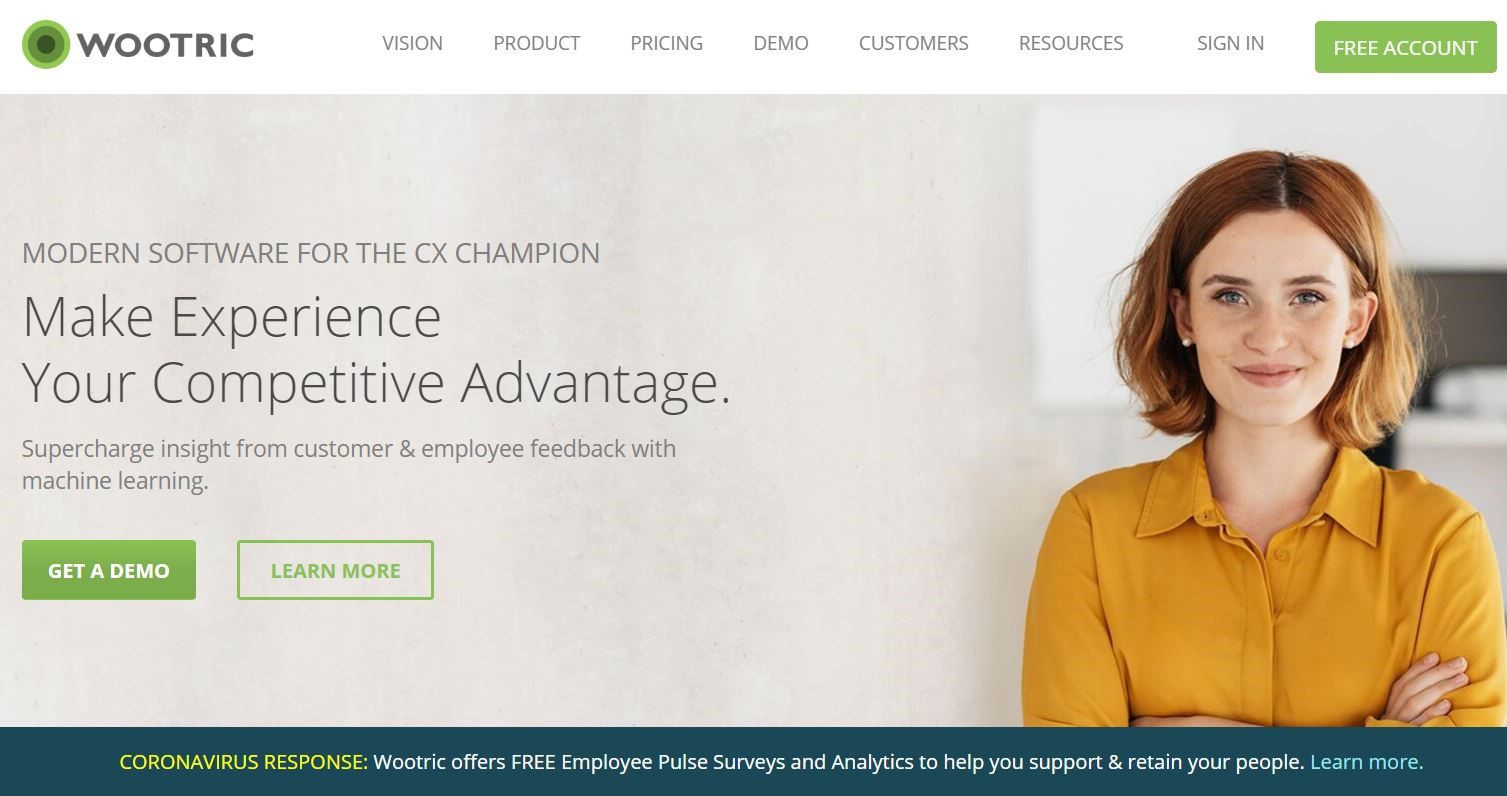 Pros:
Integrates with systems like Intercom, Hubspot and Salesforce
Not too complex, but has most of the functionalities you need
Cons:
Tagging not very intuitive
Interface in general not the best
Pricing:
11. Qualtrics
Qualtrics is one of the biggest players in the field and is mainly focused on enterprise-level customers, though it can be also used by smaller companies.
There are a lot of mixed reviews online about Qualtrics in general. Some love it, some hate it. Decide for yourself.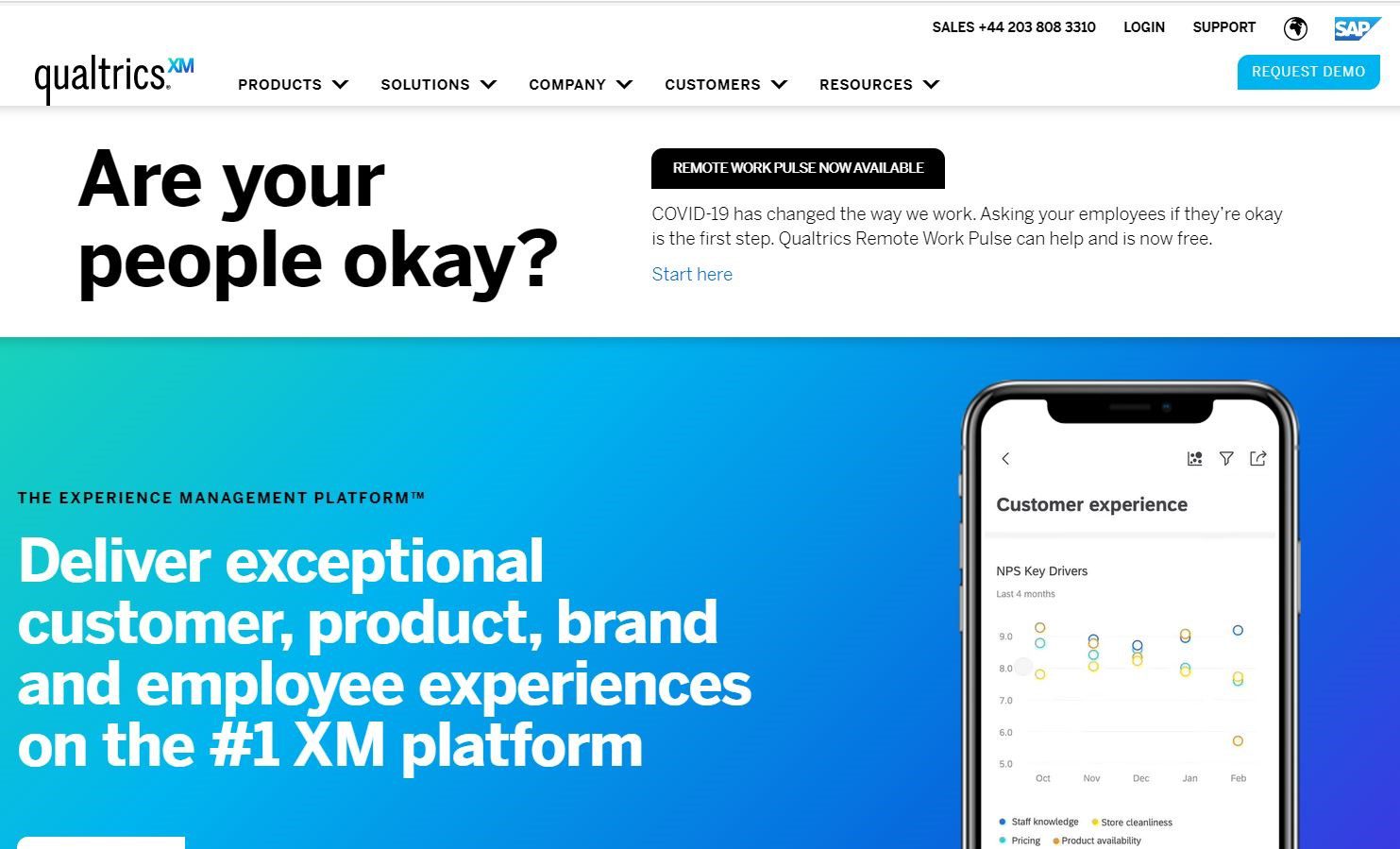 Pros:
Cons:
Customer support slow to respond
Not very flexible
Can be expensive
Pricing:
12. SatisMeter
Satismeter is "the simplest NPS tool on the market", as they say. It is pretty clear what they do well and who they don't fit.
If you want to simply measure NPS, this tool is alright. If you want something else also, probably not the right fit for you.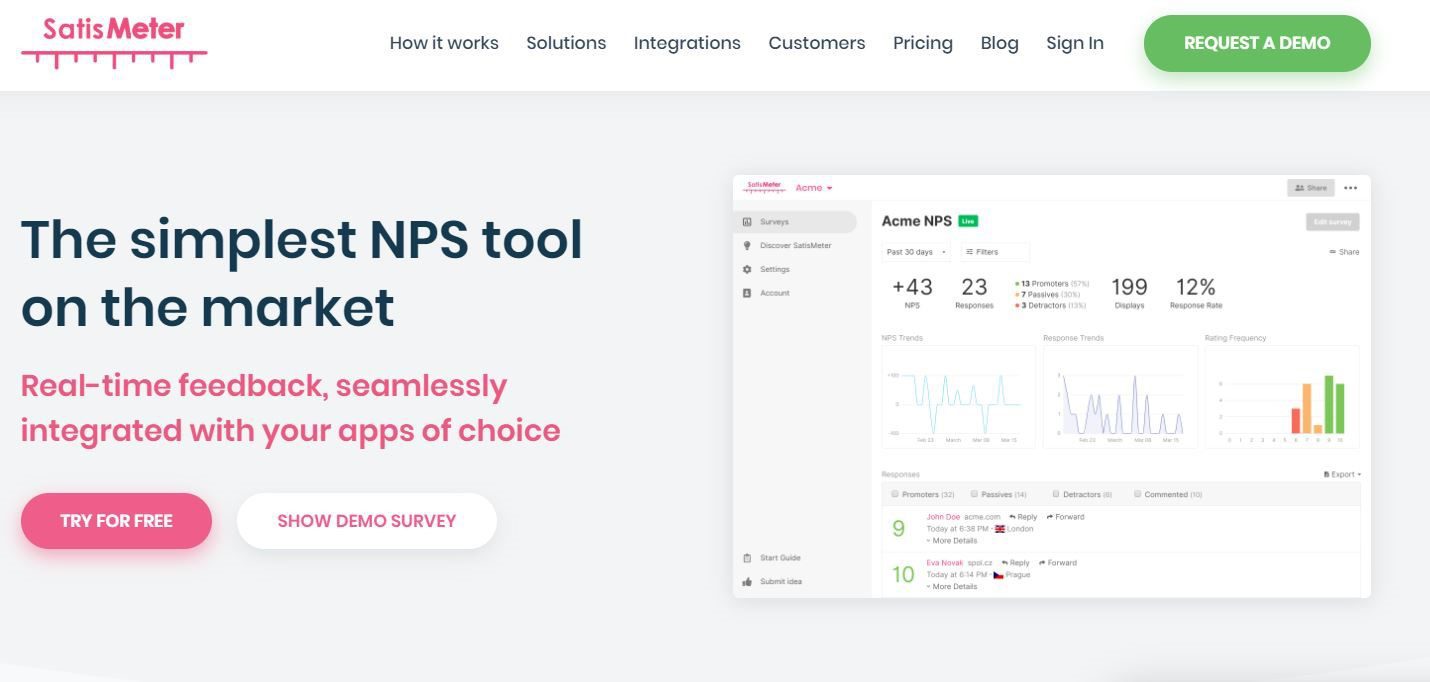 Pros:
Good for simple NPS measurement
Simple to use
Cons:
Does not have any extra functionalities
You probably need separate tools for different functions
Pricing:
13. YesInsights
Yesinsights is a tool that allows you to create simple one-question surveys including NPS surveys.
YesInsights focus on just getting an answer to one question is limiting, but also good in some cases. If you don't want anything extra, YesInsights is definitely an option.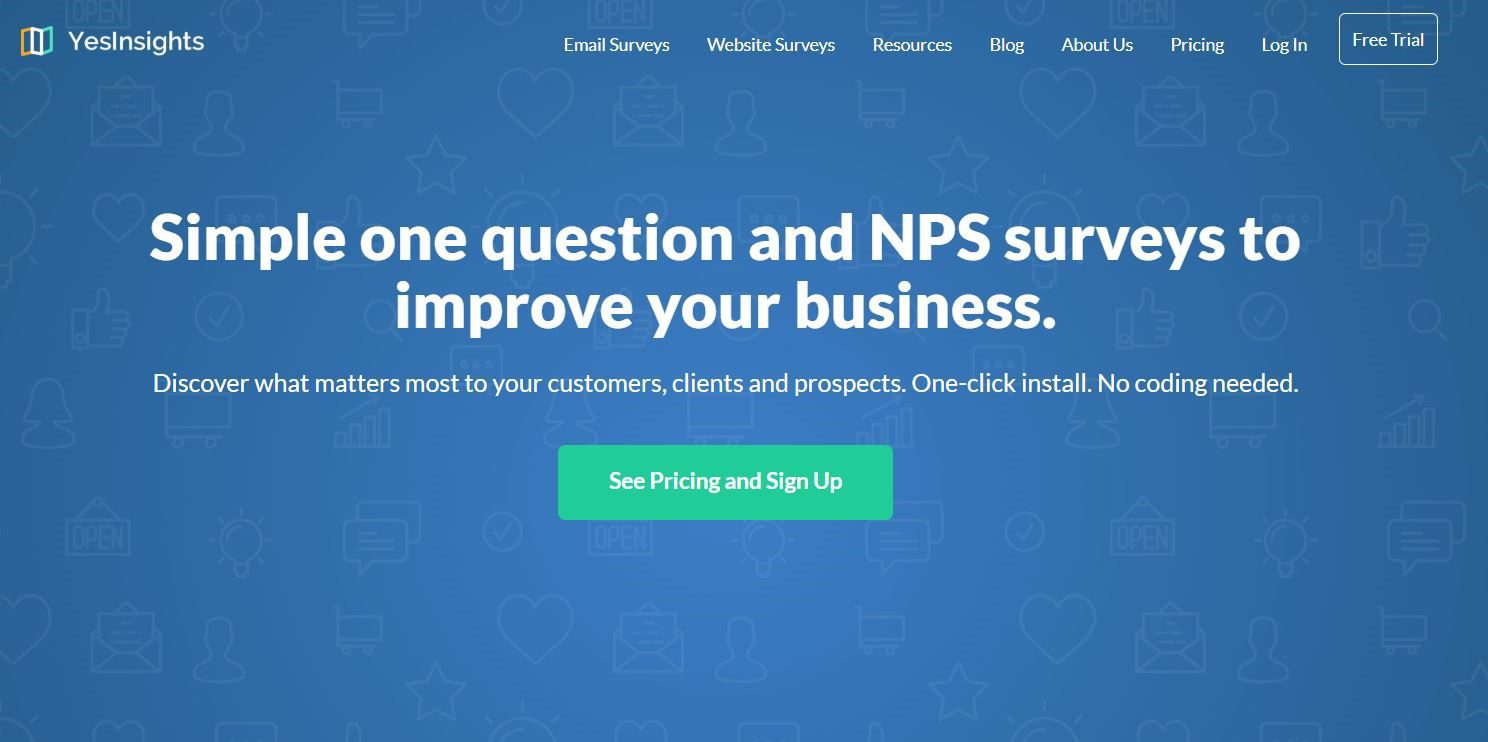 Pros:
Simple
Email surveys
Website surveys
Cons:
Does not have a lot of extra functionality like sms…
Pricing
14. Reveal by Omniconvert
Reveal by Omniconvert is the first Customer Value Optimization Platform for Shopify merchants. Reveal is the only software that tracks NPS pre and post-delivery, and by doing so, it exposes accurate data about the customer experience within your store avoiding misleading NPS data and providing accurate analytics about your customers voice.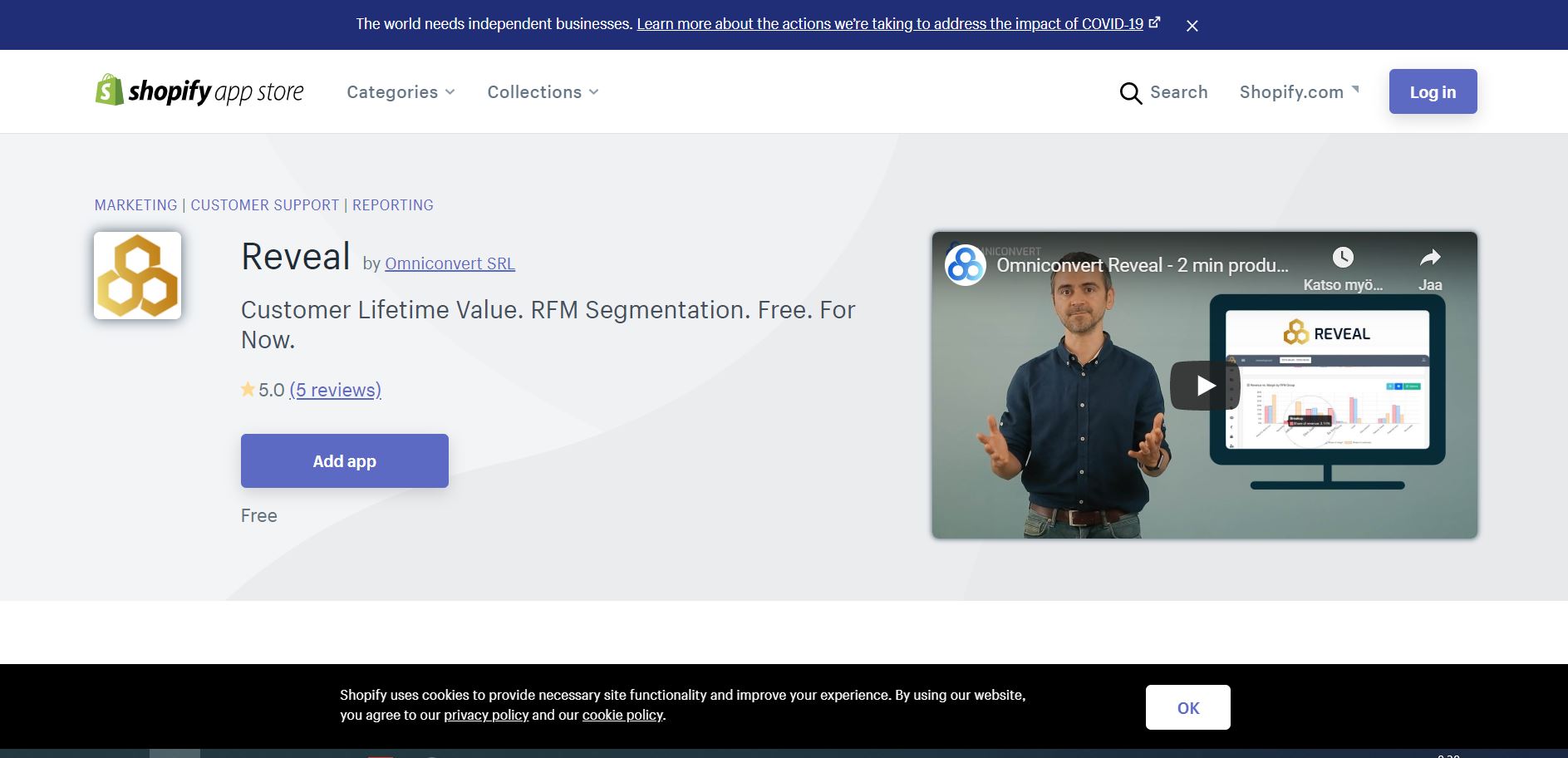 15. Zonka Feedback
Zonka Feedback, an award-winning customer feedback SaaS, can provide you with detailed NPS reports such as Insights, Trends, Text Analysis, and more, as well as drill down and filter the reports and assign relevant team members to address any issue(s) raised by a detractor. This option is critical for taking action, resolving issues, and closing the feedback loop in order to improve the customer experience.

Pros:
Get customer feedback via NPS, CSAT, and CES.
Create your surveys in less than 5 minutes.
Cons:
Limited background options.
Pricing:
The paid plan starts from $24.