1. Celebrity Social Proof
It is also known as celebrity endorsement and is one of the most powerful social proof types. People follow celebrities, idealize them, and take their suggestions very seriously. Research shows that content posted by celebrities and influencers get 8x more engagement than branded content.
Kirstie Alley worked with Jenny Craig and shared her story of how she lost 50 pounds with the program. Jenny Craig shared the story on Facebook to drive engagement and generate leads: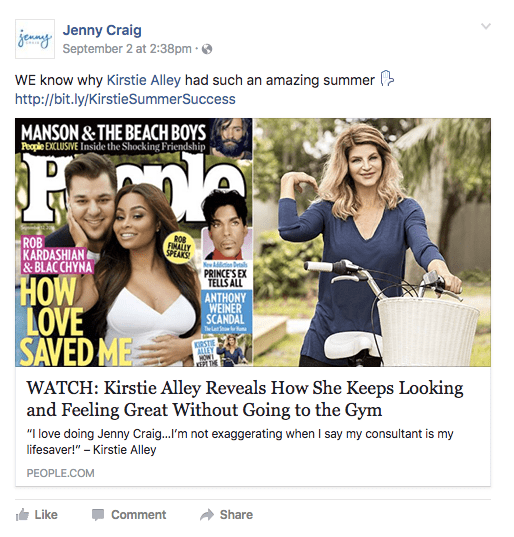 When a celebrity endorses a product or a brand, not only celebrity's followers and fans will interact with the brand but people, in general, develop an affiliation with the product. They assume it to be worth trying since a famous person tried and endorsed it.
2. Customer Testimonials
Customer reviews, ratings, and testimonials work great as social proof. Statistics show that 91% of millennials trust online reviews personal recommendations and 61% of customers read online reviews before making a purchase.
Why not provide them reviews in your Facebook ad?
Here is an example from ad network Infolinks that shared a customer testimonial showing publishers how easy it is to earn money by monetizing their website with Infolinks: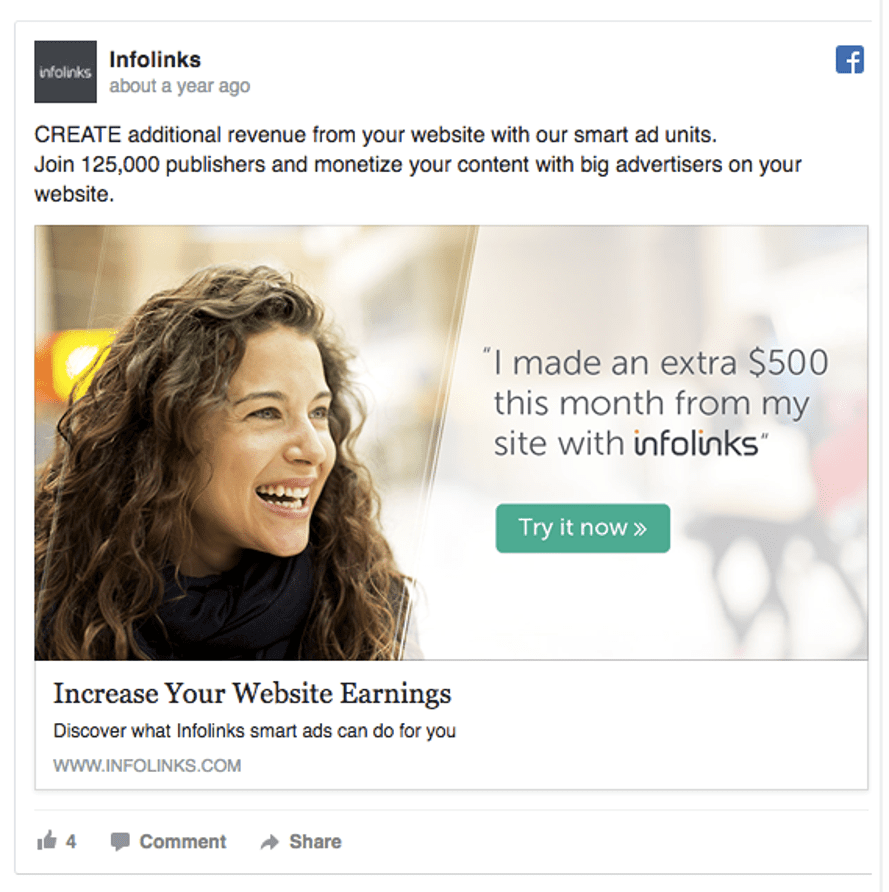 Testimonials and reviews by existing customers persuade potential customers to act in the same way. It helps in generating leads and sales. Additionally, when you use customer testimonials in Facebook ads, potential customers don't have to search for reviews anywhere else.
Nothing works better than customer testimonial social proof Facebook ads.
3. Customer Count
Sharing customer count, user base, and the total number of clients served is another widely used social proof Facebook ads technique. This instantly gives a signal to your target audience that your business is authentic and credible. They believe that if several people have already used your product, they must be right.
Sharing customer count isn't just limited to Facebook ads rather brands do it everywhere. Ever saw McDonald's golden arch that stated over 99 billion served?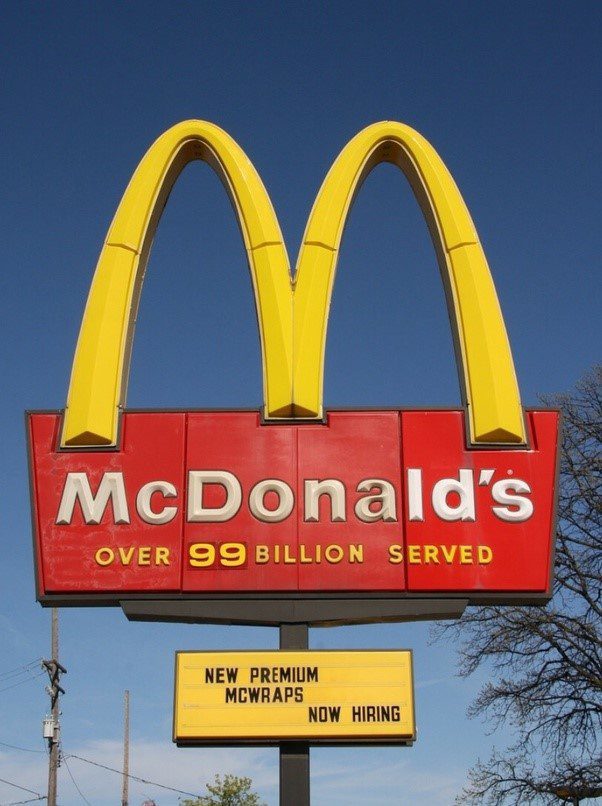 The same technique works well with Facebook ads. AdEspresso used fowling ad that stated 15000+ downloads in 2 months: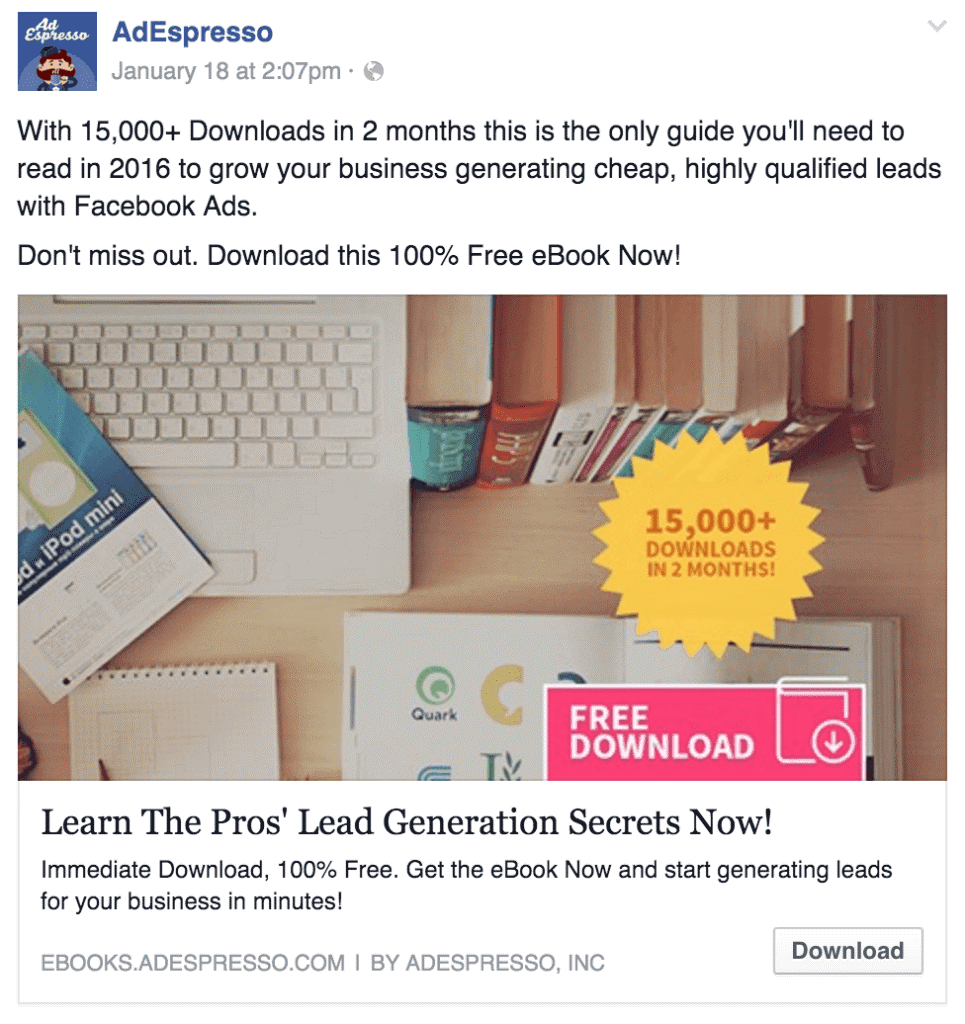 Adespresso used several ad variations to test what type of ads work best and it turned out that Facebook ads with rounded social proof work better than exact numbers. It doesn't really matter whether you use an exact number or a rounded figure, the idea is to use your customer count in Facebook ads as social proof to take your campaign to the next level.