How To Build A Content Strategy That Generates Leads
1. Establish a buyer persona
You can generate leads when your content appeals to your target consumers. Before creating any content, establish a deep understanding of your ideal buyer. Without it, no amount of content marketing can successfully bring the right leads.
Here is a customer avatar of your ideal consumer. This will serve as an overview of the real people in your target market.
Create a buyer persona for each different audience you are targeting. This will help you appeal to a broader set of potential clients.
Source: Impact Plus
In this example, a coffee shop is looking to fully understand its young customer base. It lists the daily customer's background, daily routine, brand associations, behavior, and buying preferences. This detail helps coffee shop owners understand the problems and humanize their marketing strategy accordingly.
A blend of a consumer's demographics and psychographics can help you gather pertinent information.
Examples of information to include in your buyer persona are
Gender
Income
Location
Profession
Goals and dreams
Pain points
Favorite online channels
The aim of purchase
etc.
With this information, you create data-driven content and have the right content distribution strategy as you know where your audience hangs out.
In case you are just starting the journey. If you do not know your target market, consider investing in customer research tools like Facebook audience insights, MyBestSegments, Quantcast, etc., for deeper analysis and reports that include your custom audience's demographics and page likes, usage, purchase activity and more.
2. Choose your content types
While there are many different types of content, some can generate more leads than others.
For best results, consider including at least two primary types of content. One should be traffic-generating content, and the other needs to be focused on lead-generating.
Traffic-generating content
You can't generate leads without traffic.
Thus, this type of content is necessary to get more visitors to your website and grow the audience.
Top of the Funnel content has the potential to drive higher traffic, and it helps you build relationships with targeted audiences.
Here are some of the best types of content to get traffic:
Blog posts: Incorporate a mix of specific question posts, skyscraper posts, in-depth guides, and pillar content.
Videos: Using video content is an excellent way to drive organic traffic to your blog. Leverage platforms like YouTube, TikTok, Facebook, and Instagram to establish steady traffic for the long haul.
Infographic: Including these in blog posts encourages social sharing and visibility on Google.
Social media posts: Leverage the popularity of social media to grow your audience and get traffic to your website.
Newsletter: Creating and linking your newsletter to the website gets you direct traffic without relying on algorithms.
eBooks: List free downloadable eBooks on your website.
Some companies can generate many leads, even from ToFu content. Helene Fleischer, Content Marketing Manager at PolicyMe, says:
"Life insurance is a big decision for families, which means we do our best to educate them (in a human, non-dry way!). We emphasize our content experience with an engaging, mobile-first approach. SEO is equally important to us, though, and is the biggest lead generation driver of all of our marketing channels–in the last 12 months, we've seen an increase of 49% in conversions."
Lead-generating content
Lead-generating content mainly comprises valuable resources. They are either Middle of the Funnel or Bottom of the Funnel content, ideally with medium or low search.
Even though the traffic potential is not vast, the search intent is high as a user is looking for a potential solution to their problem.
Lucile Borgne, the Inbound Marketing Manager at Upflow, says:
"We primarily on high-intent keywords. Those are naturally more difficult and hence take more time to rank for. The good news is once you start ranking, the leads generated convert much better into opportunities."
The lead generation resources are called lead magnets. People don't like giving their emails, so you have to incentivize them with lead magnets. You cannot avoid it if you want to generate good leads.
Some lead-generating content includes
Checklists, tools, or resources lists
Discounts and coupons
Free trials
Webinars
Mini-courses
Quizzes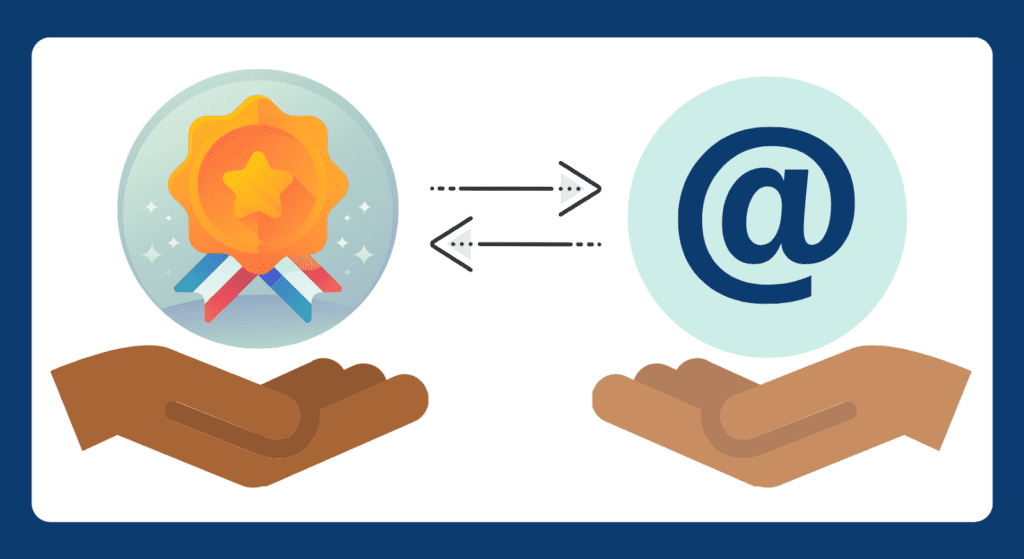 3. Determine your distribution channels
Now that you have chosen the type of content you want to work with for lead generation, you need to choose the right distribution channels.
Primarily there are two channels — organic and paid.
Organic channels
The organic channels are a good option if you are on a tight budget.
However, organic traffic needs time and effort. You will not see immediate results, but they are great for long-term growth.
Here are some channels you can use to drive organic traffic:
Search engines
YouTube
TikTok
Quora
Reddit
Social media
Newsletter
Pick a channel according to your audience research that shows where your target audience hangs out the most.
Paid Distribution Channels
Paid channels demand considerable investment. However, these channels are quicker than organic in bringing traffic to your website.
You can purchase a few ads, and your traffic can soar within hours.
Here are some popular paid distribution channels:
Social media ads
Google Ads
Niche influencers
Sponsorships
4. Map out your content plan
You now have your buyer's profile, content type, and preferred content distribution channels.
Next, you need to compile it and strategize a content plan that's thorough and cohesive.
This does not mean you only focus on keyword research. Instead, an important step here is to draw a roadmap on how you will carry out content marketing for your brand. It should detail your overarching goals, brand message, and narrative.
Source: Twitter
Your content plan should describe details like what content you will publish, the frequency of content creation and publishing, by whom, etc.
Build a dedicated team. Decide and layout information like how many days per week you should post blogs, the best time to offer webinars, and how often you will promote on social media.
Here, creating an editorial calendar will help you map your blog posts, newsletter content, case studies, social media posts, and TikTok videos and keep track of the chronology.
Remember, your plan should clearly define the critical stages of your editorial pipeline and the platforms you will be cross-promoting it on.
5. Create content with buyer search intent in mind
With the Helpful Content Update, Google rewards content that gives users a satisfying experience.
Creating content that users are interested in provides better visibility on Google and higher conversion.
Your resource hub content should focus on educating your audience.
Keep search intent in mind while creating content to ensure it reaches your targeted audience.
You can do this by targeting high-intent and low-competition long-tail keywords to increase the visibility of your content piece since they will have lower competition.
In the above example, you'll notice the use of the 'informational keyword.' It indicates the user is looking for a technique to cover the Tattoo. Removery, the tattoo removal company, created informative guides on a step-by-step process of covering up the tattoo.
As the content matches the search intent, Google rewards by ranking at the top. The user learns the process and examples, making things easy to learn and implement.
Even though this keyword isn't Transactional, content that shows a step-by-step process to solve the problem and how it can be done with your tool will lead to conversion.
Ensure the content is updated using long-form evergreen content, exit pop-ups, and other lead magnets.
6. Create lead magnets
We have discussed that a lead magnet is a non-negotiable part of any content marketing plan. While creating effective lead magnets, here are some qualities you should keep in mind:
Solves a real problem: Lead magnets such as chatbots must solve the problems a typical buyer faces by providing help and addressing any queries they may have.
Promises one quick win: Your lead magnet should provide one thing your ideal customer can quickly achieve, such as an email subscription pop-up for frequent offers and events.
Extremely specific: Lead magnets should never have a general topic. The more specific your content is, the better your conversion rate gets.
Quick and comprehensive: eBooks or lengthy reports may overwhelm your prospects. On the other hand, checklists as lead magnets do well because they are easy to read and understand.
Easily accessible: People love instant gratification. If your audience can't access your lead magnet fast, they will feel frustrated, and your strategy may not work. This is why savvy businesses add pop-ups on their high-traffic pages.
Shows your expertise: Whenever a person goes through your lead magnet, it should showcase your unique value proposition.
For example, Nerd Fitness is a platform for creating custom workout regimes. To attract the ideal customers, they publish self-help guides for fitness enthusiasts looking to level up their fitness. Their informative guides give away downloadable free tools, weight loss checklists, and diet plans using lead magnets. These are warm leads for Nerd Fitness to nurture and convert into customers.
To create suitable lead magnets, you need ample information. A way to tackle this without overwhelming visitors is to have lead-generation forms on your website that address only pertinent information.
7. Optimize your content for conversions
Creating new content is not enough to generate leads.
Many SMEs find that strong keyword research with the right search intent and well-optimized blogs can increase conversions. So, it's important to use a paraphrasing tool to optimize your content that matches search intent and fits in the new conversations.
Implement the 'jobs to be done' (JTBD) framework to analyze consumers' requirements and how your brand can fulfill them. By empathizing with your customer's needs, you can create a solid strategy that addresses these pain points.
For example, your potential customer needs time-tracking software to strike a work-life balance. You can make them download your checklist or other resources by putting a pop-up for an email subscription. Next, you can nurture them via a chain of emails to finally drive a purchase.
8. Co-marketing campaign
You can also consider partnering with other brands with similar target audiences in your niche. This will help you expand your reach. Both companies would promote each other products or services through their respective content distribution channels.
You can leverage guest posts to write thought leadership blogs on high-authority websites in your niche. In the first 9 months of Buffer, their co-founder Leo Widrich wrote 150 guest posts that generated over 100,000 customers.
Other co-marketing would be a guest on popular podcasts in your niche, doing webinars, and co-writing eBooks with other brands with an audience.