With around 5 billion users, social media has already become a must-have for marketers. The large number of social media users provides a great opportunity to create brand awareness, which is instrumental in boosting traffic.
But you can also go a step further and use it to generate quality leads.
In a recent report, 68% of marketers confirmed that social media marketing has helped them generate more leads. However, this will only work if you use the right strategies.
This article discusses five of these strategies and delves further into how you can use social media marketing for lead generation.
Let's get started.
What Is Social Media Lead Generation?
Social media lead generation refers to the implementation of strategic marketing tactics that help you collect new leads on social media. In this case, a lead is any information you can use to identify and attract people interested in your services or products.
This information includes contact details, age, gender, interests, location, email addresses, and occupation details. You can then leverage these details in your lead generation process to target interested persons with relevant content and special offers. These are the things that can help you convert them into loyal paying customers.
How to Use Social Media Marketing for Lead Generation
There are various ways you can use social media marketing for lead generation. It's mainly also because there are many social media platforms you can use for this purpose.
That said, here are the platforms you can use for social media lead generation to ensure business growth.
Linkedin
Linkedin remains the most popular social media lead generation platform for B2B companies. Research shows that over 80% of all B2B leads generated over social media come from LinkedIn.
Linkedin provides a platform where professionals can easily interact. Brands can use their feeds and blog posts to establish themselves as thought leaders in the industry. It also provides a wealth of potential leads you can reach through in-mail prospecting messages to promote your products or services. You can also send them quick, personalized invitations to follow your page.
Don't forget about paid advertising on LinkedIn. It's a great way to promote some of your well-converting posts. If you're looking to maximize your advertising results, it's essential to have a solid LinkedIn bidding strategy in place.
Facebook
You can quickly generate potential leads on Facebook through on-page and off-page promotions.
On-page promotion allows you to create a customized Facebook page that gives a personality to your business, allowing people to relate to it. You can also have call-to-action buttons that outline your desired action, as shown below.
On-page promotion allows you to create a customized Facebook page that gives a personality to your business, allowing people to relate to it. You can also have call-to-action buttons that outline your desired action, as shown below.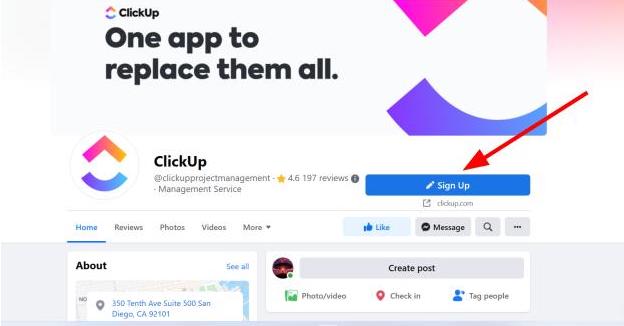 Off-page promotion allows you to promote your social media lead generation content on Facebook communities, groups, and other pages where your potential leads might be. This enables you to boost your organic reach.
Twitter
Twitter is more useful for promoting content that gains you quality leads. Research shows that 87% of marketers choose Twitter as a perfect content marketing platform for lead generation.
You can promote your content on Twitter by running contests requiring participants to tweet or retweet. This will help you introduce your business to new audiences who can be potential customers. Relevant hashtags will also help start conversations that boost your brand's awareness.
Instagram
Instagram allows you to use features like tags, hashtags, geotags, and user tags. These enable your social posts to appear in user searches. As such, they help grow awareness of your brand and lead prospects.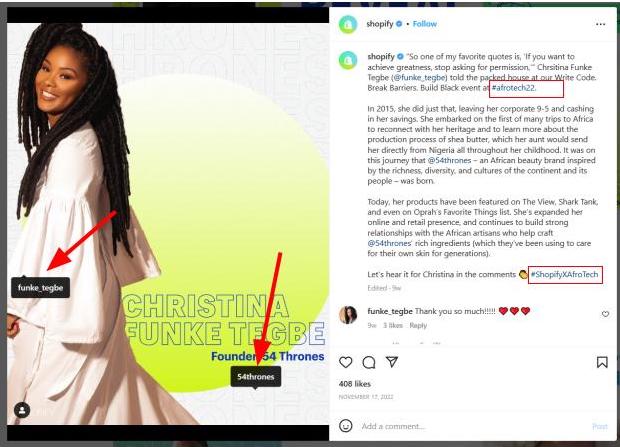 Include action buttons in your profile highlighting the desired action you want users to take.
Also, have your contact details and physical address on your bio so people can get in touch with your business efficiently. Alternatively, just add a link to your best digital business card with all the business details.
Finally, it's key to note that each platform also offers paid lead ads, promotions, and partnerships. These are also awesome lead generation strategies. We'll discuss them further in the next section.
5 Social Media Lead Generation Strategies
For you to generate social media leads that boost your business' growth, there are key strategies you must follow. Use one or more of these strategies for social media lead generation:
Use social media advertising
Social media advertising provides a hyper-direct way to reach your target audience. After all, you use tailored offers and content that get their attention. As such, social media advertising is a highly effective way of generating quality leads on social media.
The key social platforms—Instagram, Twitter, Facebook, and Linked— offer lead-generation ads that help marketers collect information on direct leads. This means that once the lead clicks on the ad, they don't have to move to a different landing page to fill out a form.
The ads come with pre-populated form fields (already filled forms based on the leads' profile information), and the leads get a response immediately, as illustrated below.
The leads collected on these form fields can be synced to your customer relationship management system (CRM) or downloaded for your sales team. This makes it easy for them to follow up.
But for your social media lead generation ads to work, you need to create targeted ads with equally targeted offers that capture your leads' interest. For instance, if you're a content marketing firm selling online courses on strategies like effective link building, you can offer an X% discount for those who complete your social media lead generation form.
You also need to ensure you set up sequential retargeting ads that re-engage the prospects you would otherwise lose. Ensure you set up your retargeting ads in a sequence for better results because then the ads keep pushing them forward on the customer journey.
For instance, if a lead clicks on an ad and scrolls through without completing the sign-up process, you can retarget them with an ad that provides social proof. This will encourage them to complete the signup process.
Offer valuable content
Valuable content also means different things to different audiences. So, how do you find what's valuable to your targeted audience?
The key is finding your target audience and identifying the relevant content to them. You can do this by understanding their demographic and psychographic characteristics. The demographic characteristics include gender, ethnicity, location, and social status. Psychographics, however, refer to factors like values, pain points, opinions, preferences, attitudes, and interests.
In short, the demographics explain who your buyer is. Psychographics explain why they would be interested in buying. Once you determine this, you can find the formats and types of social media content your target leads are more likely to engage with. Do this by:
Performing competitor research on your competition – This will help you find content ideas based on what's working for them. You can also find content gaps and create content that addresses them. Most of these social media insights have tools that allow you to track your direct competitors and others in the industry ethically.
Conducting surveys and polls – These will help you collect data on the content your customers and leads want to see from you. You can also determine their pain points. Run the surveys and polls on social media or share the surveys via email to reach more people. However, make sure you perform the proper email verification to ensure your email survey reaches real accounts. Many email finder tools have a feature for this.
Consider incorporating social proof to boost your content value. Testimonials and reviews reel in your target audience because they provide evidence your business is impacting customers positively. You can package your reviews into whatever format your potential customers prefer. For example, if your target audience prefers video content, you can create video testimonials.
Run referral programs
B2B referral programs offer incentives for your leads and audience to refer their networks to your business. As a result, referral campaigns spark a chain of referral actions that can quickly go viral. They can boost your social media lead generation efforts. Once your business gets tons of social leads, you can convert them into paying customers and boost your business' growth.
Several factors make a referral program great. First, a good referral program must have a good giveaway incentive. This is what participants receive after they complete the required action. Ensure the incentive is worthy and relevant to the leads.
Next, you must customize your referral program's message for each channel. For instance, while Instagram referral messages should be more image-centric and casual, Linkedin ones should have a professional feel. Also, Twitter requires short messages, so you must ensure your message is brief.
Here's a great illustration of that.
Finally, since around 83% of social media visits are from mobile devices, ensure that your referral program is mobile-friendly. For example, you can generate pre-populated messages to reduce too much typing and reduce the number of taps. You can also ensure intuitive user flows that can be completed in a few screens.
Utilize social media monitoring to generate B2B leads
Social media monitoring is instrumental in helping businesses understand their target audience better. But it's also crucial in monitoring brand reputation, online discussions relevant to your brand, online selling opportunities, and ensuring better customer service.
All of these help you generate quality B2B leads, which you can nurture into loyal customers.
However, to benefit from social monitoring, you must go beyond monitoring your social media activities and include your competition and general industry-related news. So if you don't want to miss any opportunity, you can use various social media listening tools like Hubspot or Buffer and filter relevant messages to your business.
Leverage social media influencers
Influencers can help you boost lead generation by providing social proof for your brand. When someone your audience trusts vouches for you, they're more likely to trust you, too. Social proof helps you connect with new audiences and generate quality sales leads.
To get the most out of social media influencers, you must ensure they strategically feature your product in their content without seeming like an outright sponsored social post(s). This works best if they've experienced your product because they can give informed tutorials and honest reviews. This also helps boost their followers' trust. The tweet in the screenshot below is a great example.
Finally, you can't just work with any social media influencers. You need to work with relevant influencers who share your values and those of your target audience. Their works also need to be reputable, and they should have a loyal follower base.
In Closing
Social media is one of the most valuable lead generation channels marketers can adopt today, but only if used correctly. We've reviewed five key social media lead generation strategies you can adopt to boost business growth.
Use social ads to create valuable content, run referral programs, and use social media monitoring. Also, work with social media influencers.
With these strategies, you can collect qualified leads that you can nurture into loyal customers.
All the best!
Written in collaboration with Owen Baker from Voila Norbert.
FAQs
What is a quality social media lead?
A quality social media lead is a prospective customer who shows interest in your product or service and is likely to convert into a paying customer. It's key to remember that quality social media leads are more important than quantity.
How effective is social media lead generation?
With the rising number of social media users, social media lead generation is growing even more effective. Hence, businesses that use the proper lead generation strategies are more likely to achieve better results throughout the conversion funnel.
Which is the best social media platform for generating leads?
Facebook has been ranked the best platform for social media lead generation due to its large number of users and collection of tools. However, that's not a guarantee that it'll be your best platform. How effective a platform is may vary depending on your business goals and the nature of the business. So, ensure you research before settling on the best social platform for lead generation.