How do I position my service or product?
Simple and effective way to think about positioning, is for example Seth Godin's way of thinking about it. You can learn more about it from "This is marketing" or by taking one of his online courses. But the basic idea is to create 2 axises that will create four quadrants.
Below is a simple example of a four quadrants. The quadrants can be thought of as representing most of the computer business. Most of the competition is for computers speed and price. Everybody strives to be as quick and as cheap as possible.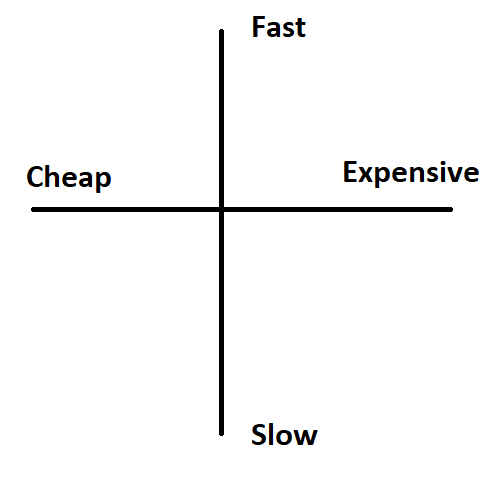 If you were to start a computer manufacturing company now, it would be quite difficult for you to beat the competition with speed and price. For this reason, it is a good idea to reinvent the four quadrants for yourself and try to compete on factors other than speed and price.
An example of this could be Apple. Instead of speed and price, Apple's quadrants could be drawn with fashionability and simplicity. Everyone else is fighting to be quick and cheap. Apple is playing in its own field. Apple is not for those who want a fast computer for cheap price. Apple is for those who want simple and fashionable computer.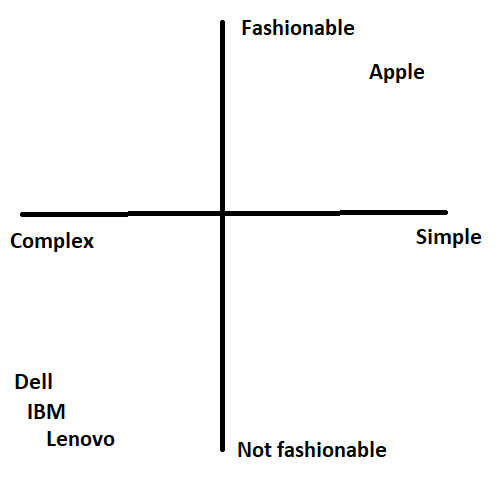 So what matters to Positioning is finding the differentiating factors that you want to highlight and really differentiate your service. This will give potential customers a chance to remember your brand. You are not like everyone else and don't compete in the same terms as everyone else. You are different and you do not even compete for the same customers. You satisfy different desires.
Still, if you compare parts found on Apple computers to a Windows PC of the same Price Range. Almost invariably, that Windows computer wins on paper in quality of parts. However, Apple is more fashionable and simpler to use.
Seth Godin has summed this up almost perfectly:
"People like us do things like this."
People like us do things things like this. If you want something else, this is not for you, buy another product that meets your needs. Do not try to be everything for everyone but be what certain people want.