How to Bring Innovation Into Your Customer Loyalty Program
"Innovation is the unrelenting drive to break the status quo and develop anew where few have dared to go."
-Steven Jeffes
Customer loyalty programs are nothing new. They've been used successfully by many types of businesses over the years to get better results. However, the fact that many companies use customer loyalty programs today is both good and bad.
First of all, it's good because it shows that loyalty programs bring in results for businesses. On the other hand, it makes it more challenging to create a loyalty program and loyalty rewards that will yield impressive results.
The average consumer belongs to 14.8 loyalty programs, so it's very important to stand out from the crowd.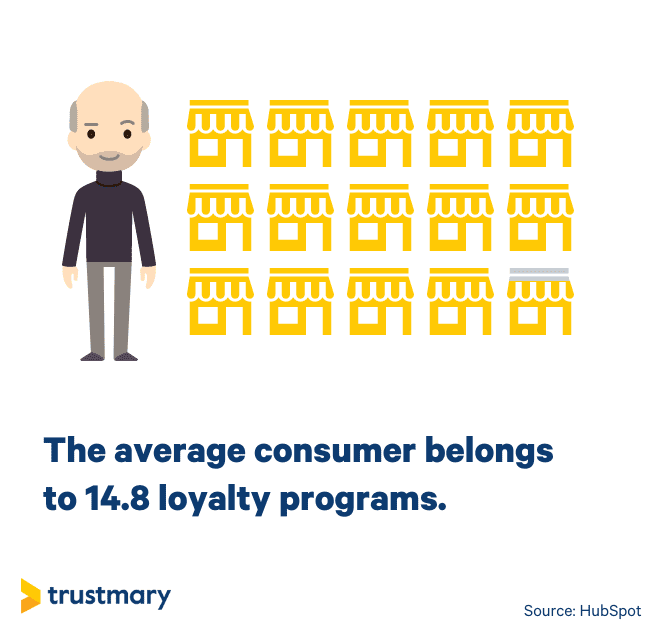 There's one way you can overcome this issue – by innovating.
Customers are already used to typical programs and are rarely inspired by them to make repeat purchases having little impact on customer relationships.
If you want to perform exceptionally well, you would have to add something new into the mix to build customer loyalty. Here's what you need to know.
A reward program that allows the acquisition of loyalty points can boost future purchases, resulting in more customer referrals to friends and family, word of mouth, brand loyalty, increasing customer lifetime value, and much more.
Why Innovation Matters for Best Customer Loyalty Programs
It's important to set your own customer loyalty program apart from the rest to develop a successful customer loyalty program. Not only will that help you achieve better results with the program itself, but you'll also be able to differentiate your brand, keep customers engaged and build an online community. In modern business, it's vital to set yourself apart from the rest.
It's the only way to establish a strong base of loyal customers that will stick around for a long time. That uniqueness will make new customers remember your business.
However, your existing customers will also feel that they are a part of something special and establish a stronger bond with you as they know you reward customers for their dedication to your brand.
Sometimes, to impact how much a customer spends requires you to use your credit card and invest in a paid loyalty program.
Paid programs are financially boosted loyalty campaigns and although they make you spend money they increase customer value, increase customer retention, help with building customer loyalty, increase customer lifetime value, and usually have an effective rewards program integrated.
3 Most Innovative Examples
1. Starbucks Loyalty Program
The Starbucks app was the first major loyalty/rewards program that didn't require any sign-ins or punch cards. When customers use the app to buy something, they get stars. That's how Starbucks has centralized payments and gathers valuable customer data which helps with managing customer expectations.
2. Amazon Prime
Amazon Prime is a subscription membership that allows Amazon customers to get an unlimited number of free quick shipments per month. For a small fee, Amazon can offer truly valuable benefits from its program and differentiate itself from its competitors.
3. Disney Movie Insiders
This program connects Disney fans together and generates excitement for new releases. At the same time, it is a rewards program. It does this by tracking views in different formats and channels tracking customer engagement. It rewards customers with unique merch, experiences, and future releases.
Innovate on an Operational Level
The first step is to set up modern loyalty programs that are either completely digital or connected to your digital platforms. Simply put, your loyalty program is the extension of your marketing strategy.
It should be integrated into your systems and marketing platforms and be optimized for all technologies your customers use. Customer rewards programs need to keep up with the times.
That makes it easier to adjust your programs, see valuable data, and deliver experiences quickly to engage customers. Preferably you need to unite all your customer loyalty efforts into a single platform so that you can see the whole picture, keep track of the points system and integrate your brick and mortar store.
Include new Technologies
You shouldn't just use the technology internally to help you on the operational level. It should also be customer-focused to provide better user experiences.
Modern consumers are used to using the latest technologies and this plays a part in your customer retention rate. In fact, they want everything at their fingertips with seamless control, and loyalty program software is your best option.
Some of the latest technologies that you can use for loyalty programs include:
Mobile wallets: can store whole rewards programs, discounts, coupons, loyalty cards, and travel tickets. It literally puts your program at the fingertips of your customer base and integrates it into their daily routines.
Apps & rewards: mobile technology is essential for modern consumers. Everyone uses smartphones nowadays. By creating your own loyalty mobile app, users can use it as a hub for the rewards programs, redeem gifts, rewards, and make payments all in one place. Furthermore, make your customer loyalty card a digital one that people can add to their digital wallets. That way, people always have it with them and you save the environment (and your money!) by not having to produce physical plastic cards.
Machine learning: you can use AI to analyze the performance of programs, demographics, customer behaviors, and so on. It can help predict outcomes and even create better programs.
Gather Relevant Data and Use It
Knowing your customers is crucial when creating a new program. To be able to innovate, you need to be bold and make predictions. However, you need to have the right data to make better predictions. We mentioned AI earlier and machine learning – it's a good place to start.
You can also use customer relationship management software to put all this data into one place. From there, you can figure out ways to present your program to consumers and engage them in the right way.
You could also try adding social proof widgets to relevant landing pages to showcase why others have joined your program.
Offer new Experiences and Rewards
Rewards are always a good thing. However, offering more of the same sometimes feels dull and unrewarding. You need to provide memorable rewards through multiple interactions. At the same time, you don't always have to give physical products, discounts, or services.
Rewarding customers with experiences is a good idea. A good example is the Disney Movie Insiders program, where customers get various rewards in different ways. They get engaged with the brand in multiple ways and experience something that regular customers don't.
Offer Different Levels of Memberships
Yes, customers want to feel special. However, you need to make it official. People like to show others that they are members of a special club. Offer different memberships to your repeat customers. Yes, having a single level is good, but adding different tiers to your loyalty program will give even better results. Here are some things to keep in mind:
First-tier should be free
Make the benefits of each tier very clear
Clearly show customer progression
Give relevant rewards
Make redeeming rewards easy
It's essentially a concept from gamification – make loyal customers feel like they are progressing and achieving something through your loyalty program. Encourage customers to measure their success as well as the benefits that they get alongside.
Look for Something Unique
If you want to be innovative, you must get creative—community programs, referral programs, or any other type of program really. Here are some of the ways you can do this:
Make your program about a specific product/service and include its name or slogan in it.
Find an interesting way to name the points within the program. Make them related to the brand, product, or service.
Create new ways for customers to earn points and rewards. Make it about them doing something, achieving new feats, or about their important dates.
Design your programs in a unique way and make them easy to use and intuitive so that anyone can join.
Customer experience is crucial for good customer feedback and a points program that leads to customer rewards is fun for people.
How to Build a Customer Loyalty Program
Here are the basics of building a customer loyalty program in five steps.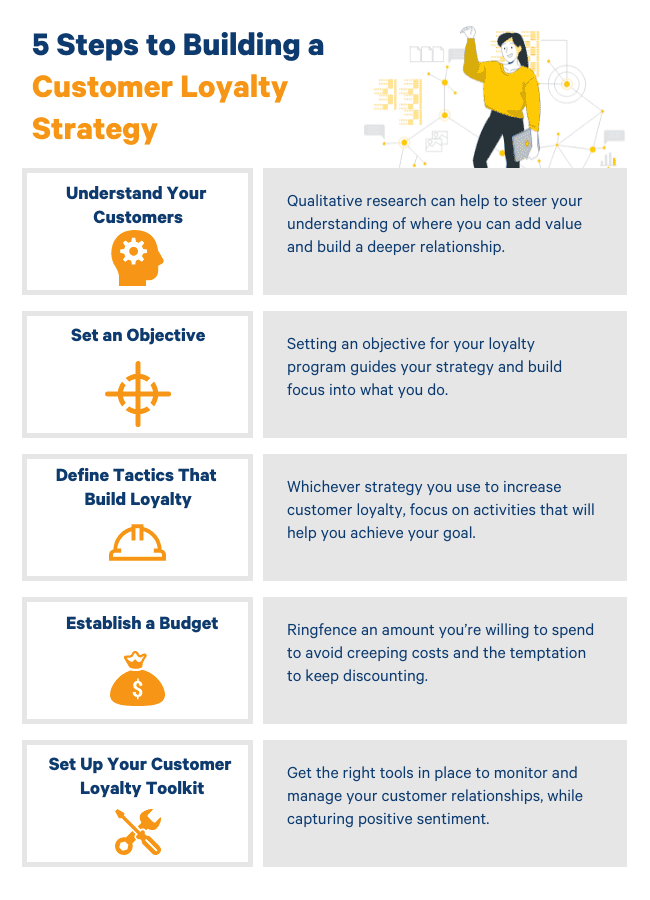 Understand your customers
Set an objective
Define tactics
Establish a budget
Set up a customer loyalty toolkit
You can use a customer loyalty software to streamline the process, but before setting up a software, you need figure out steps 1-4. It'll make it easy to scout for a software, once you know what you want to be able to do with it. And how much you're ready to pay for it.
3 Customer Loyalty Strategies that Actually Work will give you some more innovative insights into the topic.
Conclusion
"The secret of change is to focus all of your energy, not on fighting the old, but building on the new."
-Socrates
Thousands of companies use loyalty programs successfully. Be a part of this club and see how a customer loyalty program can increase your sales, retain customers, and enhance your brand. Yes, it does require a certain amount of investment into customer loyalty software, but it's worth it if you want continuous repeat business.
Creating an innovative but successful loyalty program covers improved customer satisfaction for loyalty members, makes it easy to reward customer loyalty, and allows them to earn rewards giving the brand a way to motivate customers.
Let's try and retain happy customers, improve customer experience positively impacting customer behavior, and maybe even getting some user-generated content along the way.