Every business owner struggles with the same issue: Gaining the trust of new customers. Especially for software businesses, getting and showcasing online reviews on their website has become increasingly vital. A Spanish SaaS company LOCALBOSS already had customer reviews in many different review platforms but wanted to find an easy way to embed reviews to its website. After they found Trustmary, they automatically get each new review directly to their website.
LOCALBOSS is a simple tool that enables its users to get accurate insights on their business' Google reviews and star ratings. The app analyses the business reviews and gives actionable insights on how to improve the star rating. This, in turn, helps them stay motivated to improve their online reputation further.
– Our ideal customers are the local bosses that run their businesses passionately. They're obsessed with delivering great customer service and understand the importance of having great online reviews. These people do everything related to running their business from social media to sales with their phone. That's why LOCALBOSS is an app you can have on your phone, explains Xavier Colomés, the CEO and founder of LOCALBOSS.
In short, LOCALBOSS is designed for local business owners that want to stay on top of their Google review rating. Its visual dashboard shows users a quick overview of how their review score is developing.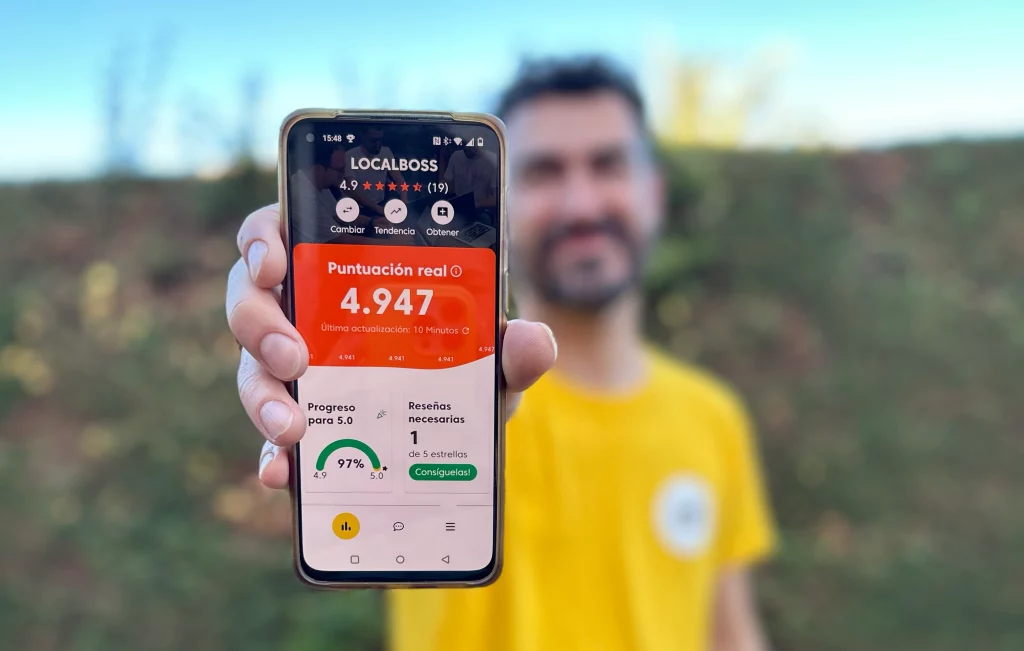 "It's crucial to add customer reviews to your website"
To start using LOCALBOSS, users need to connect it to the company's Google My Business profile via authentication. If a user cannot trust LOCALBOSS, this can be a dealbreaker.
With over 20 years of experience in digital marketing and web development, Colomés knew that to get users' trust, LOCALBOSS needed to add customer reviews on its website.
– When you're a new brand like we are, it's crucial to add customer reviews to your website to win over the trust of website visitors. Additionally, those reviews need to be authentic, come from different sources, and be recently written, Colomés explains.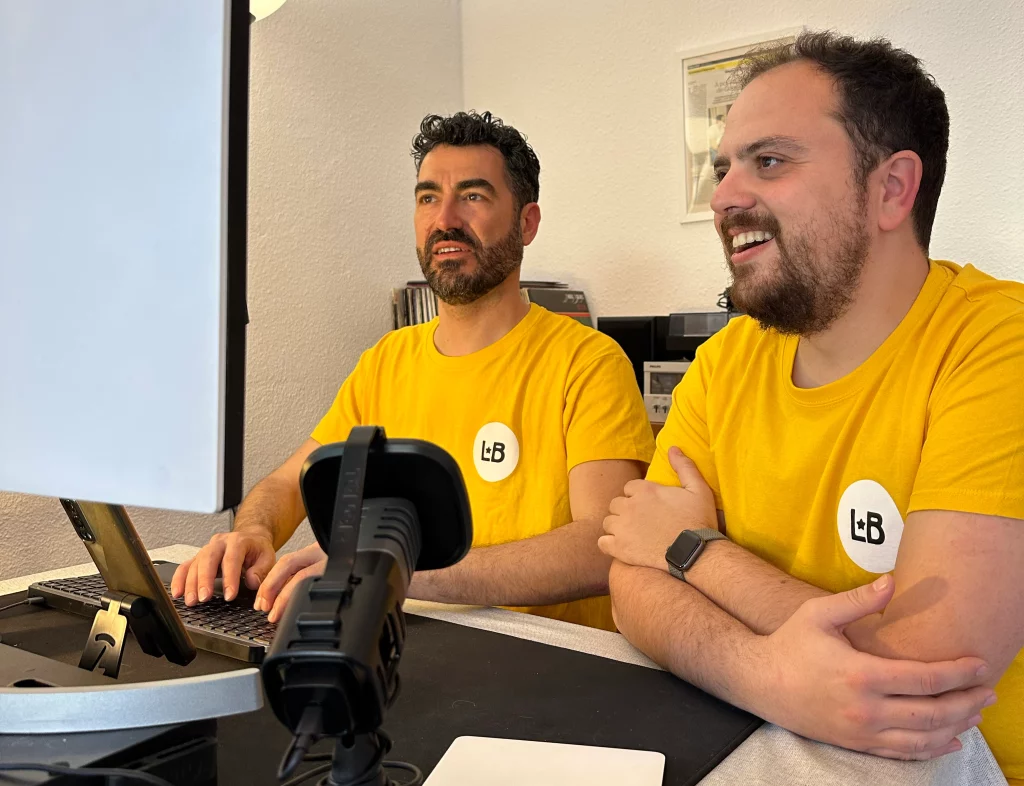 All-In-One Review Widget Increases Trust
Because LOCALBOSS is an app, it has reviews on Capterra, and G2, but also on Google. To maximize the effect the reviews have on website visitors, Colomés wanted to embed all reviews from each source.
– I wanted to find a premium widget that I could embed on our WordPress website. I was looking for a way to add all reviews from each individual review platform with the same review widget, Colomés explains.
Once Colomés discovered Trustmary in February 2023, he immediately set it up. He immediately imported reviews from all the different sources and added them to his website with a single review widget.
– Importing reviews and embedding them to our website was super seamless. All I needed to do was some copy-pasting. I'm super happy with how easy it was to set up Trustmary, he underlines.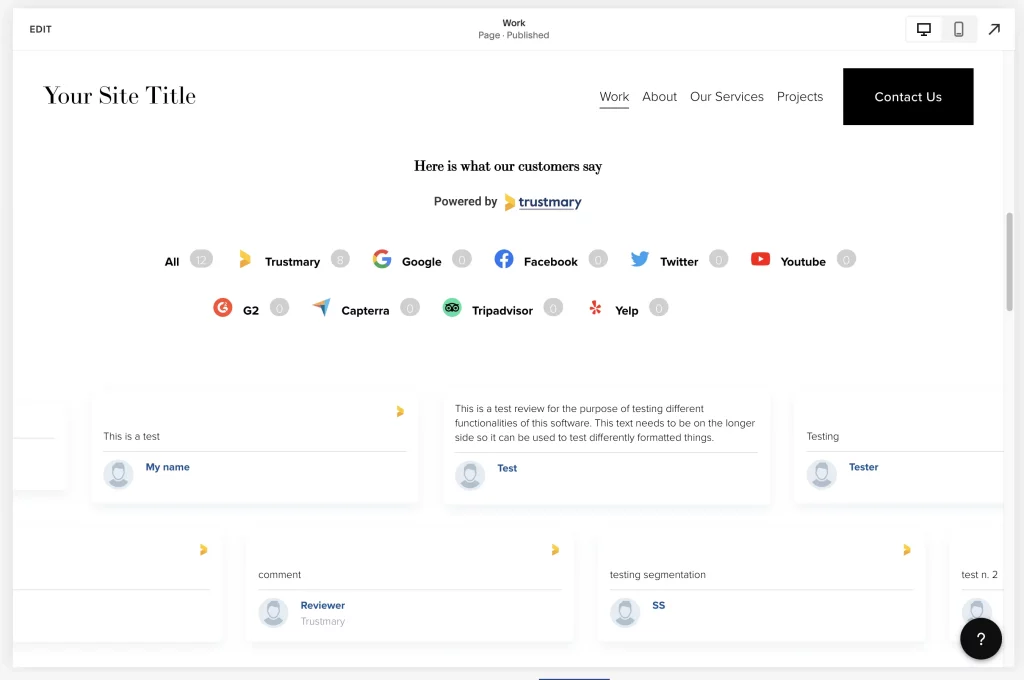 Every Company Needs Recent Online Reviews
Even though LOCALBOSS was only founded in 2022, it already has over 700 users from 42 countries and +1800 business locations in its database. One element boosting their growth is using social proof on their website.
– Everyone needs reviews on their website, so visitors understand what type of service the company is offering and if they can be trusted in the first place, Colomés clarifies.
More importantly, it's not enough to have a few manually added testimonials on one's website. Each company should have as many recent online reviews as possible on their site, preferably from different sources.
– If you want to be a transparent business and highlight reviews on your website, you need a tool that does it for you automatically after it's been set up. You cannot copy and paste reviews manually every day, Colomés adds
LOCALBOSS is constantly trying to find more ways to boost conversions with reviews.
– In the future, we want to include reviews in our onboarding process to increase potential users' trust throughout the different stages of the onboarding, Colomés concludes.
LOCALBOSS x Trustmary
Providing customers with the most accurate data available on Google review score is at the core of LOCALBOSS' business. It makes them experts in understanding the importance of constantly collecting new reviews and highlighting them on one's website.
Because Trustmary was able to provide LOCALBOSS with an easy solution to embed reviews to website, they have started to recommend using Trustmary to their own users as well.
In the same way, Trustmary can warmly recommend LOCALBOSS to all SMB companies that want an easy way to stay on top of their Google review score.
Read more about the collaboration between LOCALBOSS and Trustmary.