Kaisanet: Increase trust with reviews
Kaisanet Oy is an expert company in network services, telecommunications, IT services and digitalisation, which creates value for its customers in the form of high-quality IT expertise. Kaisanet started using the Trustmary in December 2019 and the tool has been utilized for their customers and employees. In total, Kaisanet has collected more than 270 feedbacks and 10 reviews during the year. Feedback has been collected through Trustmary, both through email inquiries and directly from the website.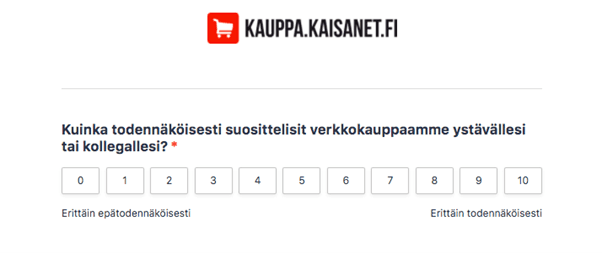 "Trustmary has been great for gathering feedback from different segments and highlighting reviews on our site. We have also used the tool for personnel surveys, as it is easy and quick to use from the perspective of both the surveyor and the respondent. "- Heini Sivula, Marketing and Communications Manager. The reviews have received more than 48,000 views on the website in less than a year. Kaisanet has given its customers the opportunity to give feedback e.g. a survey on the front page of the website, where customers can also see other identifiable reviews from the company (as seen below).

"Trustmary is a genuinely easy and simple way to get continuous and systematic feedback from our customers using different services. The best part, of course, is that Trustmary gives us information about our happy customers, which has so far been based on guesswork. "