Verhoomo Sorsa: 100 responses and 30 referrals within the first hour of use
Verhoomo Sorsa is specialized in doing upholstery and all sorts of equipping to cars. Having a high customer satisfaction is one of their core values.
Trustmary started the cooperation with Verhoomo Sorsa in early 2020 and it was off to a quick start, as they got over a hundred responses and 27 referrals within the first hour of use. Below you can find an example of a referral alongside with a free translation in case your Finnish isn't fluent.
"A long-term, over 10 years, cooperation. Trustworthy, flexible, professional. Serves the client with respect and appreciation even with smaller orders. Also gives advice free of charge."
Ville Jäntti, Autokeskus Oy (company) / Vantaa (city)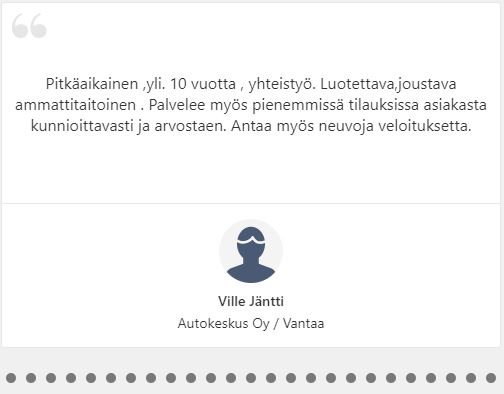 "Putting the service to use was really easy and I was really surprised to notice how many of our customers are willing to publicly recommend us", says Otto Tast from Verhoomo Sorsa.
Nearly 40 referrals with zero effort
Verhoomo Sorsa first sent the survey out to 650 clients.
Here are the results in numbers:
140 clients responded
22% response rate
39 referrals —> 21% of all responders would recommend their services
A bonus: One significant actor in the industry left a video comment
"We're really happy with the service. Now our customer satisfaction is showcased in a concrete way, which helps new clients to trust us, which surely affects their purchasing decision", Tast concludes.