The Ultimate Guide To Customer Customer feedback: Ultimate guide to gathering and utilizing feedback
Last edited: 21.01.2022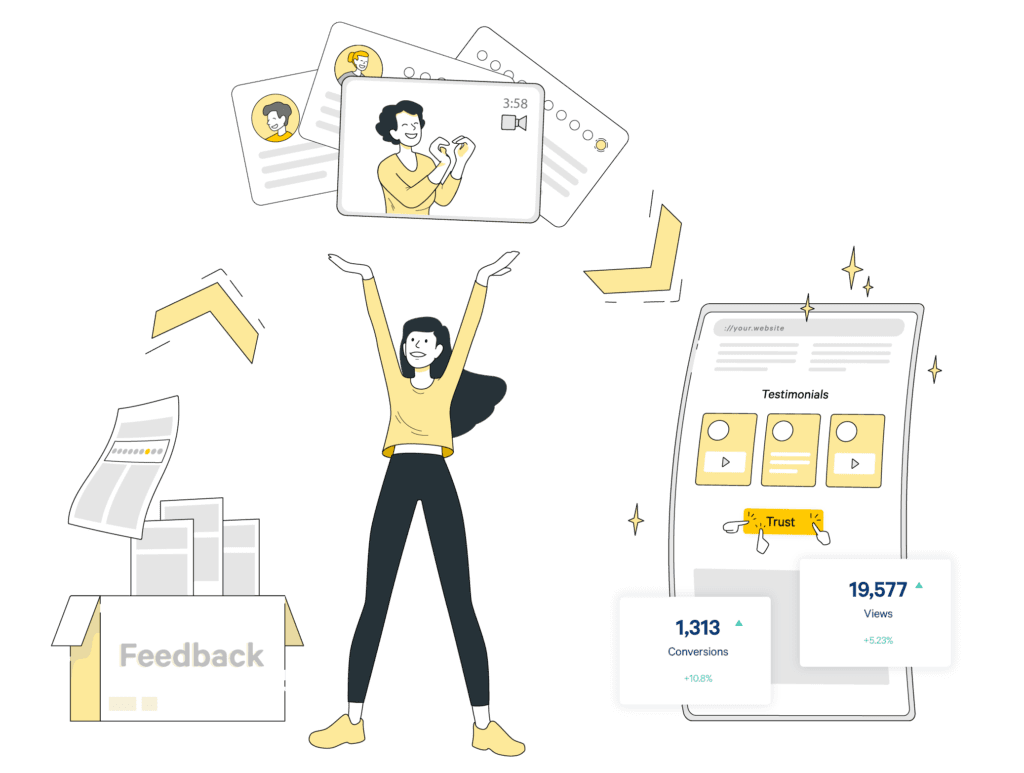 Growth is highly reliant on customer feedback. When choosing a service or a brand, people love to hear about others' experiences and opinions. They feel safer when they do this – and are more likely to make a positive decision. Research shows that 90% of customers read online reviews before they visit a site.
Other people's experiences can help you form a better judgment about something unfamiliar. At the same time, customer feedback is amazing for brands. Knowing that it impacts customers' decisions, brands jump at the opportunity to gather and utilize it.
Nowadays, businesses spend millions on feedback strategies. That's what this article is all about. In it, I will show you how to gather the right feedback and use it for the growth of your brand.
What Is Customer Feedback?
Customer feedback or, otherwise known as, user feedback, is a response from people who have used a product or service. The concept is simple and yet, it can go both ways for a brand. Ideally, brands get the desired customer feedback – that the customer enjoyed the product and service, and they plan to use it again soon. A worse scenario is when the feedback is more negative or altogether negative.
If you look at the big picture, no feedback is bad feedback – not even the negative one. Smart brands consider negative customer feedback to be constructive and integral for growth and development. Criticism can teach them what they did wrong, and even how to improve it.
In fact, I believe that negative feedback is a must even for the best businesses. You can't realistically think that you'll always do a perfect job without a flaw. In this world, there's always room to make improvements, and things to be done better. Without negative feedback, it's hard to realize the opportunities for improvements and find the gaps in your work.
Let me tell you a story about a startup. With an amazing idea in mind, proper funding and great talent, the startup was launched on a market. But, their software product had one flaw – a flaw that could only be recognized on behalf of customers. After a short while, the product started malfunctioning because of a glitch in its programming.
If the brand did not collect and analyze feedback, they wouldn't know that this happened. To find out how their product was working, the brand sent out messages and surveys a few weeks after its delivery. The question was simple: "How do you like the software? Do you feel like it could use some improvements? Are you experiencing any issues?" As soon as customers started talking about the problem, it was clear that something needed to be fixed.
For this particular brand, asking about customer satisfaction right after product delivery would be a mistake. The product was obviously functioning well at first. Now, if that brand waited until customers started complaining on the Internet, they'd lose their reputation from the very beginning, before they even rose to the top. If they didn't ask the right question at the right time, they would learn this too late.
People are appreciative when brands care. So, when the brand reached out to them to ask about their experience, and acted fast when they complained, they were extremely happy with the service. Bad words did not spread about this brand.
This is why I believe that negative customer feedback is the most valuable kind you can get nowadays. But, it also matters how and where you get it.
If you keep reading, I'll tell you more about when and how to collect your feedback, as well as how to utilize it.
In most cases, customer feedback does three things:
·       Shares information about the product or service
·       Tells a story about the customer's experience
·       Points out to flaws, suggests changes, or praises the good about the product/service
Not all feedback consists of these three elements. More importantly, not all feedback is the same. Different types of feedback can have different impacts – both on the business' decisions and those of potential buyers.
For starters, I'd like to explore those types with you. This will help you better differentiate between the feedback you get, and decide which one is best for you.
Types of Customer Feedback
There are many ways to communicate with users and for them to communicate with you. As a result, there are many types of customer feedback. Let's explore some of them.
Onboarding Feedback
Onboarding is an important process for every company. It is a process where they accept and accommodate new employees, introduce them to the  company and their work, and make them part of a team. It's a tricky process at best, which is why feedback is always useful for the employer.
This term also refers to the first experience your customers have with your product or service. It makes it one of the most useful pieces of customer feedback your team can receive. Based on it, you can tweak your strategies and boost the customer experience in the future.
Here is a good example from Hubspot on how such feedback is collected:
Sales Objections
Brands don't like the idea of customers not liking their product or service, but it sure happens. It happens to the best of them. The reason might be lack of product quality, but it might also mean that the customer is not your target buyer, that particular item is malfunctioning, there's been a hiccup with delivery or customer service, etc.
When a consumer gives an expression about why they don't like the purchase, it's called a 'sales objection'. In the digital sphere, businesses gain such feedback from customer service interactions, but they can also obtain the information from product trials and even demo calls.
Many brands will offer an incentive or simply require such feedback. For example, check out this message: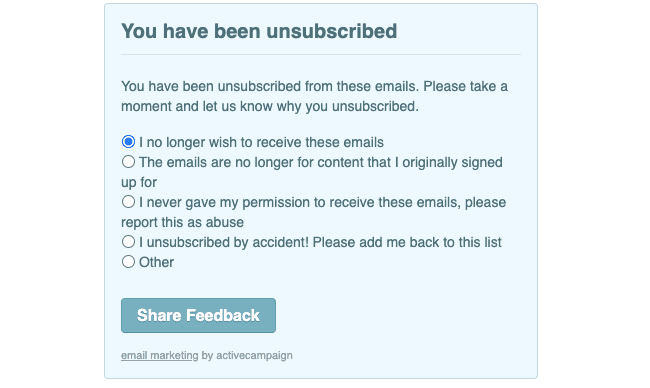 User Feedback Surveys
Have you noticed how sometimes businesses hand out rewards and perks without any particular goal in sight? The reason why businesses offer incentives may be hidden or seem silly, but there's always something to gain.
Take for example, this Artifact Uprising $10 reward that people get simply if they fill out a survey. To the consumers, this looks like a very easy task, and makes for a great bargain. What they might not understand is that any survey that is filled out provides the business with invaluable information on how to sell their remaining products and services, how to improve, etc.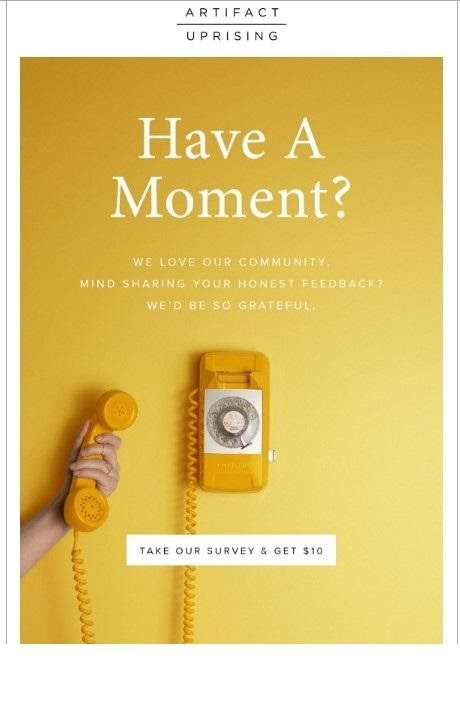 In fact, some even go as far as to offer hundreds of dollars or the equivalent of this in product value just for filling out a survey!
User Contact Forms
Some users will simply want to come to you with their feedback. Either they'll be extremely pleased and want to praise your work, or they'll tell you about some changes you need to make i.e. share their dissatisfaction. This is why it is important for any brand or site to have a contact page or a suggestions field where people can submit their feedback.
This is the easiest feedback you'll ever collect and very often, the most useful. It's usually those who are dissatisfied with what they got that share their feedback on their own. This is a great way to grow and learn from your mistakes.
Email Feedback
Have you noticed how, after making some kind of a purchase online, you get an email after a certain point asking you how you like it? Many businesses collect email feedback. They wait for a certain amount of time depending on what the consumer bought to send them an email with a short questionnaire, an invitation to share their feedback on a website, or a brief survey.
Email feedback is among the most popular types these days. People love opening emails. Statistics show that 47% email users open their email at least once a day. This makes it one of the best mediums to reach out to your consumers.
Here is how Airbnb collects email feedback from existing customers: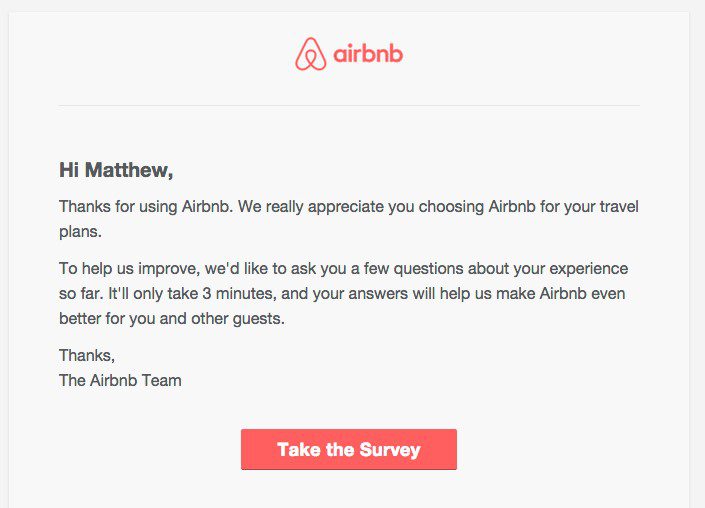 Exploratory Consumer Interviews
Consumer interviews are harder to get, but they provide invaluable insight into what the user thinks about your brand, product, and service. This offers a more personalized experience and goes a long way for boosting brand-consumer relationships. You'd be basically speaking to the consumer face-to-face i.e. capture feedback directly and in real time.
If you can convince your consumers for an exploratory interview, you can obtain a great deal of information during that time.
Take for example, Advisable, a platform for employers and employees. In 2020, they wanted to see how their Advisable Guild product will work with users. They used emails to introduce their new product, in which everyone who was curious to register an interest could use a link.

Usability Testing
Usability testing gives you an amazing opportunity – a chance to get inside the head of the consumer. This is a very popular analytics strategy nowadays. It's done by observing people's behaviors and thought process when they use your site or your product.
Usability testing provides data that reveals your brand's weak points, and shows you which features work well with consumers.
Maze offers some amazing samples of usability testing here.
On-Site Activity
The way people respond to your current website design and offerings makes for the most accurate,  perhaps even most useful type of consumer feedback. You may even introduce an on-site survey instead of sending one via e-mail, giving consumers a fast opportunity to share their opinion with the brand.
For example, if users keep scrolling through your website or attempt to close a tab without taking action, a popup can appear asking: "What went wrong?" or giving them an incentive: "10% off in the next 15 minutes!".
Or, you can simply ask them if you're doing well and if they are experiencing some issues. Here is a great example of this: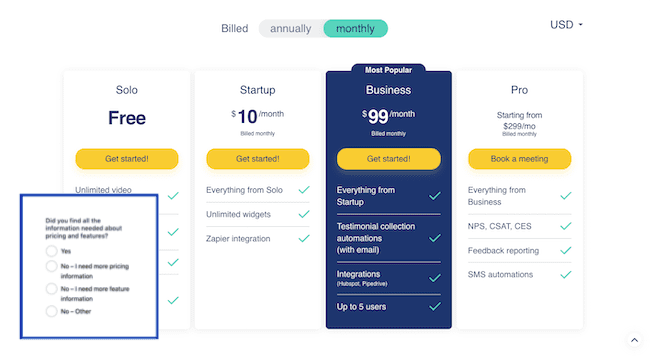 Exit Survey Feedback
Have you heard of exit-intent technology? I believe that this is one of the best ways to get one more chance at those customers who've lost interest for some reason. If you manage to attract their attention with a pop-up, you might convince them to give you another shot. Or, at least, you might get an idea as to why people are leaving your website, and improve for future potential customers.
Here is what this looks like: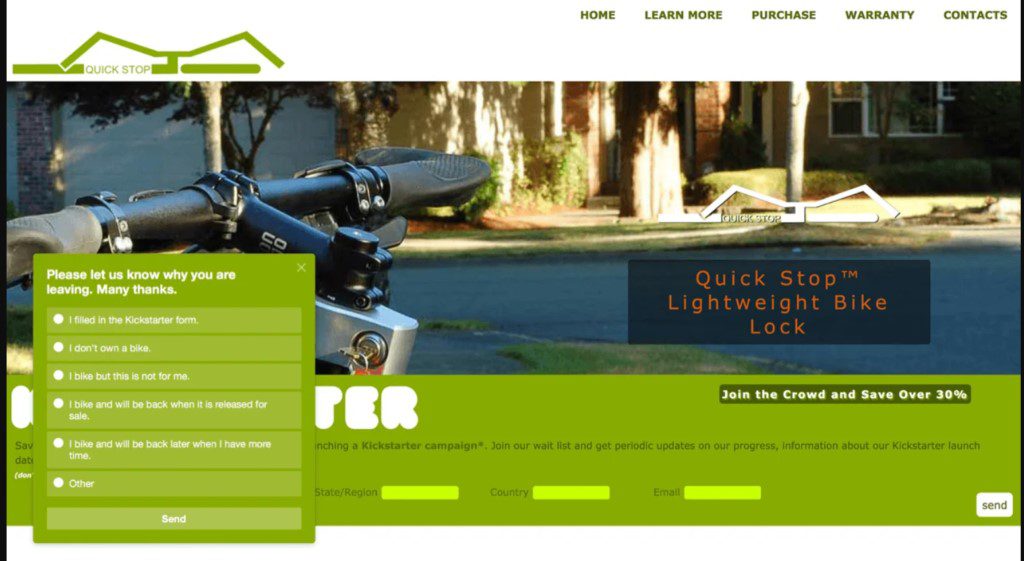 Social Media Feedback
Social media might be an informal method of collecting feedback, but it's still one of the most effective. Most people use social media nowadays, which makes it an irreplaceable tool for gathering useful information. Oftentimes, customers don't even need to be asked to provide feedback on social media platforms. They'll gladly do so on your profile, on group pages, forums, and comments. According to Oberlo, even 71% of consumers will recommend a brand they had a positive experience with on social media to their family and friends.
Not to mention, this is the one realm where you can get an amazing deal of engagement that goes beyond traditional feedback. You can collect useful data from virtually any response you collect from consumers including comments, likes, messages, and more.
This data is not only useful to you because it tells you how to improve your brand. Many companies today use positive social media feedback to impress potential customers. Sendible has an excellent representation of this. In the following picture, you can see how a brand used customer feedback to impress others by turning it into a social media post: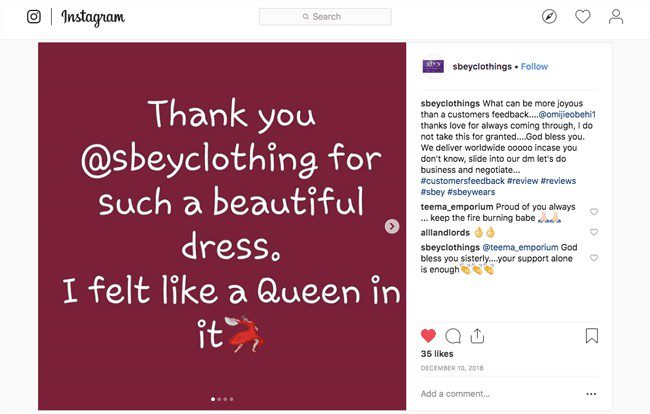 In-App Feedback
The easier you make it for consumers to provide feedback, the more likely it is that they'll do it when asked. In-app feedback is exactly that – a short and effective way to get some information from your consumers. It can include anything from a short pop-up question to a quick survey to ask consumers what they thought about your product, service, or brand overall.
Check out Patagonia's in-app survey: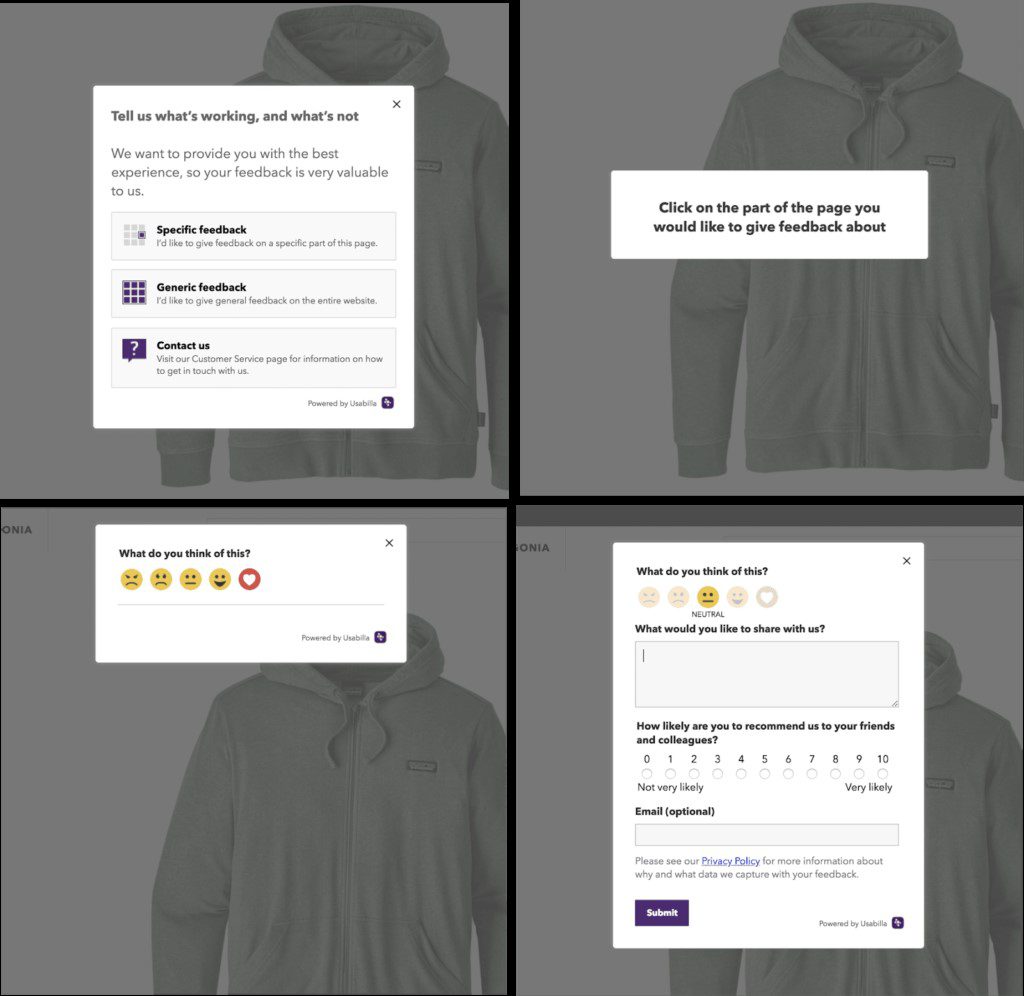 NPS Surveys
This is a simpler way to collect feedback. NPS or Net Promoter Score surveys are specific measurements of customer loyalty and satisfaction. This requires one question only:
"How likely are you to recommend our brand to your colleague or friend?"
This question is followed with a rating between 0 and 10, and perhaps an option for the consumer to leave a comment.
NPS surveys can be very useful in determining the following:
Detractors – people that are obviously not satisfied with your offerings and require your attention. This is where you need to intervene and make some changes to retain those customers.
Passives – people that still need some impressing if you want to keep them onboard. You might want to contact them if you have a way to get more information. If not, they are often left out of the NPS analysis.
Promoters – these are your best customers, the ones that will promote your brand and spread the word around. They are most likely to repurchase, and might even become advocates for your brand. Of course, you must nurture your relationship with them.
I liked this visual a lot. It is from your competition, I think, so you might want to create something unique and similar. It shows the reader how to read NPS surveys: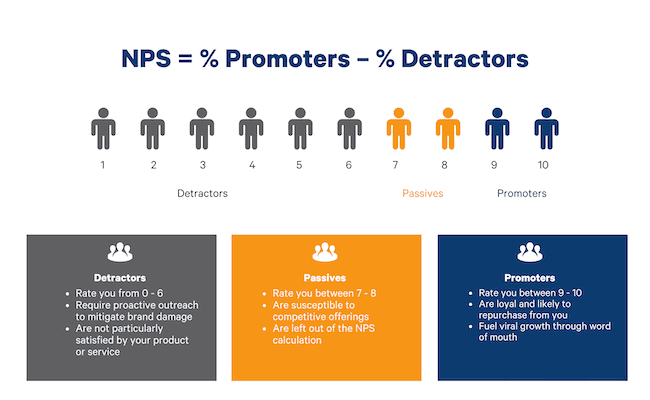 There are generally three main benefits of NPS:
Comparable user feedback method
Provides concrete information on the potential found in satisfied customers
Fairly studied measure thanks to academic literature
Chatbots
When you use a live chat on a website, how often do you receive a short survey, usually an NPS survey once you're finished? Brands use this opportunity to collect useful data about the quality of their support, service, and the brand itself. Chatbots simulate realistic conversations and can be tweaked based on their success with consumers. This is why they often ask for feedback, usually done at the end of the conversation.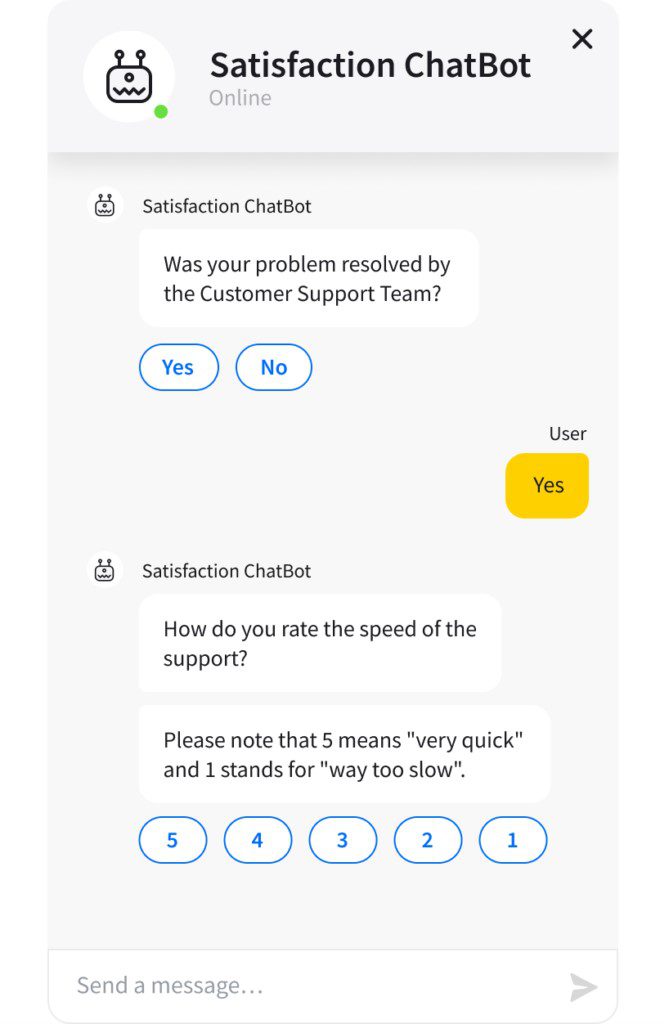 Public Review Websites
Very often, brands scour the internet to see what consumers have said about them. Many people are more likely to share their experience outside of the official website of a brand. Some do this on forums they are familiar with, and others do it because they fear the brand will delete their negative feedback.
As a result, the Web is filled with online review sites and forums where experiences are discussed. It takes some time to go through them all, especially if a brand is popular and often used, but the insight can be amazing.
The Importance of Customer Feedback
Before we jump at some actionable tips on how to collect feedback for your brand, let's answer the most obvious question:
Why should you spend your time on collecting user feedback in the first place?
If you haven't used feedback to improve your brand, this might seem like an unnecessary, lengthy, and sometimes even costly step. It might take a while for it to benefit the brand, which makes it seem even more unnecessary.
However, feedback is one of the strongest tools that brands have to succeed nowadays. You can only understand the pitfalls of your offerings by hearing about them from people who actually use them. You can also learn about the upside of your offerings from your consumers, and emphasize them to boost your brand's success.
Everything nowadays should be based on user feedback. Based on the data you collect with it, you should tweak your marketing strategies, business plans, and every other part of the brand's functioning. Here are just a few of the reasons why customer feedback is important:
·       It tells you what in your brand or products needs improvements. Plain and simple, negative feedback will tell you what you've done wrong. This is where you need to improve.
·       Builds a stronger customer-brand relationship – makes them feel important and valued. Let's say that you are a customer and just purchased a product. Wouldn't you appreciate it if the brand bothered to ask you how you like it after you made the purchase? They don't have to do this – you already paid them – but they are dedicated to you and want to make sure that you are satisfied. It sure makes customers happier, right?
·       Good word of mouth generates more personal recommendations. When we hear about an excellent brand or service, we are more likely to spread the word around about it. How many times has it happened to you that you mention a brand you haven't used before just because your friend told you it was amazing? It goes something like this: "You need a good hair product? My best friend is using X, she said it helped her with hair growth. If you want, I'll ask her where she got it."
·       Customers are much more likely to pick your brand when reading about others' positive experiences. People are more reliant on feedback than ever. In fact, most will read reviews about anything they buy, especially if they do this online, before making the purchase. These stats certainly prove my point: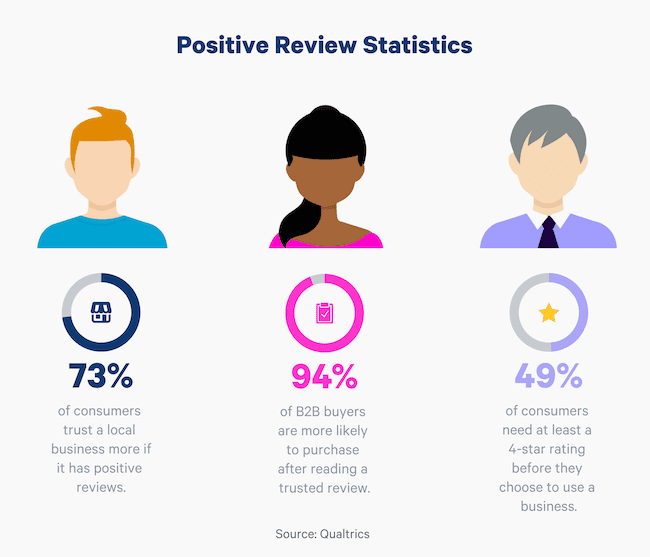 Bad feedback can help you retain your existing consumers by fixing the problem. Most companies out there aren't doing anything to get back customers who didn't like their products and services. So, the bad word keeps spreading around, and they lose even more customers. If you tried to fix the product or service, apologized, and maybe even compensated your unhappy customers in some way (a freebie is a great way to show you're sorry), you might even get them back! People love brands who bother enough to fix their errors.
What kind of customer feedback should you look to gather?
We often hear that there is no rule of thumb as to what type of feedback works best for you. This is accurate in some sense, but I believe that there are a handful of things that make one type of feedback better than others based on your brand and your needs.
For some brands, the focus should be on quantitative feedback. For others, the focus should be on qualitative instead. In fact, throughout your journey, you'll probably use both types of feedback.
And still, you need to figure out which type of customer feedback to gather for which stage of the customer journey, product development, and your brand's strategies in general.
Let's explore this a bit further.
Qualitative feedback is more focused on detailed answers, providing you with a deep understanding of people's experiences and opinions.
I found that qualitative feedback is really helpful at a stage where you need to do the following:
Discover why potential customers are not making a purchase. You need qualitative data to find out why a particular customer did not find your features attractive, which features are not working, etc. Some might be using a competitor they've used for a long time, but others might think that your offers need improvement.
Find out where your users are experiencing problems. There are people in companies employed precisely to find out why people who almost got to the buying part did not convert into customers. They just sign up on a website and drop off the funnel. Why does this happen? To gain an understanding of why this is happening, you need more detailed and personalized data. People might find some features cto be confusing, and they are not willing to buy from you because things are unclear. A lot of the time, something as simple as a one-click survey can resolve a huge problem.
Find out what people think about your brand or product. We all want to know what people think about our brand and product. This is best asked directly to the customer. Questions like "How likely are you to recommend your friend to our product" work wonders here. You can actually learn what your customers think about what you've created!
Quantitative feedback is more focused on gathering tons of data that can be used to improve your strategies. Use it when you already know what questions to ask.
What does this mean?
There are two situations where you need quantitative feedback.
You need to discover trends or patterns over time. With the data you collect, you can discover things that are impossible to segment with qualitative research. For example, if you have many customers in your brand, or many people visiting your site or using your app, it can be hard to get individual responses. But, if you analyze their actions and the trends with quantitative feedback, you can discover useful patterns.
You want to know what people do. Let's say that you have an application. Heatmap features on the app allow you to collect quantitative feedback i.e. figure out what people are doing while on your app or website. So, customers stop at a point on your landing page and stop scrolling. You need to look there and find why they do this, and what you need to fix.
I'm imagining a visual here titled: When to gather Qualitative vs. Quantitative user feedback. And the text would be:
Gather qualitative feedback when you want to understand things – experiences, thoughts, and concepts.
Gather quantitative feedback when you want to test things – your hypotheses, ideas, user activities, or theories.
Let me give you invaluable advice on this. Many brands miss out on the key information about their business because they failed to realize what type of feedback they need to analyze. So, if you are unsure which method to choose or what type of feedback to gather, you should try them all. There's nothing bad about having a lot of data about your consumers. The important part is how you use it.
When and how should you ask for feedback?
Brands who want to attract more audience and keep people coming back for more need to collect feedback regularly, at every step of the customer journey. Thankfully, there are many ways to collect customer feedback, as described above.
In addition to using different methods, you can use different channels to collect such information. These include your website, email, social media, in-store messages, in-app messages, SMS on their phone, phone calls, etc.
Here are some useful tips on collecting feedback from consumers:
·       Regularly reach out to them by using different methods
·       Provide them with an option to reach out to you at any time, such as live chat or phone number
·       Continuously monitor the social media activity
·       Provide customers with feedback forms
·       Add a feedback request at the end of your live chat sessions
·       Create an active online community with support
·       Use NPS to evaluate the loyalty
·       Create customer email surveys for both new and existing consumers
How to analyze feedback
At some point, you'll have collected user feedback. Here comes the important part – using that feedback to improve. Now, let's talk about putting all that feedback data to actual use. There are five main steps to this:
1. Segment the data you collected
When you collect the data, it is time to put it to good use. Start by segmenting the information you collected. User segmentation can be divided into many categories including the following:
Demographics such as age, gender, location, and language
Behavior data such as user actions and engagement
Psychographic data about their interests, affiliations, and beliefs
That is not all. In addition to segmenting the feedback into this data, you can create categories for the following:
Free or paid users
User frequency segmentation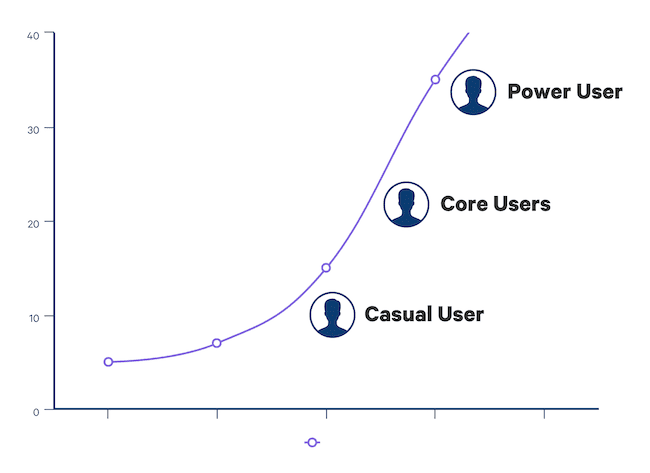 Time they spend on your application or your website
Negative behaviors such as cart abandonment, plan downgrades, unsubscriptions, and customer churn
Lack of activity or diminished activity
Once you have these categories, you can plan your future actions based on them. It's much simpler and more effective when you have a basis for your next moves – people that you aim to reach with them.
2. Identify product/ service improvement areas
All those types of feedback above can help you come up with this type of data. The surveys and questions you've asked have yielded some answers that show you which parts of your product or service customers didn't like.
In this part, negative feedback can be extremely useful.
3. Look for ways to resolve issues with unhappy customers to prevent customer churn
Once you realize what it is that makes customers unsubscribe, leave you bad feedback, or simply complain to you during your feedback collection, it's time to take some action. This is why you collected the feedback in the first place – to fix the errors before customer churn occurs. At this point, use the segmentation data and all that negative feedback to find a way to make your customers happy again.
Some great ideas for this are product improvement, which should be your priority. Next, you should focus on improving your support and overall service, as well as the quality of your app and website. Finally, find ways to make amends with customers. Send them freebies, make an apology, replace or refund their products, etc.
4. Discover potential advocates for your brand and create strategies to nurture them
The people who are most frequent customers of your company, like and share your posts, leave comments online, and positively respond to your surveys – are your best brand advocates.
But, if a person is satisfied with what you are offering them and buys again and again – this doesn't mean that you should forget all about them. Your job is never finished.
In fact, these are the people whose relationships are most important for your brand. Nurture them with loyalty programs and perks, special offers, personalized emails, discounts, etc.
If you don't do it, someone else will.
As mentioned above, people saying great things about your brand can prompt others to pick it. Influential people in the industry or influencers can do even more. They are excellent at convincing others that a brand is a good choice for them.
Find the right influencers and pamper them with your amazing service and products. Their word of mouth will come to the right people if you pick influential people in your industry.
5. Use the feedback to motivate your team to improve
Lastly, all of the feedback you gathered along the way needs to prompt some action on behalf of your brand. You can't possibly do it alone – you need the help of your team to make it happen.
Your team members will appreciate the good words of others. After all, they are the ones who did the job right, and praise is always appreciated.
They might not feel great about the negative feedback, but show them that this is an opportunity for growth and progress. Use the feedback you gathered and your analysis to demonstrate to your team how you can improve – and motivate them to work on it with you.
6. Work to get even more testimonials
Gathering user feedback is not something that you do and get over with. The goal of every business is to get more positive testimonials that will convince others to choose it. There are some excellent practices to help out in this process, as well as software that you can use to make it happen.
Best softwares and tools for gathering (and analyzing) feedback
There are a plethora of tools and software products that your company can use to capture feedback and analyze it accurately. Some of the best you could use are:
·     Trustmary – gather written and video testimonials and use them to generate more leads
·    Google Forms – create customized surveys ready for dissemination to customers
·    Typeform – collect conversational data and customize the user feedback experience with follow-ups
Final Thoughts
In the end, I'd like to share an amazing statement from Survey Monkey with you:
"The old saying, "The customer is king" may be true, but great customer feedback lets both of you share the throne."
No matter what industry you work in, how big your small your brand is, how much money you have to dedicate to this – customer feedback is the key to your success. From the moment when you create your products to the point when it becomes widely known and wanted, it is customer feedback that paves your path.
That being said, you should view this as a work in progress. Dedicate a lot of time to it. Put some effort into it. Invest some money to gather and analyze it. And most importantly, put that data into actual use.
Frequently asked questions about customer feedback
How often should feedback be asked from customers?
To answer this question, I need to tackle the point when it's best to collect feedback. How often you do this will depend on your brand and the nature of your product. For example, if you're selling software, you can't expect to gather a lot of useful data the same day the client makes the purchase. You might get some feedback on the quality of service, but you need to give them time to test the product first. In this case, you should reach out to them at least a week after, giving them some room to test it.
How should customer feedback be utilized?
By asking customers for feedback, you show them that you value their opinion. Feedback is utilized to improve a brand's image, tweak the existing marketing strategies, as well as gather information on how to improve the products and services offered.
Can I ask for feedback regularly?
This is a definite no. You must carefully choose the time when you'll ask for feedback, and make sure that your method does not require too much work or time on behalf of the customer. If you overdo it, people won't be willing to provide feedback. If you do it at the wrong time, for example a long after the customer used the product, your feedback can be inaccurate because they won't remember the details. If you do it too early, they won't have what to tell you and provide inaccurate information that skews your data.