All you need to know about customer loyalty: The definitive guide
Last edited: 21.01.2022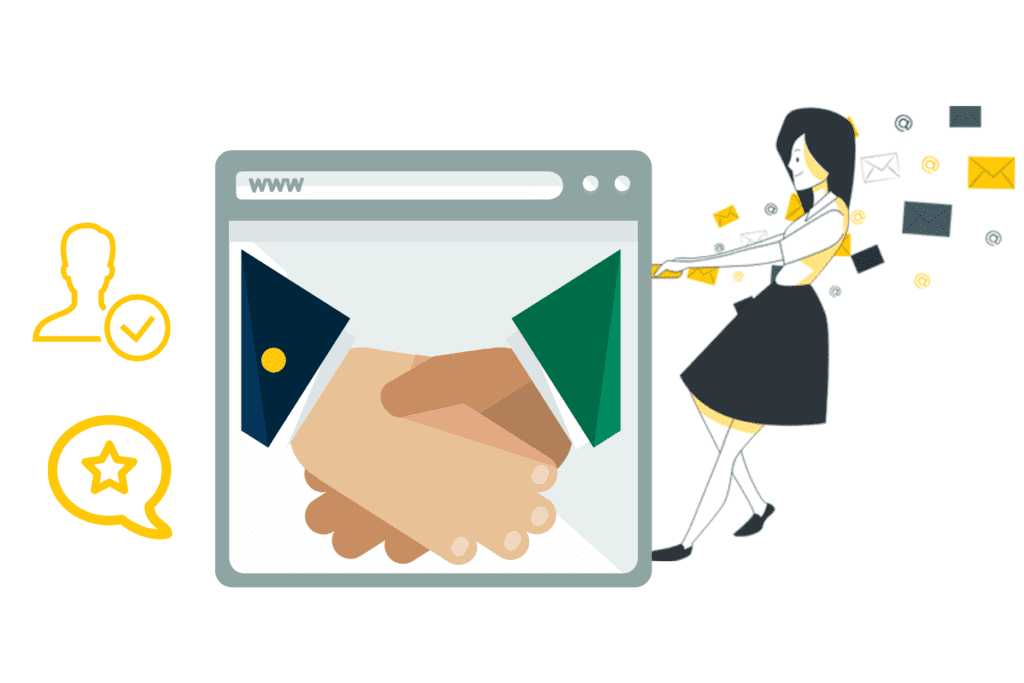 Customer loyalty. The elusive and emotional cousin of customer retention.
Unlike customer retention, which is a brand's ability to gain repeat business from a customer, loyalty is when your customers buy from you again and again, and even advocate for your brand.
Here's the thing. Your customers are already returning: but are they loyal? Turning retention into customer loyalty, and then harnessing it takes time and effort, but the benefits can have a huge impact on your business growth.
Our guide will explore 8 areas that you absolutely must know when building customer loyalty:
Customer loyalty vs customer retention
6 metrics to measure customer loyalty
How to build customer loyalty
What the experts say
Best tools for building customer loyalty
B2C v B2B customer loyalty programs – is there really a difference?
5 universal tips when implementing a customer loyalty program
FAQs on customer loyalty
Customer loyalty vs Customer Retention
Customer loyalty is a strong indicator that you're doing something well, that you're meeting your customer needs, whether emotional or functional (or in some cases, both).
"Even with the perfect product and the best go-to-market strategy, there's a good chance that you're not breaking even with a one-time purchase," says Arttu Haho, CEO of Trustmary USA. "As customer acquisition costs (CAC) increase, customer retention becomes increasingly important."
Your existing customers are 50% more likely to try a new product, and on average spend 31% more than new customers.
But while a retained customer will return until they find a better alternative, a loyal customer will return, AND shout about your brand AND try your new product lines.
Some reasons why your business should be focusing on customer loyalty are to:
Increase customer retention
Accelerate customer acquisition
Boost conversion rates
Encourage repeat sales and upselling
Increase social media engagement
Improve customer relationships
Boost customer satisfaction
Aid data collection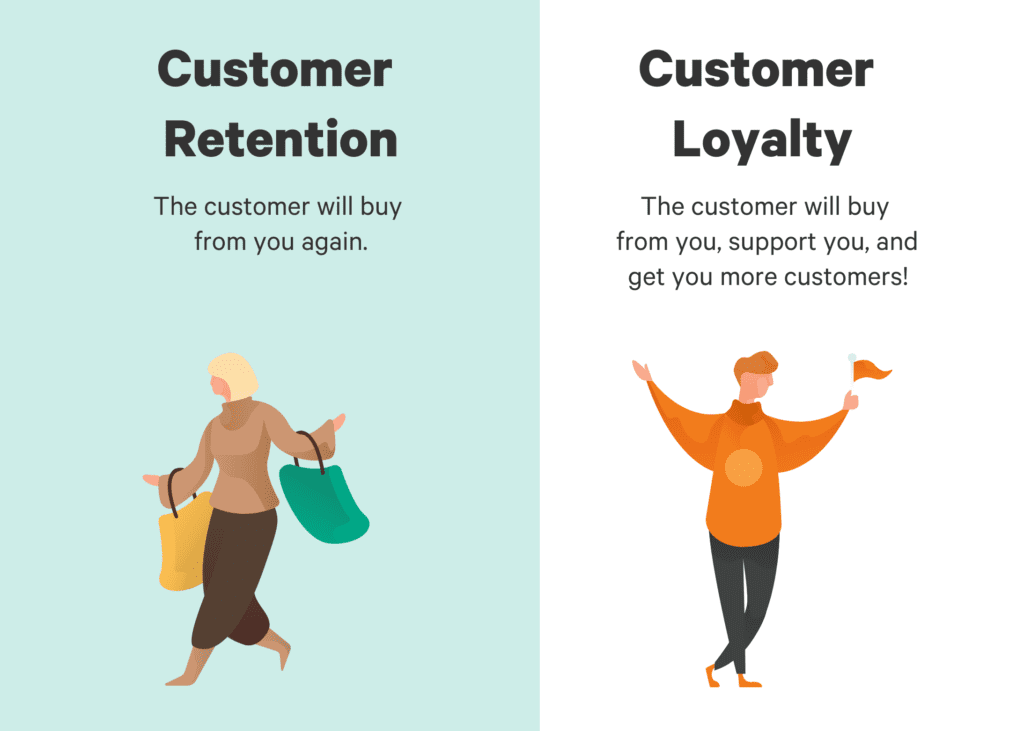 Sounds great, right? How do we get started?
6 metrics to measure customer loyalty
While retention is fairly easy to see in your data, customer loyalty can be much harder to measure due to it's more subjective nature – it's based on emotion.
Before you can start building a loyalty strategy that turns your customers into die-hard fans, there are 6 must-have customer loyalty metrics that you need to know.
Repurchase Rate
Upsell Ratio
Customer Lifetime Value (LTV)
Customer Loyalty Index (CLI)
Customer Engagement Score
These will help you establish a benchmark for customer loyalty, that you can measure your success against.
Net Promoter Score (NPS)
Net Promoter Score (NPS) is a customer loyalty metric that measures how likely your customers are to recommend your product or business to a friend.
The NPS survey consists of a single question:
How likely are you to recommend us to a friend?
The customers respond by selecting an appropriate number between 0 and 10 to show their likelihood.
Here's an example of how NPS looks with Trustmary
NPS is calculated by subtracting the percentage of those who wouldn't recommend your company (detractors) from those who would (promoters). Your NPS score gives you an insight into key metrics such as:
Customer loyalty
Customer satisfaction level
Retention rate
Customer engagement
Reorder value
Business growth
Read our complete guide to NPS to find out more
Repurchase rate
Repurchase rate is the percentage of a cohort having placed another order within a certain period of time from the first order.
The repurchase rate is calculated by dividing the number of customers who have made more than one purchase by the total number of customers, then multiplying by 100.
Repurchase rate = (customers who made multiple purchases/total # customers)x100
For example, Sunil purchases a bike helmet hat from an online retailer, and then next season, returns to buy a new helmet. His good experience with the retailer and the product creates ongoing loyalty.
By monitoring your repurchase rate, you can start building a picture of the types of customers who are returning, and what they are buying, and by assigning a cohort, how much time lapses between purchases.
Upsell ratio
Upsell ratio is the ratio of customers who've bought more than one type of product divided by the customers who've bought only one.
Upsell ratio = multiple product customers/single product customers
There are some great examples of how you can get upselling working for you: promotional pop-ups, point of sale banners, email marketing to name a few.
Here's an example of how food delivery app Deliveroo uses point of sale to upsell.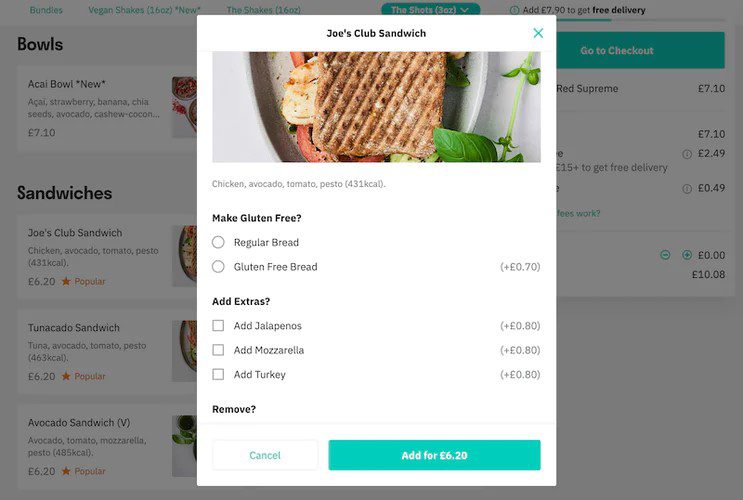 As an indicator of customer loyalty, the upsell ratio tells us that the customer's positive experience with one product has influenced their decision to buy an additional product or service from you.
Customer lifetime value (CLV)
Customer lifetime value (CLV) measures the average revenue that is generated over the customer's entire relationship with the company.
To work out the CLV, first you need to calculate the customer value.
Customer value = average purchase value x average number of purchases
Following that, you multiply the customer value by the average customer lifespan in years to get the CLV.
CLV = customer value x customer lifespan
CLV gives a good indication of the characteristics of your most valuable customers,how their buying journey has developed over time, and how the lifetime value is distributed over time. In short, it's a timeline of their purchasing behaviors.

Read more about how you can maximize your CLV
Customer loyalty index (CLI)
Customer loyalty index (CLI) combines multiple metrics (NPS, repurchasing and upselling) to start painting a more comprehensive picture of how loyal your customers actually are.
CLI is usually measured through a customer survey that rates how likely they are to:
Refer friends,
Rpurchase
Try new products
The averages from the NPS, repurchasing and upselling scores are combined into one metric, giving you a baseline measure for your customer loyalty.
While customer responses may differ from their behaviors, a regular survey (but not too regular) can give you effective tracking over time.
Customer engagement score
Customer engagement score is a measure of how engaged your customers are, based on their activity and usage of your products and services.
The key indicators that you use to calculate the customer engagement score varies from company to company but a good starting point is to combine:
Frequency of use – how often they use your product or service
Time spent – how long they spend using your product or service
Specific actions taken – how consistently to they perform key actions for your product and service
A combination of these indicators provides a single score for engagement that you can use to predict future actions, such as renewals, upgrades, and even churn. The higher the score, the happier and more loyal the customer is likely to be.
How to Build Customer Loyalty
Now that you know how you measure customer loyalty, we can take a look at how you can increase customer loyalty in your business.
Customer loyalty is so personal to every business that there's no one-size-fits-all approach to deepening your customer relationships (sorry).
While that might be the case, here are 5 tried and tested approaches to building customer loyalty that you can try:
Whether it's collecting points, discounts after a number of purchases, or rewards for recommending a friend, loyalty programs are an effective way of capturing your customer's repeat business and building on your relationship.
According to Bond, the average consumer belongs to 14.8 loyalty programs.
Reward schemes come in all shapes and sizes, so finding the right approach for your business depends on your product, market and strategy.
Here's an example from Hilton Honors, the loyalty program from the international hotel chain: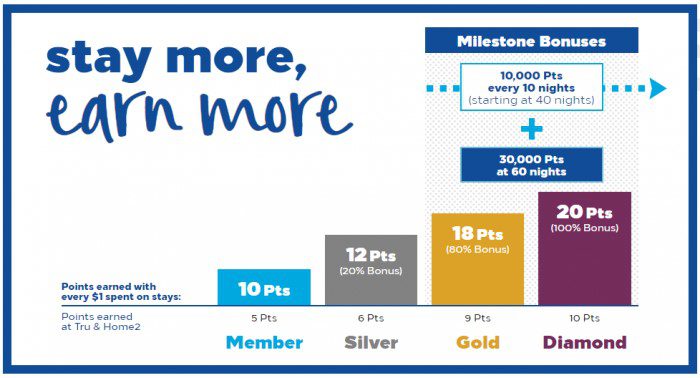 We go through the difference between B2B and B2C customer loyalty programs in more detail a bit later, but while most loyalty programs aim to increase spend and retention, they also give businesses an opportunity to earn loyalty.
When executed well, a good loyalty scheme will be personalized, help their customers feel special and deliver additional value.
Read more about how rewards create loyalty.
2. Improving Customer Experience
Gone are the days of 'you build it and they'll come'. Customer experience is the number one differentiator for most businesses, and a critical factor when building customer loyalty.
73% of customers agree that customer experience helps to drive their buying decision.
Every time a customer has a positive experience with your company, it builds a little trust and goodwill. Over time, this trust and goodwill develops into something that they want to experience again, or share with their own networks.
For example, Julia is looking for a personalised gift for her best friend.
She spots some beautifully designed ads on Instagram and clicks through, only to find the website's a mess. It takes her 20 minutes to find the product that was advertised on Instagram, the page refreshes and the item is lost from her cart. Payment is complicated, and delivery is late.
While the product may be exactly what Julia was looking for, the experience will have left her feeling frustrated? Angry? Certainly not loyal.
Understanding the experience your customers want and taking steps to deliver on that, can have a hugely positive impact on your customer loyalty.
Read about 7 ways to improve your customer experience.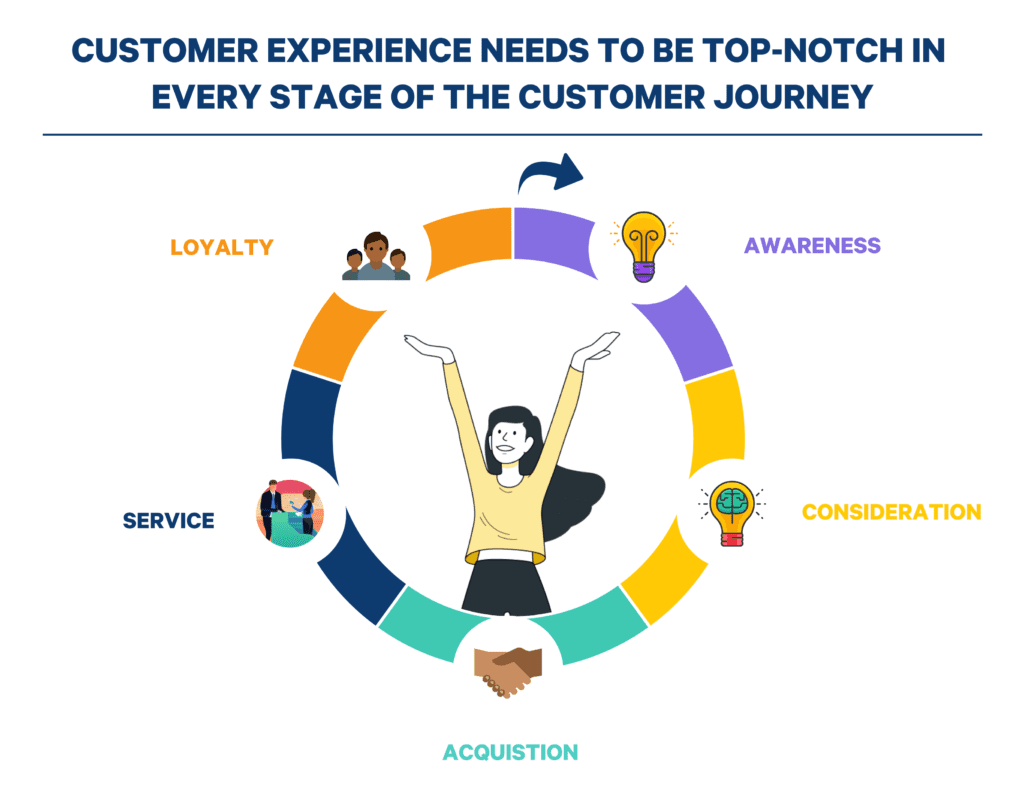 3. Personalized Approach
Did you know that 82% of customers feel more positive about a brand after engaging with personalized content?
Arguably, personalization is a part of the customer experience, but it has such a huge impact that it needs its own spot.
"A personalized experience creates human connection," says Arttu Haho, CEO of Trustmary USA. "Whether you make helpful recommendations based on past purchases, or use names in email communications, taking a personalized approach makes your customers feel seen and valued."
Optimizely does this really well with their personalized B2B landing pages: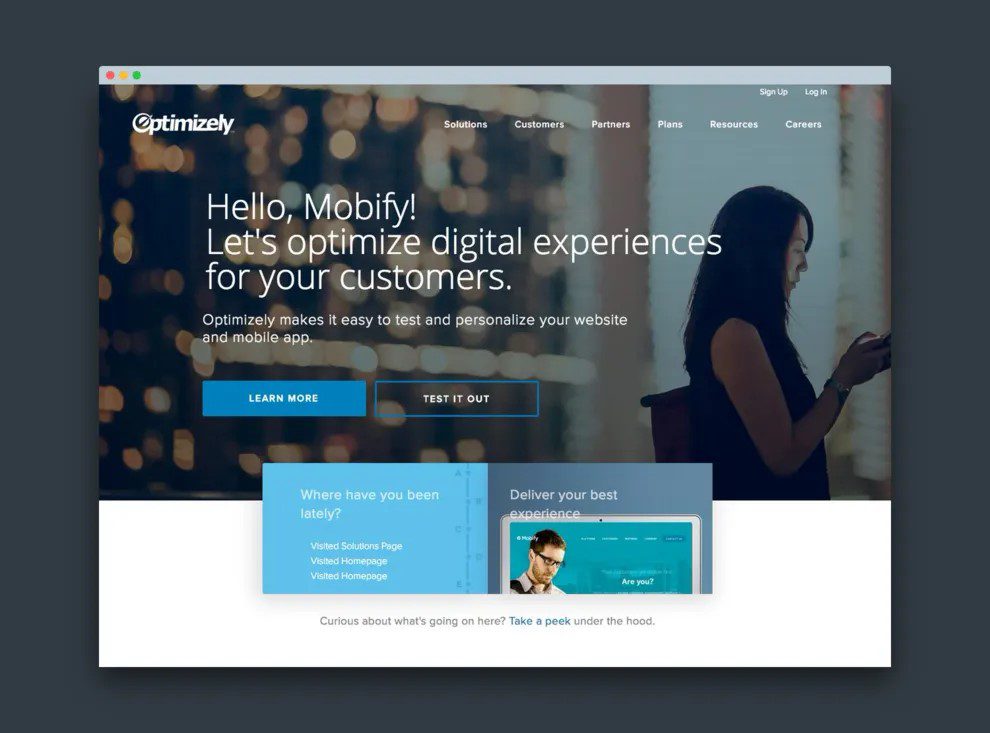 Personalization also helps to build trust. Utilizing the data you collect from your customer allows you to predict their behavior, and helpfully anticipate what they may want or need. If you get this right, your customer is more likely to trust future suggestions.
4. Frequent and Transparent Communication
Communication is fundamental to any healthy relationship, and relationships with your customers are no different.
Frequent and well-crafted communications not only gives you an avenue to share the messages that are important (new product lines, additional services etc) but it also serves as a reminder that you are here for them.
It also gives you an opportunity to share your brand – everything from values to purpose and vision.
A report from Forrester found that during the pandemic empathy was key to fueling customer loyalty. Customers are increasingly demanding authenticity from the companies they buy from, and showing your humanness forges an even deeper connection.
Here's an example of how Everlane builds customer loyalty by establishing common ground in it's email:

5. Sharing Social Proof
93% of customer read online reviews before buying a product.
We live in a world where we seek validation from others. A brand may make us feel a certain way, a product may fulfill our needs, but we haven't closed the deal unless someone is telling us to buy it.
Sharing social proof is a great way to build customer loyalty. Reviews, testimonials, social shares and expert endorsements all help build trust in your products and services.
Here's how HappyorNot use their customer reviews to build trust: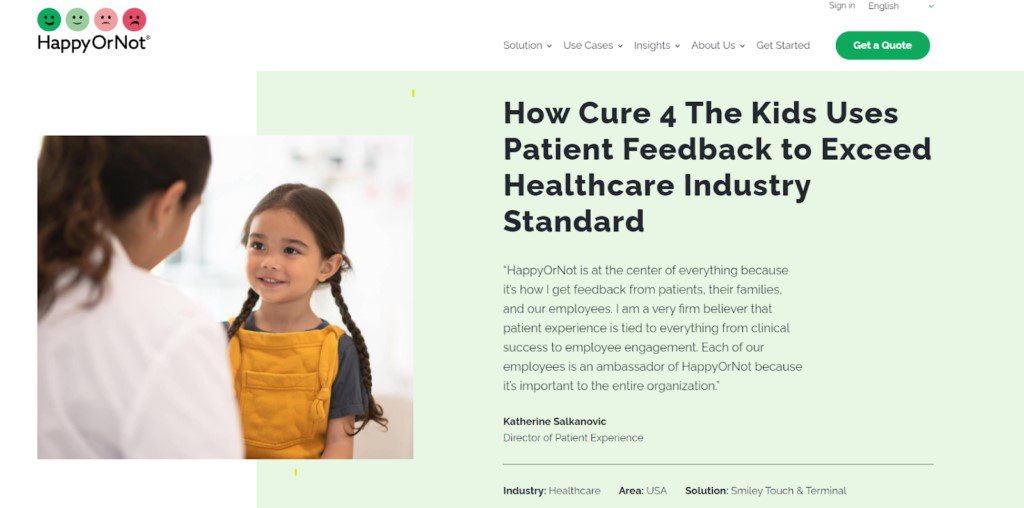 "Encouraging customers who already feel positive about your company to share their reviews also helps to strengthen their loyalty. Done correctly, you can make your existing customers feel special and valued while providing that much needed social proof for prospective customers," said Arttu Haho, CEO of Trustmary, USA.
Win-win.
Read more about how to use social proof.
What the experts say
Trust is becoming more important for customers, with 67% of consumers saying that they need to trust the brand behind a product or service. (Edelman)
Customer loyalty builds gradually, from many experiences. 80% of customers gain loyalty for a brand over time, and positive experiences with excellent products, outstanding service, good reviews, all play a part. (InMoment)
Surprising and delighting your customers helps build loyalty. According to a SAP survey two thirds of customers (60%) state that unexpected rewards are the biggest reason they'll stay loyal to a brand. (SAP)
While customer loyalty may be hard to build, it's easy to break. 80% of respondents in a HubSpot survey said they'd stopped doing business with a company because of a poor customer experience. (HubSpot)
The pandemic has tested customer loyalty. 39% of US consumers have changed brands or retailers during the pandemic, and 79% of those will continue to explore new options. (McKinsey)
Loyalty pays, literally. 60% of loyal customers will purchase more frequently from their preferred companies, while 50% of loyal customers will buy more! (InMoment)
Get further inspired by going over these 19 quotes on customer loyalty. They'll help you appreciate your customers even more.
Best Tools for Building Customer Loyalty
Harnessing your customer loyalty doesn't have to cost a fortune, but it does take a bit of time and effort. Luckily there are a number of tools out there that can make the process easier.
Here's the starter-pack of the tools you'll need to increase customer loyalty.
Social listening tools
A social listening tool allows you to monitor how people are talking about your brand, product and services.
Setting up alerts for keywords lets you track the conversation and spot trends. Positive conversations can be used for social proof, or formalized as part of your loyalty program. Negative sentiment gives you a chance to spot and address problems before they escalate.
Many social listening tools have a freemium version to get you started.
Here's an example of Hootsuite's social listening tool.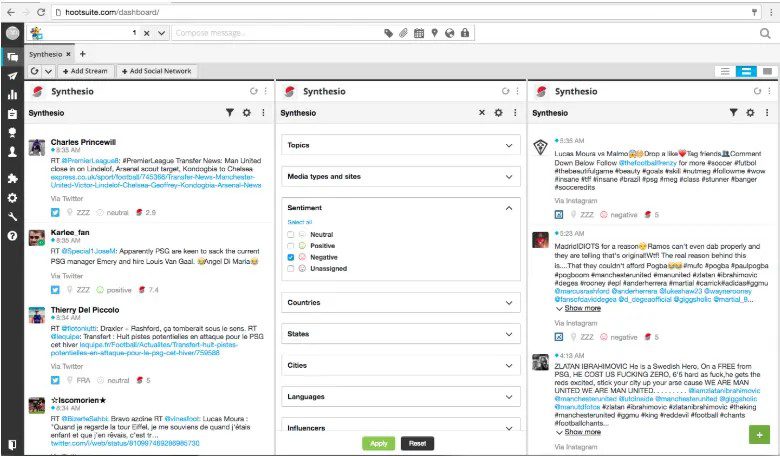 Customer Feedback Systems
While it's a good place to start, chances are that you're not going to get all the feedback you need from social media monitoring.
A good customer feedback system allows you to dig into the sentiment you collect from social media listening in more detail.
Collected feedback can be published to your website, or on other marketing channels, reflecting the customer's own sentiments.
Trustmary helps you collect, publish and test written and video reviews. Click on the NPS survey to see how it works.
You can also gather testimonials and video testimonials with it while measuring NPS.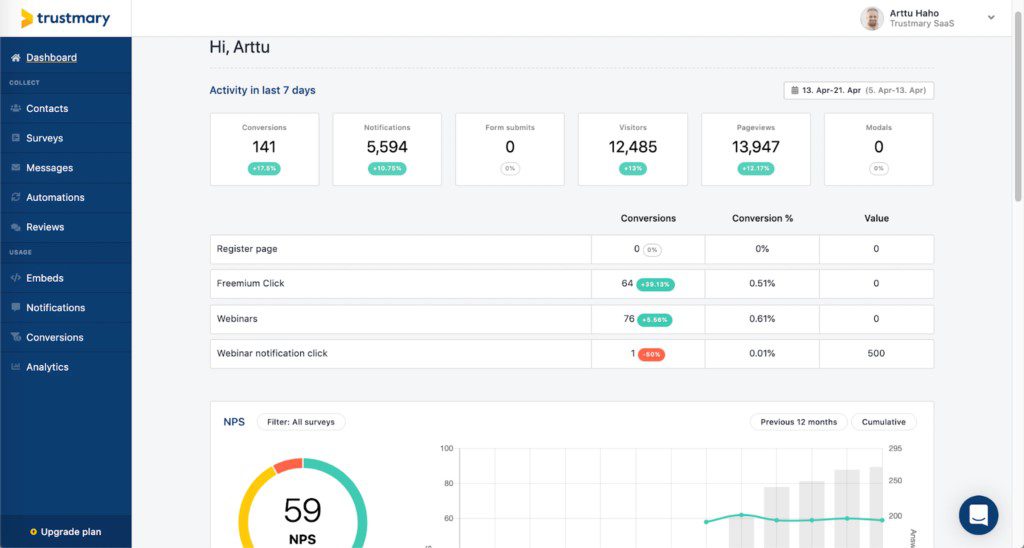 Email marketing system or marketing automation
If you don't already, get an email marketing system in place.
Remember how we said personalized experiences, frequent and transparent communications and sharing social proof can all help build customer loyalty?
Well, email marketing is your vehicle for that.
Email marketing systems allow you to build and send beautiful, personalized emails to your customers.
They're easy to integrate with your existing marketing stack. Many allow you to segment your audience, and provide metrics so that you can see exactly how engaged your customers are with your communications.
Mailchimp is one of our favourites due to its easy drag and drop builder: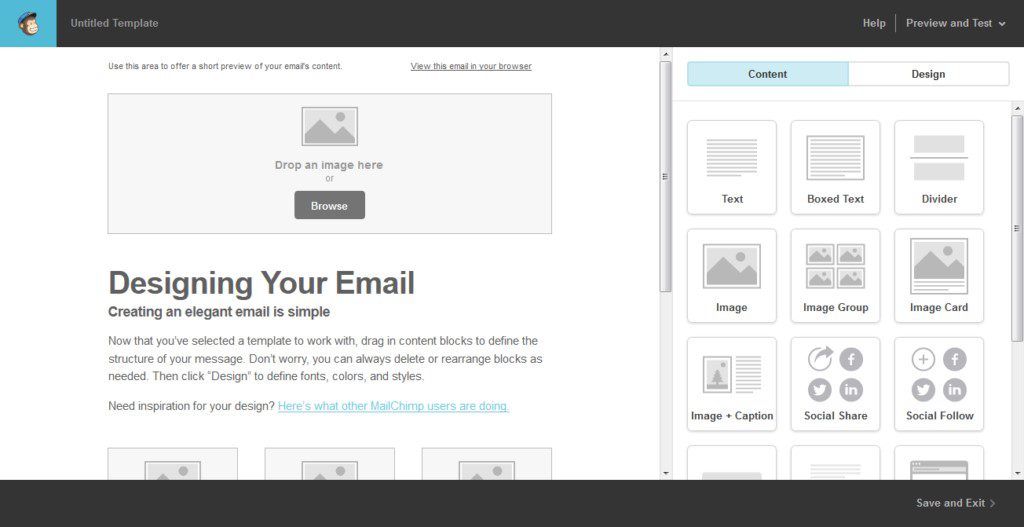 CRM system
For those who want something a bit more meaty to manage their customer data, customer relationship management (CRM) systems are centralized tools for managing your customer relationships.
CRM systems connect the dots between the key customer-facing touch points such as sales, marketing, and customer services.
If you're new to the topic or want to improve the way you use CRM, read our pro tips on CRM usage!
They can streamline processes and provide insights on behaviors, from which you can action a much smoother customer experience. They can also help manage any customer loyalty programs you have in place.
Here's an example of how HubSpot's CRM system helps manage customer interactions: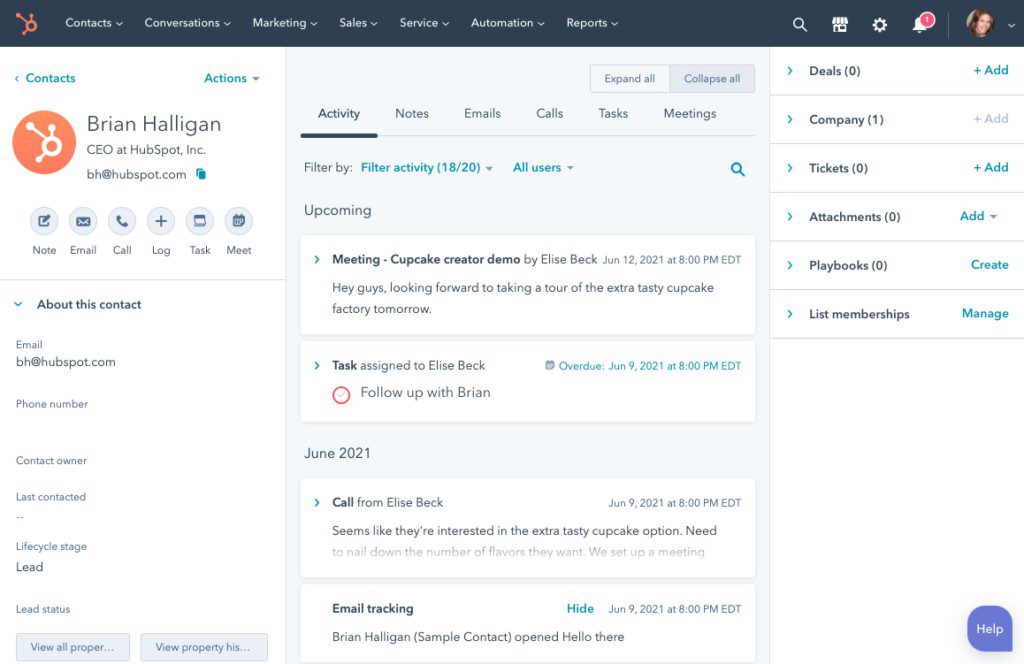 Integrate CRM with Trustmary
We've established that measuring NPS and using social proof will help facilitate customer loyalty. Most companies measure NPS once a year and make a great fuss about the results.
However, all companies should start measuring customer loyalty and customer satisfaction regularly – at least once a quarter. However, to be able to provide great customer service on regular basis, you need to know how customers actually felt after the interaction.
If you integrate Trustmary with your CRM (for example Pipedrive, Hubspot and many more) you can set triggers to send customer satisfaction and NPS surveys after a certain actions. The real kicker is that while you measure loyalty, you can collect reviews and testimonials from happy customers at the same time!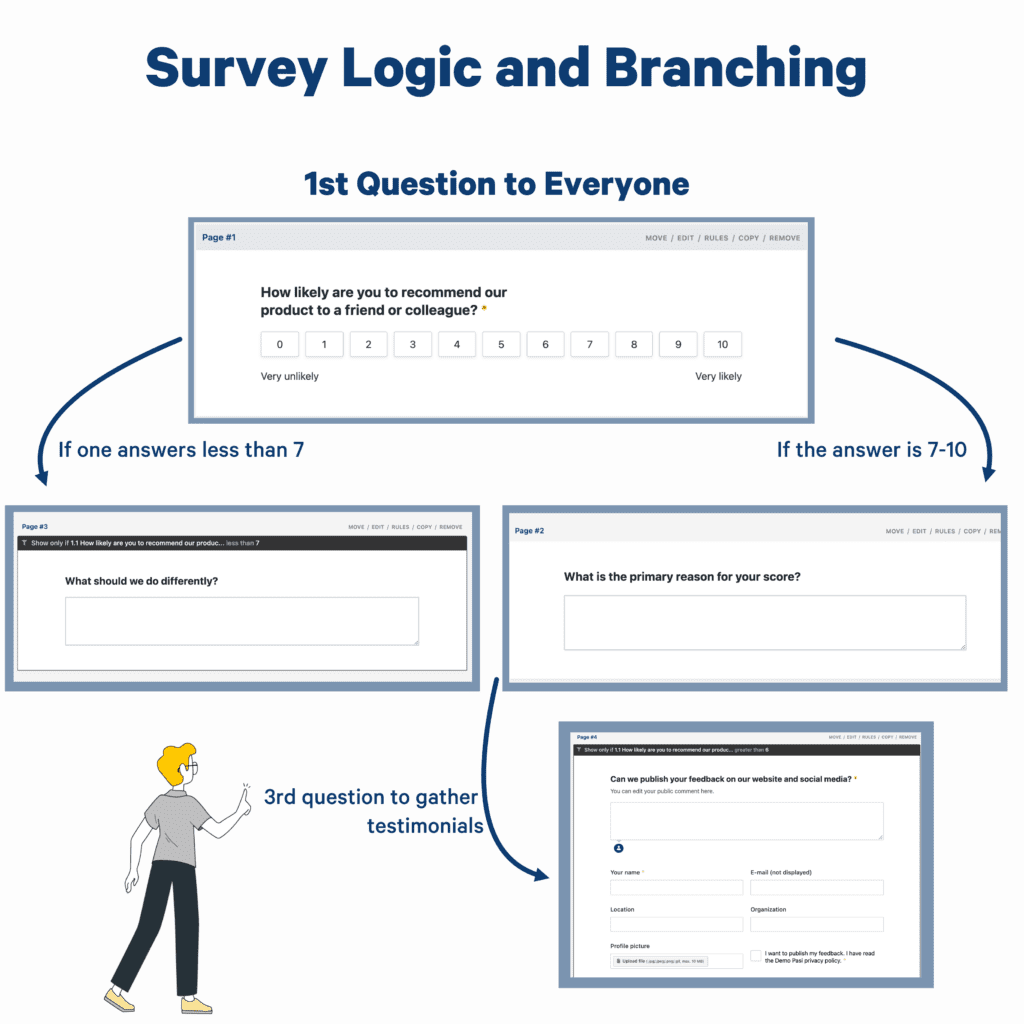 Triggering events for sending a survey could be:
follow-up meeting,

phone call,

r

epurchase,

delivery

or

whatever important activities there are in the customer journey and your CRM workflow.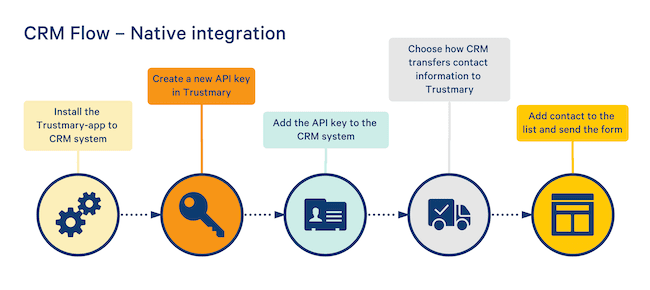 B2C vs B2B customer loyalty programs – is there really a difference?
We've already said that customer loyalty looks different for every business, but most customer loyalty programs share the same goal: maximize revenues, help retain as many customers as possible, and encourage repeat purchases.
So is there much of a difference between B2C and B2B loyalty schemes?
B2C customer loyalty
Any guesses to what's at the core of any good B2C customer loyalty program?
Emotions.
Consumer purchases tend to be more heavily based on emotion than B2B purchases – the needs that the product or service fills and how it makes them feel. One Harvard professor even suggests that much of this decision-making is subconscious!
Tapping into how your customers feel is the difference between customer retention and customer loyalty.
Some examples of B2C loyalty programs:
Spend-based programs
With a goal to increase spend, customers accumulate points for every purchase that they make. Points are then exchanged for rewards like products or discounts. They can also be organised into tiered programs where customers are rewarded on their level of loyalty.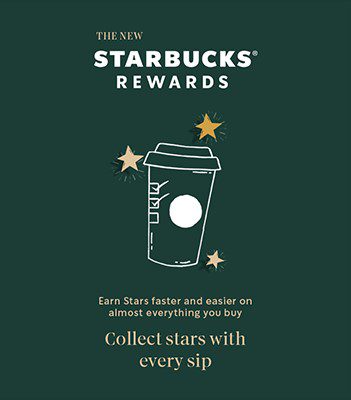 Subscription-based programs
Customers pay a monthly or yearly fee to join a VIP club which gives them access to special services and discounts. VIPs create loyalty through the feeling of exclusivity – but when taking this approach you must make sure the value of the rewards justifies the fee.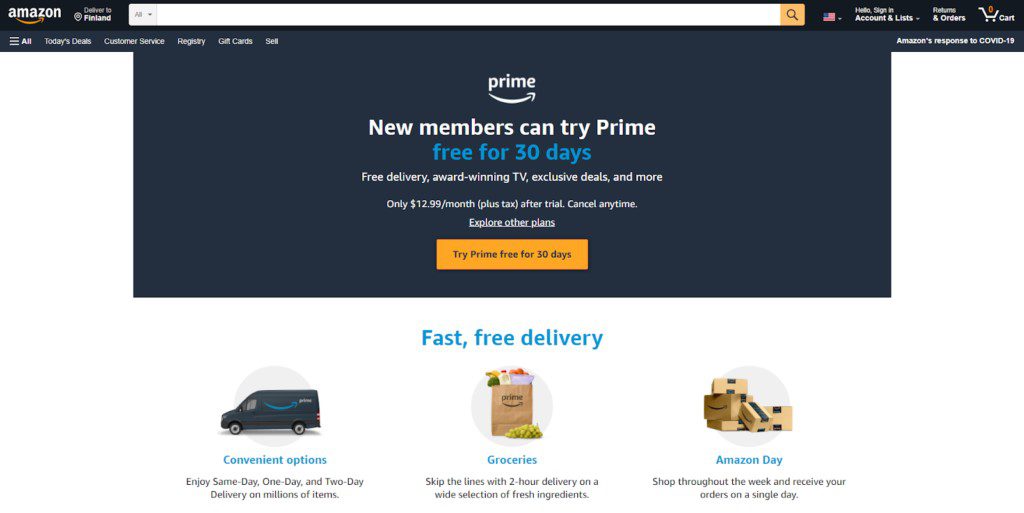 Value – based programs
Loyalty programs aligned to customer values are growing in popularity, especially as consumers are demanding more sustainable practices from the businesses they shop with.
By establishing the values that are important to your customers and rewarding this behavior you can increase purchases. You also stand to connect with your customer on a deeper level with a values-based program, as your business and products reflect their personal beliefs.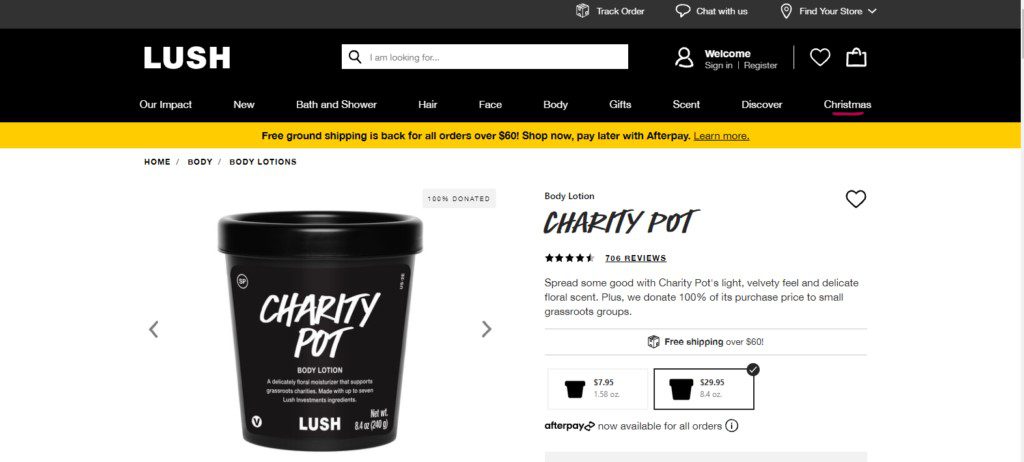 Partner programs
Strategic partnerships build loyalty by allowing customers to benefit from a team-up that adds value. In order to do this successfully, you must understand your customer to deliver value that is relevant to them and goes beyond what your company can offer them alone.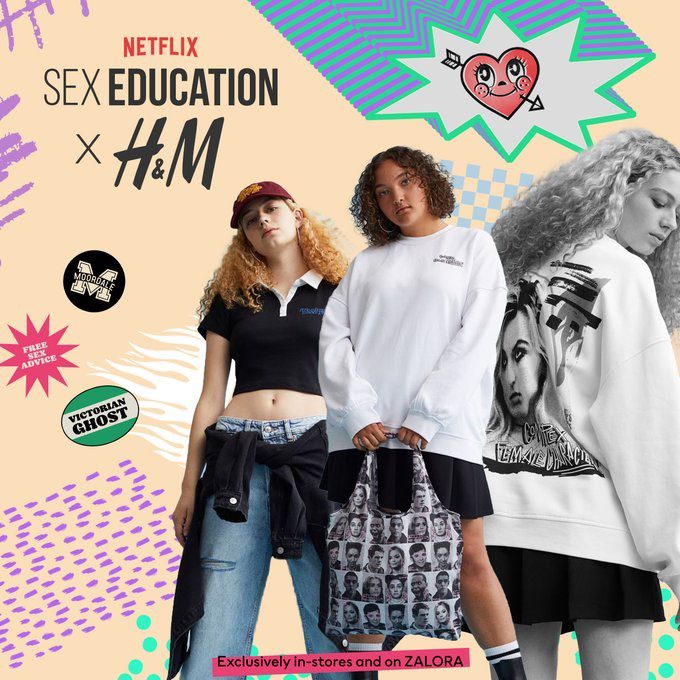 Hybrid loyalty programs
A hybrid loyalty program is exactly what it sounds like – a combination of more than one type of loyalty programs. Many B2C companies effectively combine a variety of loyalty programs for maximum impact.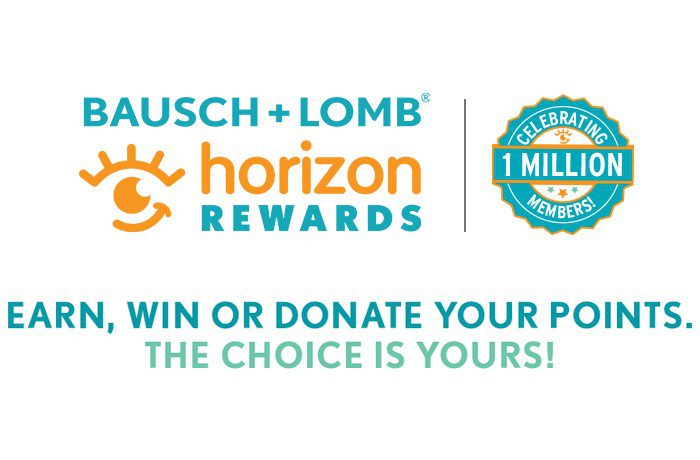 Read more about Retail customer loyalty programs.
B2B customer loyalty
Customer loyalty for B2B looks very different from that in B2C companies, but is just as important.
An average B2B company generates up to 30% of its total revenue from existing customers! With a much longer CLV too, B2B businesses that focus on deepening customer loyalty have the potential to boost revenue growth in a big way.
However, business clients are more likely to have more than one purchasing decision-maker, making loyalty building more complex.
For a B2B customer loyalty program to work, it has to be attractive to the key players. Taking the time to figure out who these people are and what motivates them, then feeding this back into your loyalty strategy will help deepen your relationships in a productive way.
Some examples of loyalty programs in B2B are:
Tiered incentives
A point-based system where clients are rewarded points for every purchase. When they pass certain thresholds, the clients unlock bonus incentives. A good example of tiered incentives are air miles schemes that most airlines run for business travel.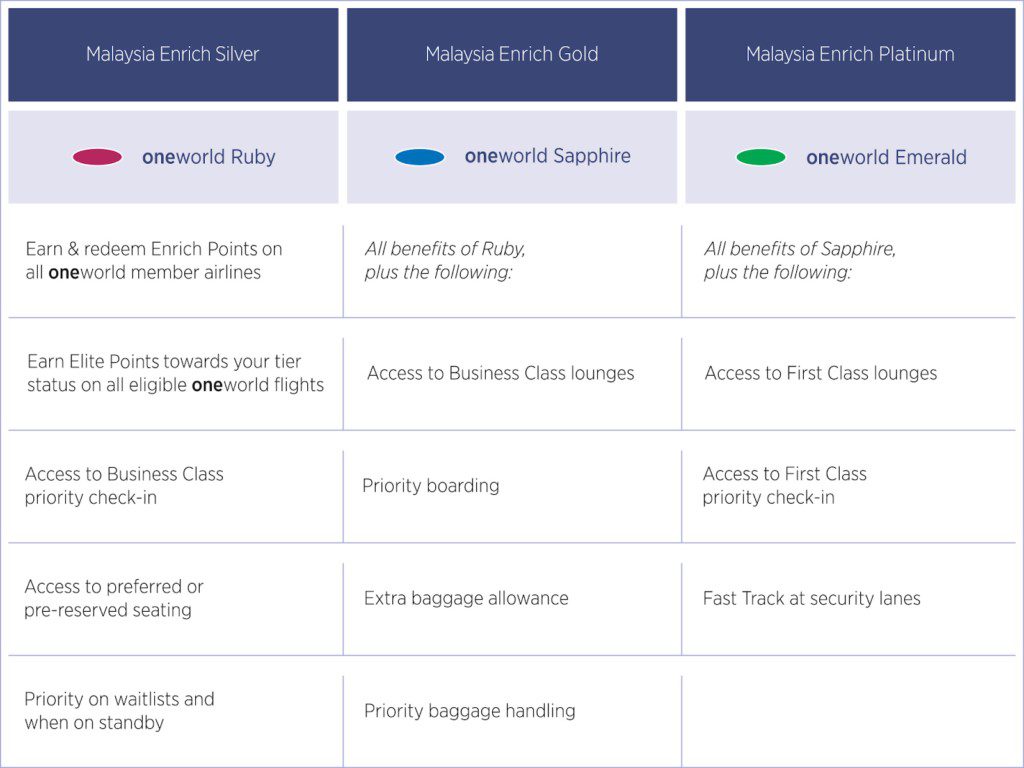 Co-marketing and support activities
Co-marketing and support programs involve partnering with your client to reach more clients and get more exposure. Affiliate programs are good examples of co-marketing: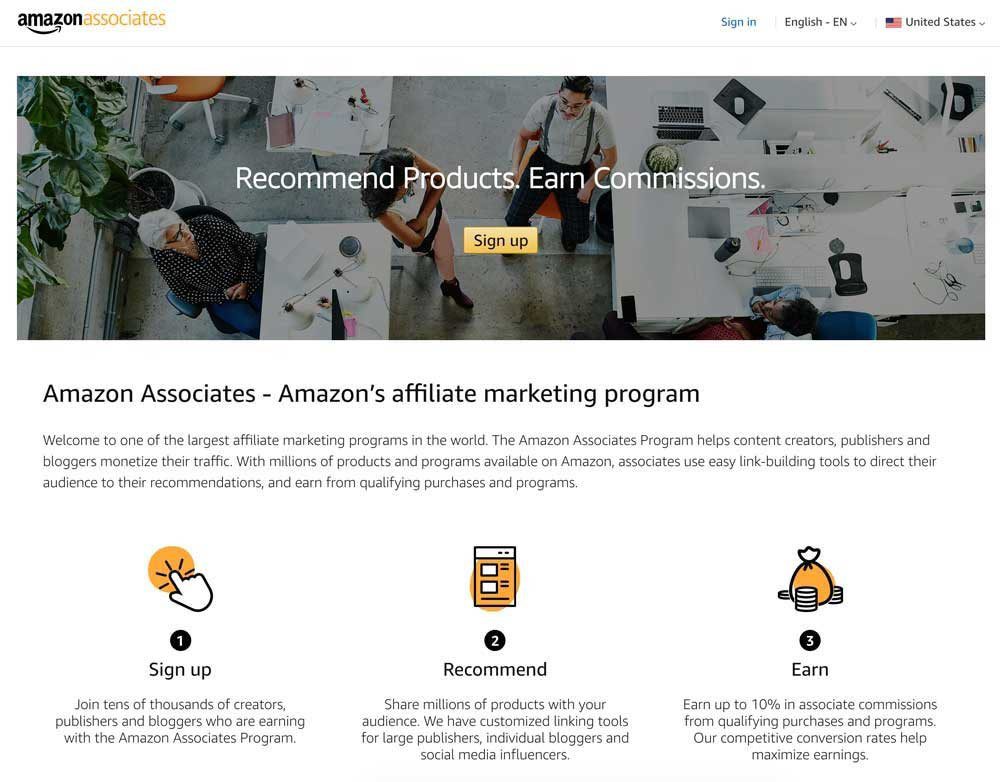 Referral programs
Offer incentives to clients to bring potential clients to your doors. Incentives could be discount-based, or experiential, but they could also simply be more product, giving customers a chance to really fall in love with what you do.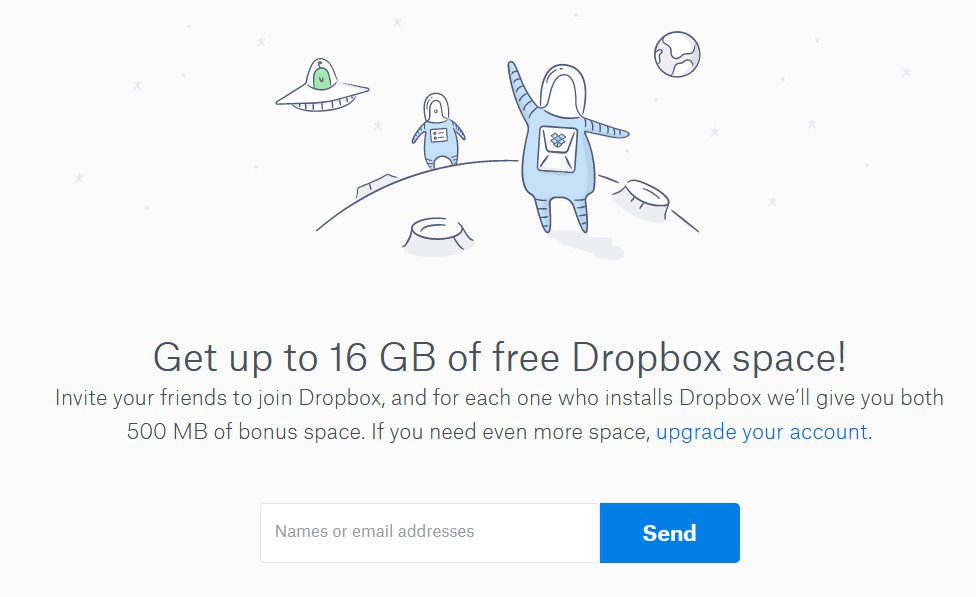 Transaction-based discounts
Businesses offer discounts based on the transaction value for the current or future purchase (often in a limited time window). Events companies will use the 'early-bird' tactic for special contacts before opening ticket sales for all."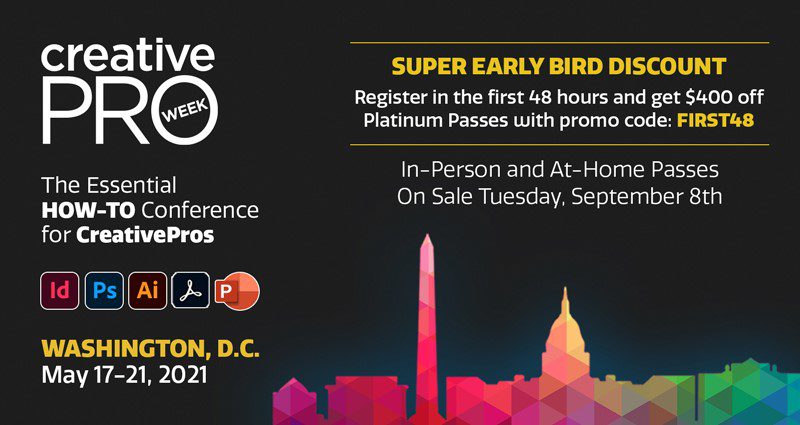 Read more about B2B customer loyalty
5 universal tips when implementing a customer loyalty program
Whether you're hooked on the idea of a B2C points-based program, or a B2B referrals program is more your thing, here are 5 universal tips that will help your customer loyalty program succeed.
1. Understand your customer
The better you know your customer, the more accurately you'll be able to predict what they want and be able to service those needs. Nothing builds loyalty like the feeling of being heard and understood.
Deciding early which customers you want to target will help keep control over the role out of your customer loyalty program. Test and learn with one segment, whether these are high spenders or lapsed users, before moving onto the next.
2. Find the right incentive
For incentives to work, they need to add value to your customer. Your rewards could be meaningful (something your customer already likes and can use), or just something they really want.
And incentives don't always need to be monetary. Giving your customers experiential rewards, access to a community, or early access to products and services, can make them feel valued and like they belong.
Either way, your rewards should do just that – reward your customers for their loyalty.
3. Make it easy
If your customer loyalty program is too difficult for your customer to gain any value from, it will have the opposite effect. Make it easy to understand, make it easy to attain, make it easy to redeem.
4. Communicate often and communicate well
Tell your customers when they're approaching the next tier. Celebrate the number of points they've collected. Show them the benefits of being a part of your loyalty program.
With frequent communication, you remind your customers of the value you are adding to their lives – plus, have a good opportunity to upsell too.
5. Collect and learn from the data
Customer loyalty programs have a wealth of data attached to them – make sure you have the mechanisms in place to collect it. This information can help inform your product development, align your business strategy or even acquire new customers.
Read more about how to create an extensive customer loyalty program
FAQs
How much should we invest in customer loyalty programs?
Businesses reportedly spent US $75 billion on customer loyalty in 2019, but a loyalty strategy doesn't have to break the bank.
Start simple with a program that is tailored for your customers, that can be scaled up as you gain traction. For example, printing 500 paper stamp-cards, or hosting a series of exclusive training workshops for your high-spending clients, cost next to nothing.
However the return on these activities is huge. Loyalty leaders grow revenues roughly 2.5x as fast as others in their industries.
How can we measure the effectiveness of our customer loyalty program?
There is no single best measure for customer loyalty. A good loyalty program will have an impact on your NPS, repurchase rate, upsell ratio, customer engagement and even customer lifetime value.
By establishing the baseline for these metrics early, and calculating your customer loyalty index, you'll be able to measure the success of any loyalty-focused activities you undertake.
What is the best measure for customer loyalty?
Businesses who want to get a comprehensive overview of customer loyalty should be monitoring their NPS, repurchase rate and upsell ratio, as well as the customer lifetime value, customer loyalty index and customer engagement score.
How much more valuable are loyal customers than unloyal customers
According to a Temkin Group study, loyal customers are 5x as likely to repurchase, 5x as likely to forgive, 4x as likely to refer, and 7x as likely to try a new offering.
Loyalty is hard won, but the time and effort it takes to build loyalty stands to deliver huge rewards.
Read how you can start profiting from your customer loyalty program.
What is the easiest way to get started with a customer loyalty program?
Get a good understanding of your customers and what makes them tick. Qualitative research can help to steer your understanding of where you can add value and build a deeper relationship.
Set a goal. Customer loyalty can have all kinds of amazing benefits but identifying what your number one priority is will give you something to work towards.
Identify which customers to target first. Test and learn with one customer segment before scaling up.
Define tactics that will build loyalty. Perhaps personalized emails coupled with a subscription-based loyalty program will help to increase repurchasing? Focus on activities that will help you achieve your goal.
Establish a budget. Customer loyalty activities don't have to be expensive but heavy discounting can quickly eat into your margins. Ring fence an amount you're willing to spend, and stick to it.
Set up your customer loyalty toolkit. Make sure you have the right tools in place to monitor and manage your customer relationships while capturing positive sentiment.