Technology has come a long way since it was first introduced to the world. It's safe to say that it progresses at a breakneck pace, faster than anyone could have anticipated.
As new tools and technology surprise and amaze us almost every day, it's no surprise that real estate professionals feel overwhelmed with what quality marketing includes today.
Real estate marketing is richer and more versatile than ever, but it's also more competitive. This makes lead generation a constantly-changing challenge. If professionals in this industry want to keep impressing and attracting their target audience, they need to keep up with the trends of today.
That being said, what worked for lead generation a few months ago might not work at all today. As a real estate agent, you need to search for innovative and promising strategies for lead generation.
To help you in this endeavor, we've created a short guide on
how lead generation works
accompanied by some of the best strategies to use today.
So, let's get started.
1. What Is Lead Generation in Real Estate?
Lead generation is a process where you attract, engage, and convert potential buyers into new leads. In other words, you are creating an interest in your offerings and making people invested in what you're selling.
In the real estate world, lead generation requires different kinds of actions starting from using the right real estate software to creating a quality website to using a variety of strategies for a better customer experience.
To put this simply, if you are in this business, you need to apply not only the general rules of marketing but also marketing tricks that are trending in the real estate industry. 
These include 
open houses, 
local community events, 
virtual tours, 
cold calling, 
and other methods that we'll discuss later in this article.
Don't get me wrong – there's no reason why the general marketing strategies applied to other industries wouldn't work for you. However, real estate agents must also leverage the power of trending methods for lead generation in real estate.
Understanding the Real Estate Lead Generation System
Two categories for real estate leads exist today.
The first is inbound marketing.
The second is outbound marketing.
Let's take a look at what these two encompass.
Inbound Marketing
Inbound marketing includes the strategies that attract people to the business through the delivery of related incentives and content. This is how modern marketing in the online world works. The inbound activities of today include social media marketing, content marketing, SEO marketing, as well as advertising.
Here is a visual representation of how inbound marketing takes potential buyers from strangers to leads to customers to promoters:
Outbound Marketing
Outbound marketing requires that you have some knowledge of who your target audience i.e. potential clients are, what they need, etc. Typical activities that fall under this category are email marketing, direct mails, telemarketing, event marketing, etc.
Now that you know this, the main question arises: which is the best for real estate businesses?
Here is some free real estate advice – use both outbound and inbound marketing for the best results. As people progress through their customer journey, you need to tailor and combine your activities to attract more leads.
Speaking of the customer journey, here are the stages that your buyer leads will go through when deciding whether or not to invest in real estate through you: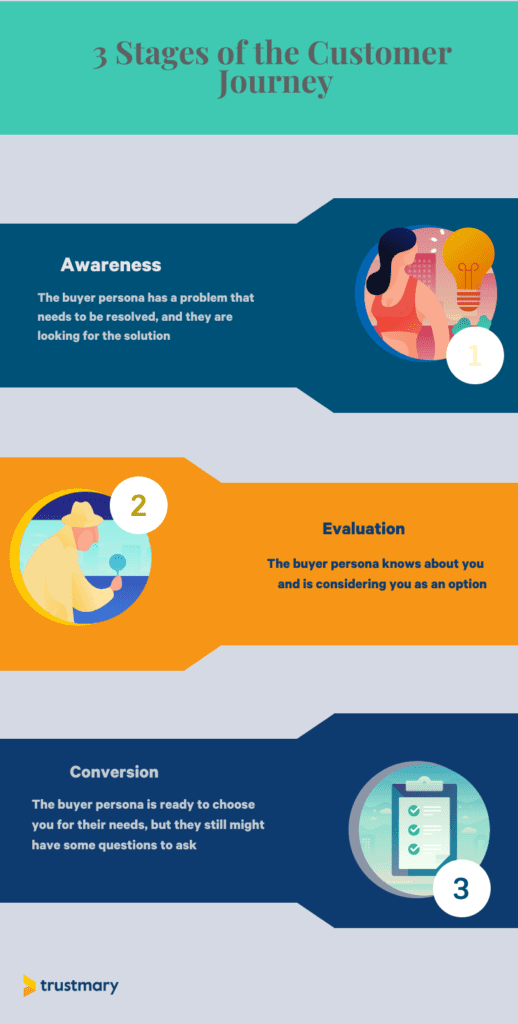 ‍
Depending on what type of marketing you choose and how you implement your strategies, you will be capturing leads in different ways. 
For example, some real estate agents send out printed forms for events or host open houses. Other real estate agents post an online form on the website, requesting details about their customers' preferences.
Whatever you decide to pursue, it's important to keep track of all your activities and possibly even organize them in a real estate CRM.
2. The Best 15 Strategies for Generating Real Estate Leads in 2022
Now that we've discussed the importance of new leads for your business success, it's time to get to the real thing. Below you will find some of the best ways for generating leads in the real estate business. 
1. Positive Customer Feedback
You'd be amazed at how important positive reviews are in this industry. The biggest number of buyer leads come from the good reputation of a real estate collaboration specialist or the property in question.
Testimonials have always been a strong means for establishing a brand's reputation. In an industry where people are purchasing their homes, their offices, or properties they most likely will use for a long time, reputation is everything.
Actionable Tips on Using Testimonials to Generate Leads
If you want to generate leads more efficiently, you need positive customer feedback in the right places, in the right numbers, and with the right kind of help. Explore your options – establish a page for reviews on the website, prompt people to share testimonials in the right places, make sure to get videos with real customer feedback, etc.
This is probably not something that most real estate agents specialize in, so it can be a challenge. But, it doesn't have to be. Thanks to tools like Trustmary, feedback generation is not a problem whatsoever. Taking advantage of tools like this is what will attract leads toward your open house, your social media platforms, and basically – your listings.
If you aren't sure how to use this platform, you can always signup for a free trial at Trustmary. The sphere of influence created by other people who leave testimonials about you is the strongest tool you have in your arsenal. This is the starting point of your lead generation strategies.  
Aren't sure about testimonials and referrals just yet?
According to the NAR 2018 Survey of Home Buyers and Sellers, 41% of the buyers used a real estate agent that was referred to and recommended by a friend, a relative, or a neighbor. This has a huge impact on the sellers' decisions, too – 63% of the sellers in the research found an agent through referrals.
This is especially important if you are looking to attract leads to a new real estate business. Whether you'll use it to get quality leads in the form of buyers or property owners that wish to sell, this is the ace up your sleeve at any point of your journey. 
2. Landing Pages
In today's world driven by technology, your success in the real estate business depends greatly on your online presence. Trust me, other real estate agents are working hard on their online presence, paying for costly websites and ads that run all across the Web.
Now, this doesn't have to be so costly or challenging if you know where to put your focus on and how to use content to get more leads.
It all starts with landing pages.
Real estate agents now have a hard time turning a click into an actual conversion. The US average conversion rate for real estate leads is usually reported to be around 2% to 3%. However, according to the National Association of Realtors, the numbers are even more disappointing. They claim that the rate is closer to 0.4% and only goes up to 1.2%.
This is exactly why landing pages should be one of the priorities in your lead generation strategy.
The reason why the rates are so low is that most real estate agents don't bother a lot to handle their landing pages. They focus on attracting leads via cold calling or captivating email campaigns, not on optimizing their pages to be ready when people visit them.
This is a pity since landing pages are an amazing way to get more leads. According to Hubspot, companies with 10 to 15 landing pages of high quality enjoy a lead generation increase of 55%.
Just check out this graph from the Marketing Benchmarks from 7,000 Businesses report:
Landing pages have tremendous results for those that optimize them. Here are some stats you should know about, too:
Actionable Tips on Using Landing Pages for Real Estate Lead Generation
Let's get to some actionable tips now.
Realtors can create many different kinds of landing pages that capture real estate seller leads and attract buyers. Here are some ideas:
Landing page for booking appointments
Landing page for home valuations
Community landing pages
Landing pages that include a buyer's guide or a seller's guide
Landing pages for affordable listings
Landing pages for luxury listings
Naturally, this list can go on and on depending on what you have in store and what type of real estate leads you are looking to attract for your business. 
3. Lead Segmentation
I'm going to take a wild guess here. The majority of people who receive your emails, phone calls, and newsletters are existing leads that you have in your system. These are people that have used your services, reached out at some point, got your business cards and got in touch with you, etc.
If you have such people in your real estate business, you need to focus on retaining them. 
Here is why:
The numbers make it really important for real estate businesses to keep impressing the current customers and leads. However, this does not mean that you shouldn't focus on generating new quality leads. In fact, you can use segmentation to make this happen. 
Actionable Tips on Using Segmentation for Real Estate Lead Generation
There are many ways to segment the leads. Some of them are:
By level of activity
In this case, you'd be segmenting them by hot or cold a lead is (whether or not they are interacting with your site, social media, content, etc.)
By behaviors
You can segment based on different behaviors such as signing up for the newsletter, downloading your guides, commenting on your posts, etc.
By demographics and other buyer persona segments
It's smart to segment your customers and leads based on age, gender, location, and other buyer persona characteristics.
Let's say that you have all this information at your disposal and you've segmented the leads somehow. Next, you should use those segments to craft different strategies in the form of emails, website content, social media posts, etc.
How can you do this?
If you, for example, categorized them by 'hot' and 'cold' leads, you should create two strategies to handle these separately. Hot leads require a more personalized approach to push them to make the decision. These are your 'exclusive leads', people who are very close to being actual customers.
Cold leads, on the other hand, might be better left with strategies such as an email drip or some cold calling.
4. Local SEO
Almost half of the property buyers these days are searching for something nearby. The National Association of Realtors shares that 44% of all real estate buyers start the search for homes online. They further proceed to say that 95% of buyers will use the internet at least once during the buying process.
What does this mean for you as a real estate agent?
It means that you need a website that ranks well in Google. This way, when potential and free leads are searching for real estate agents in the area, they'll come across your pages.
This is all doable with local SEO or local search engine optimization. 
Actionable Tips on Using Local SEO for Real Estate Lead Generation
Are you on Google My Business? Do you own a website for your realtor business? If you don't, do this right away. Optimizing your Google My Business page, as well as your website is what puts you higher in results when people search for real estate agents in the area.
If you do this right, you'll rank higher on the map, which can generate more phone calls, foot traffic, and website visits for your real estate business. 
Some other ways to improve your local SEO include:
Start to build links
Set up on-page local SEO signals
Get yourself listed in online directories
Manage the online testimonials (You can book a meeting to get started with this right away)
Engage with social media users
Use structured data markups
Post about local events in the real estate business
5. Social Media
It doesn't really matter what you are trying to promote and what type of leads you want to attract. Social media is an indispensable component of your strategy to generate leads.
Just check out these HootSuite stats to see the impact it can have:
Actionable Tips on Using Social Media Marketing for Real Estate Lead Generation
When it comes to real estate businesses, some of the most important platforms for social media marketing to invest in today are LinkedIn, Facebook, Twitter, and Instagram. 
LinkedIn
If you think about it, LinkedIn is quite the obvious choice. It's a platform used for professional networking. This is where your seller leads go to search for real estate agents. 
Twitter and Instagram
You can also attract tons of traffic with platforms like Twitter and Instagram. Instagram is focused on visuals, which are the strongest tool you have at convincing people to purchase a property.  
Facebook
And, of course, there's Facebook and the ad campaigns that professionals launch to reach thousands of people who can be potential leads. There are tons of opportunities for you on this highly-used platform, such as forming local groups, posting content to attract the leads, commenting and sharing in other posts, etc. 
Here you can see how much impact this can yield:
Seeing how Facebook is the most-used platform for real estate, let's focus on advertising there. You can maximize the success of your social media ad campaign if you use granular targeting, which is offered on this platform. Here is how it works:
Objective – the platform will give you a variety of campaign objectives to choose from, one of which is Lead Generation. You also want to select things like Brand Awareness, Reach, and Conversions which will essentially take you to real estate investors and sellers. 
Targeting – based on the information you have about your buyer persona, choose from behaviors, demographics, and interests. On Facebook, you can target anything from zip code and homeownership to age ranges and income.
6. Video Marketing
Marketingsherpa reports that a video can attract 2 to 3 times as many visitors to a real estate agent's website. If you stop to think about it, it's only natural that people want to see what is offered to them before they dedicate their time to see the listing in person.
There are many options for properties nowadays, and people are busier than ever. You'll hardly find potential buyers and real estate investors that will be willing to go from door to door hoping to see what they need. With the advances in technology, quality visuals, videos, and 3D renderings, this is all a waste of time for them – and you.
Buyers and sellers will surely agree with this. In fact, 73% of homeowners prefer to list with real estate agents who create video content to show to buyers. 
Actionable Tips on Using Video Content for Real Estate Lead Generation
There are many ways to use videos to get more leads these days. Not to mention, this is great for your search engine optimization, too.
Some of the best examples we can give you for video marketing for real estate are:
Videos of the properties on sale i.e. listings
Interviews with clients
Client testimonials in the form of a video
Q&A live streams
Yearly reviews
Profiles of real estate agents
Videos of events in the community
As you can see, there's more to video marketing than listing videos, though these are still the most important kind. People can be impressed by seeing a video of a property they wouldn't even consider just by reading the description. 
They can also save their time – and yours if they see a video of a property that's not a right fit. It's a win-win, that's for sure.
Now, you don't necessarily need professional equipment to make such videos. Your cell phone camera can work, to begin with, but if you want to make these truly immersive and boost your search engine optimization, high-quality videos are a must. At some point, you might want to invest in a better, professional camera or hire someone to handle this part for you.
7. Open House
Open houses are really popular these days. Some real estate agents go as far as to create open houses for properties that don't sell for sure, since this is a great way to learn who your potential buyers are. 
Actionable Tips on Using Open Houses for Real Estate Lead Generation
The most important thing for having an open house in the real estate business is to have a plan. Take a look at this short guide for open houses:
Make Sure That People Know about It
The first and most important step is to make people aware of the event in question. They need to know exactly what they'll see, when they can see it, and where they can find it. There are many ways to do this. You can send emails, promote the open house on social media, use flyers and postcards, get signs on local businesses' doors, etc.
Also, you need to create a signpost to place it in front of the property when the actual open house day comes. 
Get the Contact Information from Visitors
Many times, open houses won't have the success that real estate agents expect. Don't fret – this is actually a great way to get free leads for the future open houses and properties you'll put on the market. During the open house, use the opportunity to give business cards to potential new homeowners.
You can have a form at the door where people can give their contact information. This can potentially give you many new contacts for potential buyer leads. You can then reach out to them and offer them something else based on their preferences, which you can also learn in those forms.
Creating the forms can take a while, but take this seriously. The forms need to be short – no one will want to go on and on about what they need when they simply come to see a property. Ask simple and straightforward questions such as:
Would you be interested in seeing other similar properties if you don't like this one?
What is your preferred budget/ location of a property?
Even if people don't provide their details in the form, there's nothing bad about going up to them, engaging in some conversation, and asking them informally. They can still say no but if they decide to share this with you, it's a great chance to learn what they want – and offer it to them.
8. Local Presence
Do you know why other agents attend and host events that probably cost money they don't have to spend in the first place? It's to promote their brand and reach more prospective buyers. If you want to be a market leader, you need to stay on top of community events, build a personal connection with your prospective buyers, and work hard to bring more business. 
Being involved in the community is a great way to attract and nurture leads. It makes sense for you to attend and volunteer at community events, not just real estate gatherings since you'll meet people from the entire community.
A real estate agent can benefit greatly from getting to know the people in the community where they work. There are many things that can help you establish your local presence.
Let's take a look at what these include.
Actionable Tips on Establishing Local Presence for Real Estate Lead Generation
Create community pages on your website, discussing topics like leisure amenities, economy, etc.
Sponsor local events like school concerts, park fairs, etc.
Help organize some charity events in the area
Host a podcast
Give presentations for real estate at colleges and schools
9. The Right Kind of Content
Have you heard the statement: "Content is king"? Content is the driving force of generating online leads, and it's your strongest tool on social media. Not to mention, the right kind of content can form a sphere of influence and convince people to put trust in you as their real estate agent. 
But, do you know what type of content is used for generating free leads in the real estate industry?
Actionable Tips on Using Content for Real Estate Lead Generation
We've narrowed down the many types of content used for lead generation to the four best for real estate marketing. 
Guides and Tutorials
One amazing way to generate leads and impress the community is to show your expertise and educate them. People often cannot make the decision about a property because they don't know how to do it. They don't know what to look for, how to make the decision, what questions to ask, etc. 
Other real estate agents are simply throwing options at them, so just imagine that people are coming to you to get some advice, not just for the listings. 
Knowing this, when you're creating your website, you should dedicate some time and effort to educating your customers. Create tutorials, infographics, and guides that will help them make better decisions. This will improve their satisfaction with you as a real estate agent and can make your job much, much easier. 
Let's have a look at one informational guide in the form of an infographic, created precisely to generate leads in real estate:
Newsletters
When we think of real estate materials and new listings, we think newsletters. This is a great way to tell people that you have new property listings for them, share some market news, and keep in touch with them. You can use newsletters to get the information out regularly to nurture leads and promote lead conversions.
Blog Posts
Blogs are a brilliant tool for real estate lead generation these days. Many real estate agents have their own blog on the website. In it, they share information about new listings, demonstrate their real estate expertise, and discuss matters connected to the real estate world.
Regular blogging is great for your website's SEO, will keep your audience interested, and can help you make more sales! These are great spots for your guides, too.
Community Magazines
Finally, you can get your information in a community magazine, one that people check frequently to find the best deals. In community magazines, you can share information on upcoming events such as an open house, talk about your new listings, and get inspired by the industry stats and information in the real estate world. This is a great place to get some sales leads, too.
10. Amazing Customer Service
The buyer journey is of vital importance to your success as a realtor. If you want to succeed in this market and generate more real estate leads, you need excellent customer service.
This starts at the very beginning of the buyer's journey. It can all start from the moment when the buyer visits your site or reaches out to you. 
So, how do you use customer service to generate real estate leads?
Actionable Tips on Optimizing Your Customer Service for Real Estate Lead Generation
One of the best lead gen ideas these days is to offer a free quote or consultation. People are much more likely to reach out to you and provide you with their contact information if you offer them this perk. It's what makes your service more attractive. Giving people the chance to talk to you without charging them makes the process of reaching out simpler.
Whether you do this over the phone, on the Internet, or meet with them in person, you need to make sure that you're always professional and invested. If a person is satisfied with how you handled their property sale or purchase, they are more likely to recommend you to others.
Every little thing you help them with, offer to them or make easier can prompt more positive reviews and more references.
11. Virtual Tours
As technology advances, so do the ways realtors use to generate leads. Quality photos and attractive written copy are still the most-used options to attract leads and boost SEO. However, many of the home seekers these days look for something more immersive, something that will allow them to see the property without having to be there.
These days, realtors offer their customers a virtual tour they can view from the comfort of their homes. This allows them to make the important decision on what properties to see and avoid. It saves your time and it saves their time.
Not to mention, it looks much more attractive than a photo taken from a single angle.
According to Digitalintheround, 50% of Internet users today rely on virtual tours in their research-making process, and customers spend up to 10 times more on sites that offer virtual tours.
If you opt to create a professional 360-degree virtual tour of every property you put on the market, you'll attract more leads in the form of buyers and sellers. Your listings will stand out from the crowd and people that aren't in the area or are too busy will be extremely grateful. This is an opportunity for them to narrow down their search instead of traveling to inspect many properties. 
12. Printing on Paper
Marketing has changed a lot in the last few decades and most of it has gone into the digital realm. However, this is not the case in your industry. Nowadays, realtors are still taking advantage of older strategies like cold calling and printing paper in addition to their digital efforts.
Actionable Tips on Using Printed Materials for Real Estate Lead Generation
Many people love the idea of being able to open a paper and see listings for homes. If you take a look at the popular newspapers that still exist in your country, you'll see that they still have pages with property listings.
In addition to this, you should put print to paper for:
Create "just sold" and "just listed" banners and postcards
Print out your business cards to hand out at events
Create some flyers to grab the attention of home seekers
Publish your listings or get ads in newspapers
13. FSBO Clients
Do you know that most homeowners don't go to a realtor when they want to put their property on sale? They believe that this is costly, want to do it on their own, or simply don't know where to look. 
With the right incentive, you can convince some of these people to hire you as their realtor and turn them into bold leads for your business. 
So, it's time to do your search engines research. 
There are tons of places where people publish their own listings for properties. Use search engines to find ads from people interested in selling their homes. Once you do, give them an incentive to use your services. Offer to create high-quality photos of their property, a virtual tour, promote it to your wide audience of potential buyers, etc. 
FSBO or For Sale By Owner listings can be found all over the Web. Here are some places to get FSBO free leads:
Craigslist
Local newspaper websites
Zillow
14. Keyword Targeting
Using keywords is vital to your SEO rating, but it's also a sure way to get the right people to find your listings. Let's say that a person is looking for a house in Boston. If you have some options for them, you need to make 'house' and 'Boston', as well as variants of these two keywords your primary and most common words in the content. 
Yes, this is a lot of work, especially if you have many listings that you promote in different places such as your website, social media, on other sites, etc. However, it's a great way to get the buyers to your pages.
15. Mobile Optimization
Do you know that the majority of property seekers look for listings and realtors on their phones? Do you know that many of them find the property they will buy on their phone? Whether they are impressed by images, find the right price, or enjoyed the virtual tour, these people are too numerous for you to miss out on. 
We can't emphasize enough how important mobile optimization is for your SEO, but also for generating leads for your business. Many of the people who'll get to your company in some way will use their phones. So, optimize your website and make sure that they don't experience any issues during their user journey. 
3. Final Thoughts
Before we wrap this up, it's very important to remember that not every method in this list will work for you. Chances are, you won't have the time to focus on all of them – or invest in all these strategies for generating leads.
The idea is to pick things that you believe can benefit your specific business, clients, and listings. More importantly, you need to stick to what you choose – and be consistent with your marketing. 
If you decide to create two types of content to promote your services, make sure to invest enough time and effort into making them top-notch. If you want more referrals for your business, don't settle for the customers that just decided to leave you feedback. Take action – book a demo with Trustmary and get professional help at obtaining more testimonials.
4. FAQ
What types of leads should I aim to attract as a realtor?
If you are looking to work in this industry, you should focus your efforts on attracting both seller and buyer leads. You need both the people who sell the properties and the ones that are willing to buy them if you are to succeed in this world. 
Should I pay to get leads?
Hiring professionals to help you in your path toward obtaining leads is not a bad idea as long as you decide what strategies to pursue and how to pursue them.
Why is lead generation important to me as a realtor?
All the revenue you aim to get comes from customers. Every customer starts out as a lead. This means that lead generation is the key to your success since, without it, you have no business.