Would you like to learn how satisfied your customers are with your brand? To help you with this, this article will go over in detail the best practices for customer satisfaction surveys.
Customer Satisfaction Survey Defined
To deliver the outcome and experiences that customers expect of your business, you must start at their needs. How else can you provide to the customer what they need if you don't know what it is?
There's very little that can be done with guessing. You can base something on the research of the competition and the market in general. Still, the most important information about your customers must come from them.
That's why businesses these days implement customer satisfaction surveys.
A customer satisfaction survey will help you understand how happy people are with your brand. It will show you their likelihood to return, buy more from you, and even recommend your brand to others.
In this sense, the information you'll obtain through different customer satisfaction surveys will help you increase the return rate, boost customer loyalty, and convince more people to spend money on your brand.
Before we delve into how these surveys work and how it is best to look for customer feedback, let's see what customer satisfaction is all about.
What is Customer Satisfaction?
This is a broad term that can be affected by anything that happens during the customer journey.
Think of it this way. When you go to a restaurant, there are plenty of things that can affect your impression. It starts with how easy it was for you to find the restaurant, to how well you were welcomed in it, to the quality of food and the speed of service, to the cost and value of your meal.
If these things went well and you had a good experience, you'll likely want to go back. You might even decide to recommend that restaurant to others.
This makes customer satisfaction the most important link in the chain that is business success. The path from feedback to customer-driven growth is a certain way to make a business succeed as long as you know what to focus on.
In that sense, customer satisfaction surveys are feedback forms that help you establish how happy or unhappy people are with your brand at a given point.
Why Are Customer Satisfaction Surveys Important in 2022 – 7 Reasons
These days, only the companies with outstanding products and customer support win the trust of customers. This is a customer-centered world where the main goal is to meet the expectations of those who buy from you.
By using customer satisfaction surveys, businesses can better understand the level of customer experience. These surveys are used to detect the areas that need improvement, as well as learn more about the demands and needs of the buyers.
Let's take a look at the reasons why satisfaction surveys are important in 2022. 
1. Help You Gain Valuable Feedback
The answers you'll get in your surveys will tell you about any concerns related to your brand, product, and services. You'll get a great opportunity to see how people perceive your offering. A lot of the time, businesses aren't fully aware of the experience of their users. 
2. Show the Customers That You Value Their Opinion
Microsoft's report shows that 77% of consumers will view a brand more favorably if they proactively accept and request customer feedback. This shouldn't come as a surprise. After all, people these days love brands they can trust and connect with. What better way to show them that you value their opinion than to ask them for it?
3. Help You Determine the Areas of Improvement
A customer satisfaction survey does not necessarily indicate that your business is good or bad. Customers can have a split opinion. They can like your product and find its value, but be unhappy with the customer care you're providing.
Why is this important? Wouldn't people buy from you if they like your product regardless of the support?
The answer is no in many cases. According to Zendesk, 40% of customers base their purchase decision on the quality of the customer service. So, if your brand has a similar product to other brands, but their support is better, they'll choose them instead. 
Either way, you need to know this to take actionable steps and fix the situation. Customer satisfaction surveys are a great way to reduce customer churn and fix the area in your business that requires your attention. 
4. You Can Use the Data to Source New Product or Service Ideas
Surveys aren't not only about testing customer satisfaction with your brand or product. 
They are also very useful in determining what buyers would be interested in. You can ask questions that will show you what kinds of goods or services your target audience might be interested in. This way, you can work to create something that you know that your target audience would like instead of basing your future products on guesses.
5. Give You a Better Understanding of Your Customers
You might know what your customers like based on their communication with your support, past purchases, online trends, and more. However, the people who best know what your buyers want are the buyers themselves. 
Most of your customers won't volunteer to give you this important information. Many of them won't leave feedback without being asked to, or sit down and tell you all about their customer journey. 
This is where your job begins. With a good customer satisfaction survey, you can obtain important information about your customers, their needs, expectations, and demands.
6. Help You Maintain Strong Relationships and Customer Loyalty
Healthy communication with your customers is vital to your relationship with them. Today's world is highly focused on the digital, which is why it is your job to create communication opportunities with your buyers. 
If you reach out to buyers about new products or services, check with them if they like your business' work, and work on building a stronger relationship with them, you will form long-term customer loyalty for your brand. 
7. Reduce Bad Word-of-Mouth
Did you know that, on average, it takes 40 positive testimonials to outweigh 1 really bad one? When your customers are unhappy and have a bad experience, they won't shy away from sharing it with others. If you ask them directly about it and show them that you are really willing to find a solution, chances are they'll give you a second chance to improve. 
Not to mention, if you take action to improve the experience of customers based on the data you collect, you can avoid bad word of mouth in the future. If you want to succeed in today's market, you should never, ever underestimate the power of social proof.
5 Best Practices for Customer Satisfaction Surveys
The time has come for some actionable tips. Now that you know how important customer satisfaction surveys can be for your business, let's focus on what you can do to make these great. After all, the quality of your customer satisfaction survey is vital if you want to get accurate, actionable data to improve your brand's image. 
Here's the outline. Let's dive in deeper to the different phases.
1. Research and Segment Your Customers
It all starts with the customer. Who is your customer? What do they need? What do they want? What do they expect? How do they want it delivered?
To improve the customer experience, you must start by understanding who these people are. In that sense, there are two main distinctions: economic buyer and service user. 
The economic buyer is a person who makes a purchase – as broad as that. This might or might not be the person who will use your product or service. They might be using it with others or buying it for someone else.
Next comes the service user. This might not even be the economic buyer i.e. someone else might have bought the product for them to use from your brand. These are the people who will test and try your product or service, so their experience will have the biggest impact on the buyer's future opinions. 
It's simpler than it sounds. 
Take, for example, Netflix. A single Netflix account can be used by different people. Parents can purchase the subscription, but their kids can also be the service users. If the kids are unhappy with the service, they can influence the parents' decision to further use or recommend Netflix.
Why is segmentation important?
Naturally, you want to aim your product features and options to those who will end up using them i.e. the service users. However, since the economic buyers make the finance-related decisions and hold the purchasing power, your cost-value decisions should be based on them.
Creating customer satisfaction surveys can help you a lot in determining who your audience is and what they need. Based on the information you find in the answers, you can segment or group your customer base to better tailor your future strategies. 
There are many different segments that you should consider when analyzing the customer satisfaction score.
These are:
Happy vs. unhappy customers (this is the most general differentiation that includes all recipients)
Promoters vs. detractors (this shows you what type of feedback you can expect)
One-time customers vs. loyal buyers
When you collect the customer satisfaction data, you can use it to form different strategies for different customer segments. Tailoring your marketing and products to meet the needs of different buyer personas is how you attract more people toward your brand. 
3 Ways to Use Customer Segmentation Data
How does segmentation help you in boosting your brand's success and why is this an important thing to consider when creating customer satisfaction surveys?
Let's take a look at the answers.
1. Grow Your Brand
One of the differentiation for your customers was that for promoters and detractors. NPS surveys are a great way to find out who in your customer database is a detractor and who is a promoter. Read this guide to better understand NPS surveys and the results they offer. 
Based on the customer satisfaction score from NPS surveys, you will get your promoters and detractors. You can then create personalized strategies to encourage those who are happiest with your brand i.e. your promoters to spread the good word about your business. 
If people give you great customer feedback, this doesn't instantly mean that they'll go around sharing testimonials and giving recommendations. Very often, they'll need a bit of a push. This is why you should leverage the segmentation data and launch referral programs, memberships, and special treats for your potential brand promoters. 
2. Increase the Number of Testimonials
One of the most popular NPS alternatives for data collection these days is CSAT surveys. These surveys determine how happy or unhappy your customer is with your company. CSAT surveys are frequently used to segment customers based on their satisfaction levels. 
But, what do you do once you measure customer satisfaction with CSAT surveys?
Let's say that you found your happy customers. If you check, you'll see that many of them haven't left a testimonial on your website, your social media channels, or spoke about you on third-party websites and forums. 
Since they've liked how you handled their requests and purchase, there's no shame in reaching out to these survey respondents and asking them to leave some testimonials for others to see. 
Did you know that 9 out of 10 people will read testimonials about a brand before they make their final purchasing decision? Quality testimonials from satisfied customers are the best way to build brand credibility these days. 
3. Use It for Experience Personalization
Customer satisfaction surveys provide businesses with an amazing opportunity to personalize the user experience across the customer lifecycle. This is why we aim to learn as much as possible about our customers. 
Customer segmentation that's based on attributes like demographics and psychographics can give you tremendous insight into how to personalize the experience of your buyer personas.
Once you have segmented your buyers into groups, you can gauge their satisfaction levels to design a more personalized experience for your survey respondents. 
Let's consider an example – that of Lego. 
Lego has an incredible market segmentation strategy that helped them become one of the largest brands for toys in the world. The company collected data on customer feedback and behaviors to better understand the audience. NExt, they segmented the customers based on this data into a total of 6 groups. For each of those groups, Lego created a separate personalized strategy to attract, retain, and engage.
Real-Life Example: Lego's Segmentation Strategy Explained
While it is all up to you how you'll segment your audience, Lego did this based on usage and purchase rates. It goes something like this.
| | |
| --- | --- |
| Lead users | The company actively engages with this group of people on product design |
| Connected community | People who have purchased something from the company, has visited one of their stores and other establishments such as the LEGO park |
| 1:1 community | The company knows the names and contact details of these people and can easily reach out to them |
| Active households | People who have made a purchase from the company in the last year |
| Covered households | People who have purchased from the company only once (this can be in the last year or earlier) |
| All households | People that have never purchased from the company, but the company aims to attract and reach out to |
If you look at this table, it's quite obvious that the same strategy won't work for people in the "All households" category and those in the "Active households" category. In the first case, Lego attempts to first reach out, then engage the audience to convince them to make their first purchase. 
In the second case, Lego is attempting to retain the customers and keep them satisfied with the brand. They create a strategy that boosts customer loyalty. 
Whilst Lego can ask customer satisfaction survey questions such as: did you like our product to the people in the Active households group, they cannot do this for those in the All households group.
Also, the customer satisfaction survey questions that Lego will ask those in the Active households group can differ greatly from those they ask the Covered households group. 
As you can see, segmentation of your customers is a vital first step in creating your customer surveys or forming new strategies for your business. 
2. Decide on the Type of Survey You'll Be Using
There are different kinds of customer satisfaction surveys you can conduct to get useful data for your business. The type of customer satisfaction survey must depend on your goal. Do you want to ascertain if the customer is loyal to your brand, or do you want to learn if they are happy with your customer service? Are you interested in seeing how your product meets the needs of customers?
Each type of customer satisfaction survey will provide you with unique insights. This is why picking the right type of survey is crucial if you want to get the answers you're searching for.
The most frequently used surveys by businesses to track and analyze customer satisfaction today are:
1. Net Promoter Score (NPS)
As we mentioned previously, this survey type is used to ascertain the general satisfaction level of your customers concerning your business' offerings. This is a very swift survey where users are asked a straightforward question and given a choice between 10 (1-10) or 11 answers (0-10).
Let's take a look at some NPS customer satisfaction survey examples now. This is what most NPS surveys look like.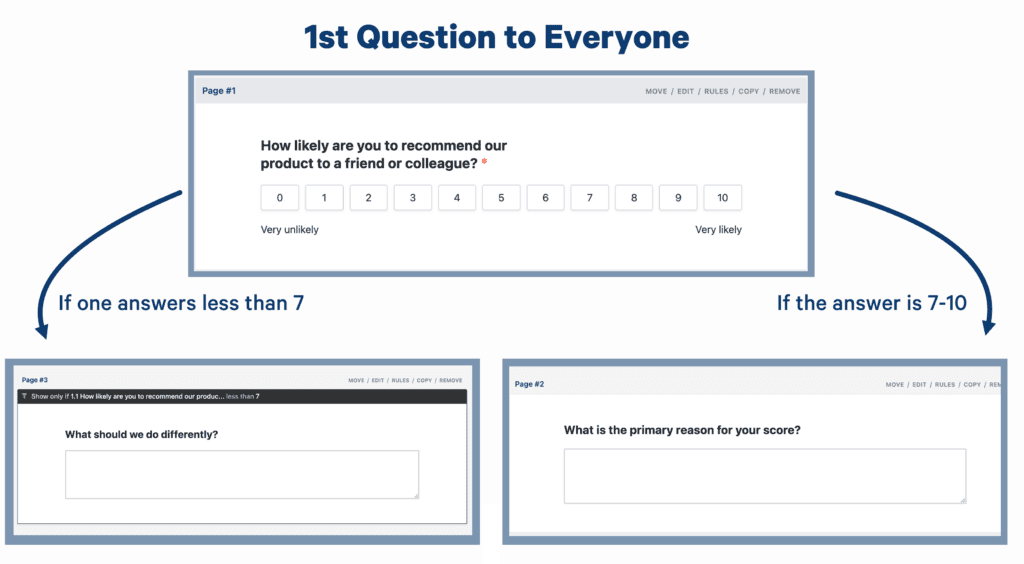 When you get the answers to this survey, you can separate the respondents into different categories. The main categories are the detractors and promoters, while you'll also have a group of people in the middle.
Those in the middle aren't necessarily detractors, but it is also unlikely that they'll promote your brand. They are also very easy to sway toward a different brand since their opinion of your company is neither bad nor great.
When to Conduct NPS Surveys
This type of survey is good to conduct if you want to learn whether or not the customers are content with your business, product, or customer service in general. You won't get any specific information from them in this case, but you can figure out how many brand advocates you have.
2. Customer Satisfaction Survey (CSAT)
This type of survey is used to measure the satisfaction level of your customers with your products and services. In other words, it will tell you how content customers are with what you've provided to them.
If you compare this to the NPS survey we discussed above, it is rather similar. In this case, though, you are exploring the satisfaction level instead of looking for promoters or detractors.
When you use a CSAT, you'll be asking customers to choose between different numbers. In most cases, it is between numbers from 1 to 5. One refers to 'highly unsatisfied', while 5 refers to 'highly satisfied'.
Or, it can appear in the form of emojis.
When to Conduct CSAT Surveys
This type of survey is amazing when you want to learn how many people are unhappy with your brand. You can later proceed to ask them what made them unhappy with your offerings, and do your best to convince more people to choose the higher numbers on the scale.
3. Customer Effort Score (CES) – Different Types Explained
The CES survey tells you how much effort it takes a customer to interact with your support, purchase your product or services, or use what you're offering. If you make the process difficult for them, this can seriously affect their customer satisfaction – and in a very bad way. 
Just imagine this scenario. You go to an online store and find a product you want to buy. You add it to your cart and proceed to buy it. The website asks you endless questions and has many hoops for you to jump to confirm your identity, confirm that you are human, confirm your email, and much more. 
In the end, this turns out to be more of a hassle and less of a great product find. In such cases, many of the customers won't stick around to purchase the product. Those who stuck around will probably look elsewhere the next time they want to buy the product.
According to the Harvard Business Review, 94% of customers are willing to re-purchase from a brand that requires low effort to get this task done.
To conduct a customer effort score survey, you need to ask questions like:
But, that's not the only customer satisfaction survey design method for the CES forms. You can also go at it another way:
When to Conduct CES Surveys
CES surveys are aimed to give you customer feedback after the person in question has completed a purchase or any other activity on your website. Naturally, you can't ask them about the complexity of the ordering process when they haven't ordered yet. You also shouldn't wait for too long, considering that people might forget about the process if a lot of time has passed. 
3 Different Types of CES Surveys
There are many sub-types of CES surveys. Here are the three most common.
1. Post-Purchase Survey
Just as the name tells you, this type of customer satisfaction survey is sent after customers used your service or bought your products. These forms determine the customer experience right after or a certain amount of time after the customer's action.
The post-purchase survey is very different from the NPS survey. While the NPS surveys aim to get a broader picture of the customer satisfaction, the post-purchase survey is more concentrated and explicit on the interaction between the customer and your company.
In most cases, post-purchase forms have an open-ended question like:
"Are you satisfied with the product you bought from our service?" 
The options for answers can also vary but, in most cases, they are similar to those of CSAT survey (from very dissatisfied to very satisfied). 
When to Conduct Post-Purchase Surveys
You should create post-purchase surveys to discover 3 aspects:
Quality of the checkout process
Quality of your products or services
Quality of your support service
2. Product Development Survey
Marketers sometimes define the product development survey as 'concept testing' because it is conducted right in the start before the product is launched or as soon as it gets out on the market. Naturally, you don't want to spend a fortune on a product that you aren't sure your audience will like.
This is why product development surveys are executed – to test the potential customer satisfaction and see if people like the idea of your new product or service. 
This survey is a bit more complex to create and execute. To do this, you need to show the participants a model of the product you have in mind. You can send them a sample or, if possible, send them the model online. In addition to the product, you need to tell people about the price. 
Once you do this, you can freely ask questions about your product idea. 
When to Conduct Post-Purchase Surveys
When you have a ready idea and possibly a tangible product that people could use and have their opinions on, it is time to conduct a product development survey. 
3. User experience (UX) or usability survey
UX surveys will tell you how simple it is for your customers to use your product, service, and other solutions and features you are offering. You can ask all sorts of questions with this type of survey. Some ideas are:
In addition to this, you can ask some demographic questions to see who is using your product or service, as well as ask them why they decided to purchase that exact product. 
When to Conduct Usability Surveys
Usability or UX surveys are mostly used on websites and for apps when you want to understand how easy or difficult it was for people to navigate them or use your services.
3. Decide on the Nature of the Questions You'll Be Asking
Conducting customer satisfaction surveys indicates that you'll be asking respondents some questions. But, do you know what kinds of questions you'll add to your survey? The type of customer satisfaction feedback you'll get depends firstly on what you are asking and secondly on how you'll ask it. 
First, let's take a look at your options for what you can ask in a customer satisfaction survey. 
Questions Related to Demographics
Demographics play a big role in your marketing and sales strategies and will tell you who your buyer personas are. If your survey goals include gathering information to do a statistical analysis of your target audience and get to know them better, you need demographic questions.
These are often personal questions, so you should approach them with caution. You can never be sure how customers feel about answering such personal questions, so make sure that they know the answers are optional. 
Questions Related to Product Usage
Let's say that your goal is gathering feedback about the products your brand sells. Even though this can be tempting, you can't ask endless questions to measure customer satisfaction and cause survey fatigue in the respondents. 
That being said, pick every survey question carefully to minimize the number of questions asked. Here are some examples of such questions to ask:
Questions to Test the Satisfaction Level
If you want to learn whether or not the customer's experience was positive, you need to ask these types of questions. In these cases, it is wise to decide on a quantifiable method to analyze their answers. In many cases, companies use Likert scale questions to test satisfaction levels. 
Longevity Questions
Lastly, to measure customer loyalty and test their satisfaction levels, you need to create follow-up questions after the participants have used your products and filled out a survey. These questions often come after other types of questions like the ones we listed above. Some examples are
4. Figure Out What Type of Question You'll Ask
Now we've come to the point where you have to decide how you'll be asking your survey question. This relates to the type of survey question you decide to ask. Let's take a look at your options. 
Multiple-Choice Questions
Multiple-choice survey questions limit the answers that your responders can give. These are easy to analyze and require very little effort on behalf of the customers to complete the survey. These can come in different patterns that include the following:
| | |
| --- | --- |
| Binary scale questions | Limit of two responses per question – usually looks like this: yes/no |
| Rating scale questions | These depend on a scale for grading customer satisfaction levels (NPS and CSAT surveys are an example of this) |
| Likert scale questions | In most cases, the Likert scale is a 5 point or 7 point scale. It usually goes between 'strongly disagree' and 'strongly agree' |
| Nominal questions | These have different classifications of answers. Respondents can choose several options or even an option 'all of the above' |
| Semantic differential questions | These are similar to the Likert scale questions in terms of the 5 or 7 point scale. But, they require more descriptive answers |
Open-Ended Questions
Unlike multiple-choice questions that limit the answers of the respondents, these queries give the respondents more liberty to write their answers. They are more demanding and time-consuming for the respondents, so in most surveys, their number is limited to avoid overwhelming the customers.
5. Find the Right Timing for Your Satisfaction Survey
Once you determine what your customer satisfaction surveys questions will be, it's time to put them to action. However, you first need to decide on the proper timing to send out your surveys. 
The proper timing depends on several things including the product or service type, the number of customers you're sending the survey to, the frequency and longevity of your interactions, as well as the purpose of the survey. 
To help you make this decision, let's take a look at some good options. 
Post-Purchase Evaluations for Measuring Customer Satisfaction
These evaluations will reflect the satisfaction of your customers shortly after the product delivery. These are typically used as part of VOC or Voice of the COnsumer and CRM or Customer Relationship Management systems. 
At this point of the customer journey, you can ask people how they liked your service and if you've given them a chance to test the product, see if they liked it. They are also great for customer and client retention since they secure a long-term relationship with customers.
Periodic Surveys for Measuring Satisfaction
As the name tells you, these surveys are sent out at different points of the customer journey. They provide you with 'snapshots' of their experiences and are sent to specific groups of customers who agreed on the longevity questions.
Continuous Tracking to Measure Customer Satisfaction
These are very frequent surveys and, because of it, they are often the simplest to complete. Surveys like the NPS are great at benchmarking satisfaction at different stages of the customer experience. They are conducted when the customer buys the product, every time they speak to a customer service representative, every time they get a response via email, etc. 
Final Thoughts
Customer experience surveys are a brilliant way to gain customer insights. The survey feedback can help you boost customer retention, increase customer happiness, and learn more about how to improve your brand. If you want to meet your customer's expectations, it all starts with learning what they are. So, decide on what types of questions you'll ask, work hard on the survey design, and make sure to really use that feedback data to improve. 
Chances are, you will need some help with this, especially if you plan to do it regularly. You can't just send out survey requests without thinking it through. Luckily, some professionals can help you create the perfect surveys with the perfect design. Book a meeting with Trustmary and entrust this in the hands of professionals.
FAQ
I want to see if my product was a success. What type of survey should I implement?
If you want to get a general idea of whether or not people liked your product, you should use a CSAT survey or an NPS survey. If you want more detailed answers, you should consider asking open-ended questions. More about this can be found on our product survey: do's and don'ts.
Can I mix different types of questions in my online survey?
Of course, you can! Many surveys mix open-ended questions with multiple-choice questions. The goal is to get as much useful insight as you can without overwhelming the customer. 
How do I decide on the corresponding survey scale for my surveys?
This depends on many factors such as your products, your goals with the survey, as well as the point of the customer journey when you wish to send out the form.
Will I always get accurate feedback in my surveys?
Not necessarily. This is why you must be as clear as possible with your questions, and look at the answers objectively.