Your Guide to Using Testimonials for Marketing
What's the first thing you do before buying something online?
Let me guess…
You read reviews and look for testimonials.
What's the difference between reviews and testimonials, you might ask.
Well, in a nutshell, testimonials are basically positive reviews. However, testimonials tend to be a bit more elaborate and include more information than reviews.
In other words, all testimonials are reviews, but not all reviews are testimonials. Only the positive reviews are!
Now that we know what we are talking about, let's speak about the importance of testimonials and positive reviews in marketing.
Testimonials and Reviews Are Extremely Effective
Testimonials play a significant role for all businesses, regardless of industry, that are looking to acquire customers and sales online.
However, they are especially crucial in the eCommerce ecosystem. Imagine yourself as a customer: You don't know the business, and you cannot touch the product you're buying, which means that the risk of the business not meeting your expectations is extremely high.
That is the reason why consumers prefer reading testimonials to get a hint of what they should expect.
Bright Local consumer review survey revealed that consumers read 10 reviews before they trust a local business and 86% of consumers read reviews on the internet.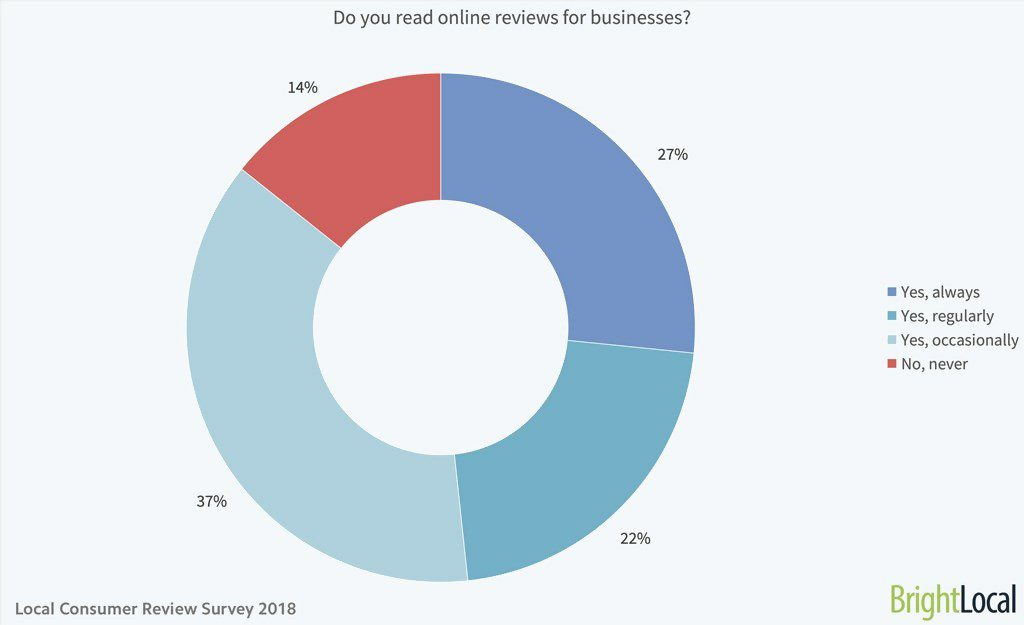 According to BigCommerce, customer testimonials can increase conversions by 58% and raise the average order value by 3%.
Interestingly, testimonials also increase revenue per website visitor by a whopping 62%.
In the case stories we have conducted, we noticed that:
Testimonial popup can increase contact requests by over 60%.
Long testimonials get 14% more leads than short reviews.
Video reviews boost sales 20%.
Amazing, right?
When used right, testimonials can improve your brand's image, credibility, and authority to a great extent. But what makes testimonials so powerful?
And importantly, how you can capitalize on the amazing power of testimonials?
This guide will cover everything.
Want to get a head start on using reviews and testimonials? Try Trustmary for free! 👇
Testimonials as a Marketing Tool
Yes, testimonials are powerful and the number one reason that makes them so awesome is that they build trust. Because it's not YOU promoting your products and talking about the benefits, rather it's people who have used your product to solve their problems.
There is a massive difference between when you promote your product and when someone else talks about it.
The Bright Local survey found that 91% of consumers trust online reviews and consider them as personal recommendations.
It isn't, therefore, surprising that marketers rate testimonials as one of the most effective marketing tactics.
When a lot of people talk about your brand positively and there are tons of positive reviews, consumers start trusting your brand.
And when they trust you, everything else becomes history. Trust and credibility fuel business growth.
People will buy from you. They will stick with your brand. They're more likely to convert to loyal customers. And they will talk about your brand with friends and family.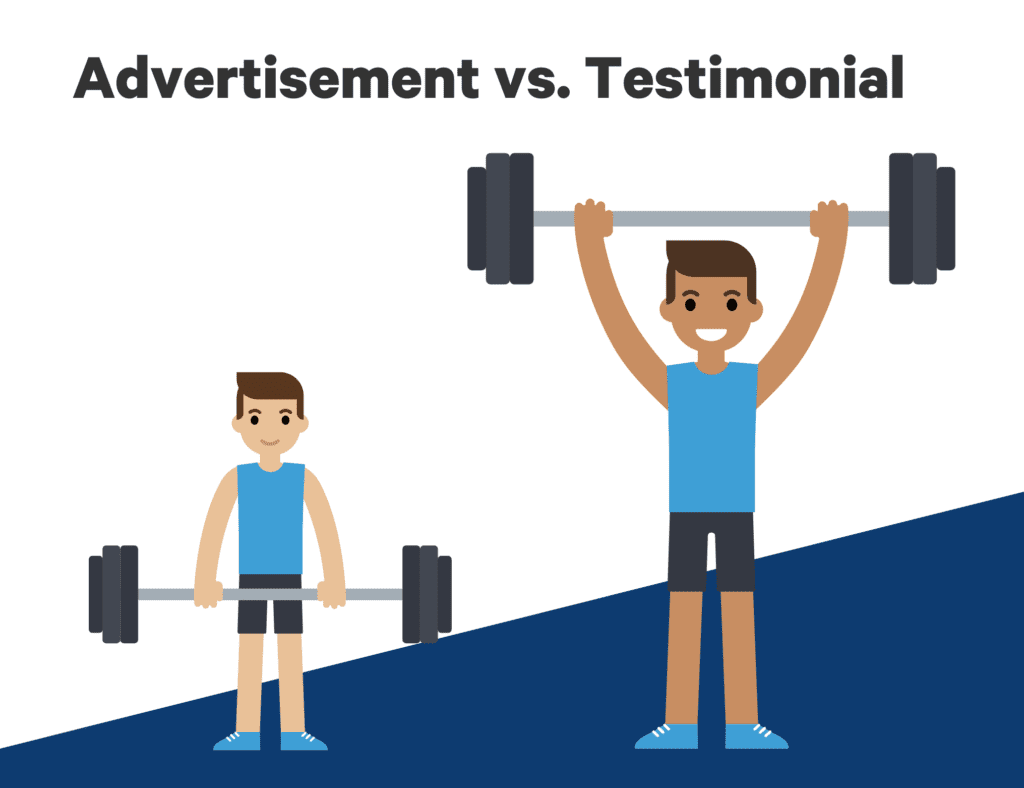 It doesn't just end here, there are several other things that a testimonial can achieve for your business:
Consumers connect emotionally to testimonials for the fact that they can relate to them. Testimonials are shared by real humans and that's another reason why consumers connect emotionally to them.
Storytelling is naturally embedded in testimonials. After all, customers share their stories of how your product helped them solve a problem. Storytelling has an impact on the human brain as it creates dopamine which makes it easier for us to remember things.
Testimonials are exceptionally good at building brand awareness. Even if readers don't convert after reading a review, they will still remember your brand. Over time, when they will see several people talking about your brand, it will improve your brand's image.
That's exactly why review marketing should be in your repertoire.
How to Use Testimonials
There isn't any single best way to incorporate testimonials in your marketing strategy. You need to use the right testimonial type at the right place with an appropriate strategy to make it work.
1. Landing Page
There isn't anything better than using a landing page to showcase customer testimonials and reviews. It is the best way to build trust and show visitors what you're claiming is actually true.
Here's how Prince Men's Wear clothing store uses customer testimonials on its website: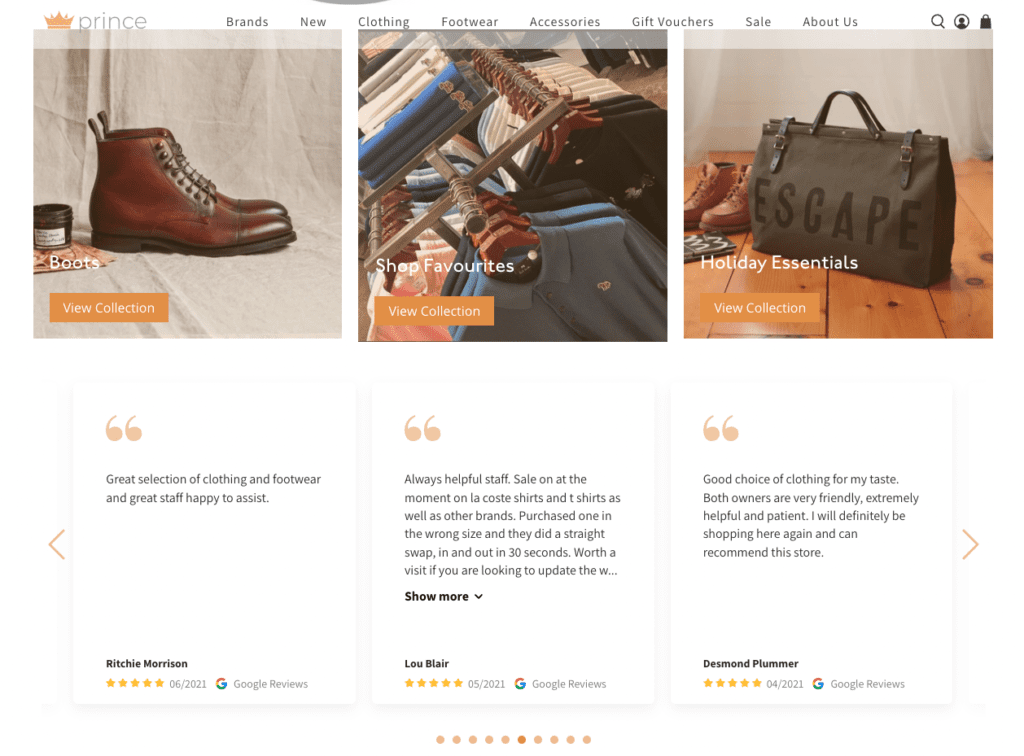 Using testimonials on a landing page gives visitors a reason to convert. Add multiple reviews and testimonials of all types including quotes, success stories, influencer reviews, and more.
Make testimonials relevant to the landing page to boost the conversion rate. If you have landing pages that feature a specific product or service, you should aim to display reviews that are connected to the topic.
Try to step into your prospective customer's shoes for a minute and see what they are thinking, and how you could provide them with answers through customer testimonials.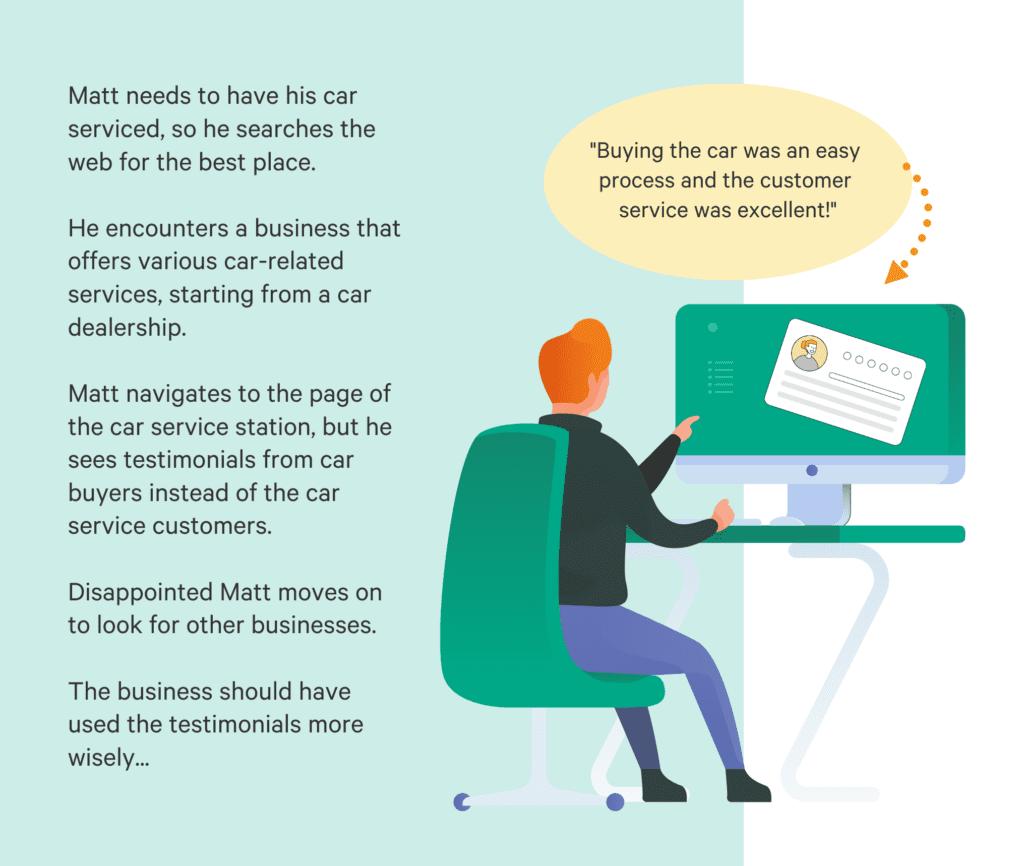 Other places where to place testimonials on your website:
Home page
Checkout /pricing page
Next to CTAs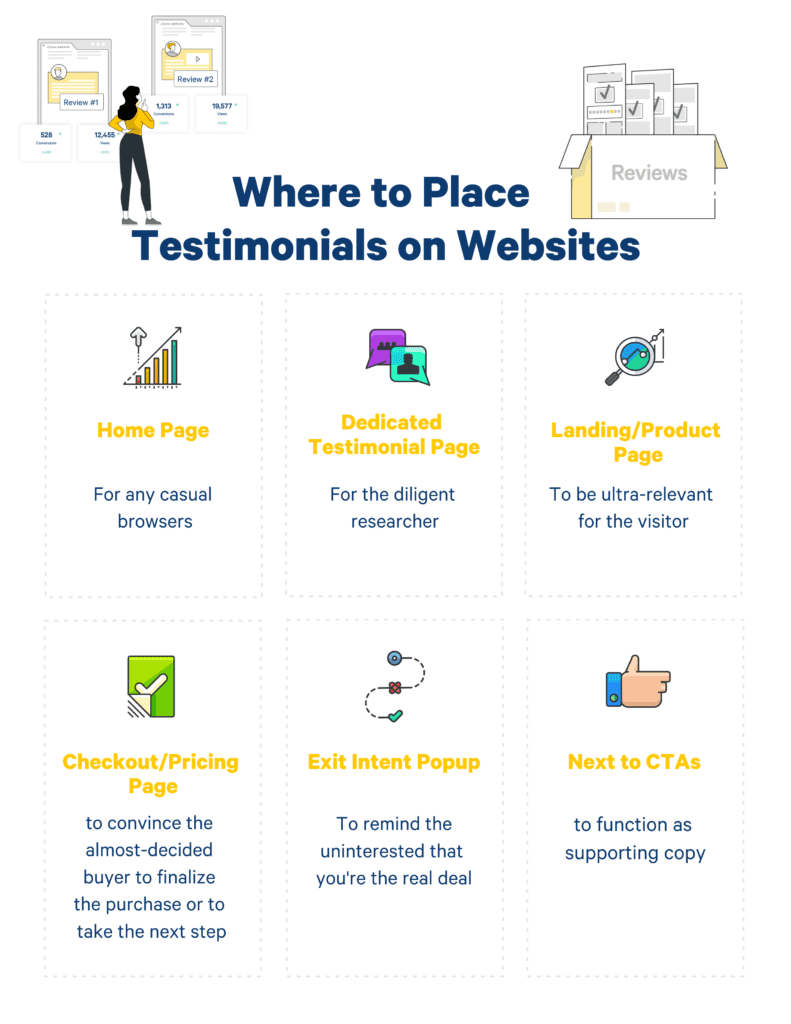 2. Testimonial Page on Your Website
A testimonial page on your website is a great way to impress visitors.
For example, Radientum has a dedicated References -page where they display a collection of customer testimonials.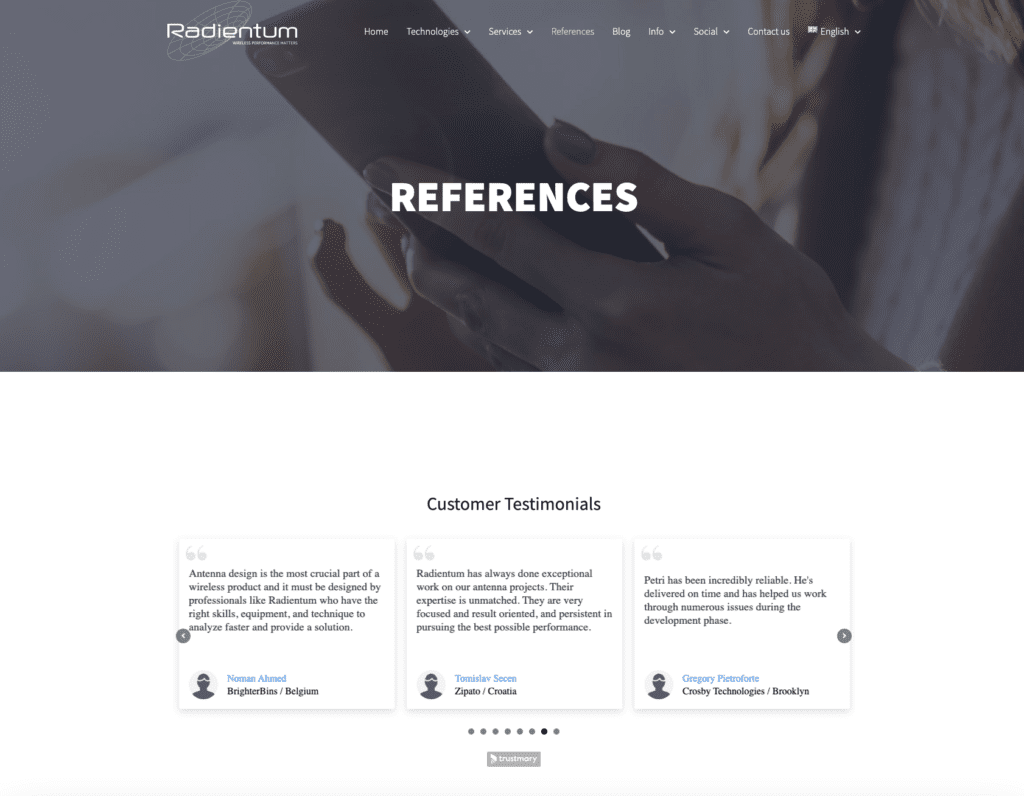 Visitors expect to see reviews posted by previous customers when they visit your website for the first time. They need proof. They want to listen to it from someone else instead of you.
A testimonial page will help you meet visitor expectations. It will answer a lot of questions that they might have and is sure to build trust.
If you decide to include a whole page for your testimonials, opt for a large number of different kinds of testimonials!
Unlike landing pages, where you want to show highly contextual reviews, the dedicated page calls for testimonials and reviews that offer various perspectives: your service, expertise, trustworthiness, customer service, and other aspects.
Include reviews from different kinds of people, so that everyone can find someone relatable to listen to.
With Trustmary, you can choose the right testimonials and add them to any part of your website with a single line of code.
3. Email Marketing
Sending product-related testimonials to leads and existing customers via email is yet another great way to generate revenue.
For example, you can promote cross-sells and upsells via email to existing customers with appropriate reviews. This will persuade customers to opt for the upgrade.
This is a perfect way to convert customers into repeat customers and boost engagement.
See how Shape FX sends testimonials via email to boost sales.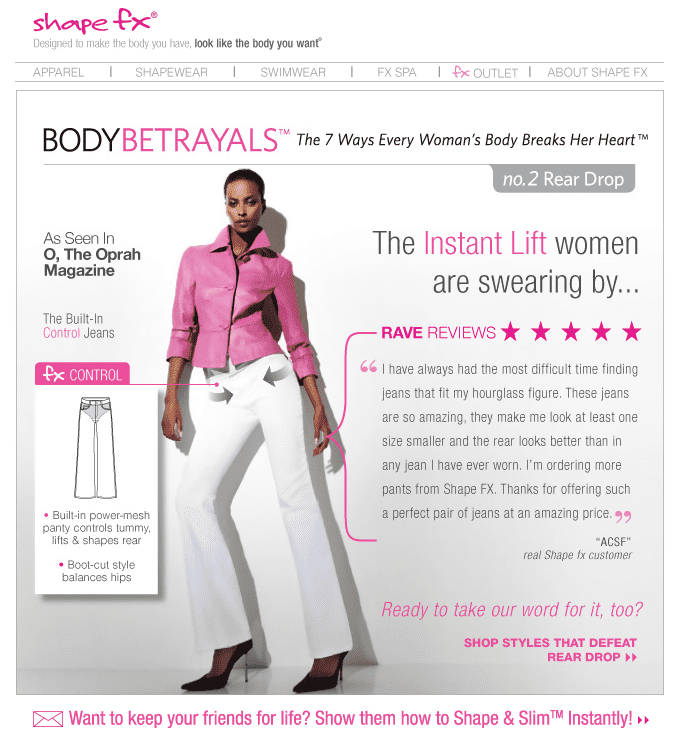 That's a great example from consumer marketing, but the tactic works for other kinds of businesses, too.
For instance, SaaS companies use reviews to convert free users to paid customers by showing them what existing premium customers are saying about your app.
This is an email that iContact sends out to its customers with a testimonial to persuade them to download the whitepaper.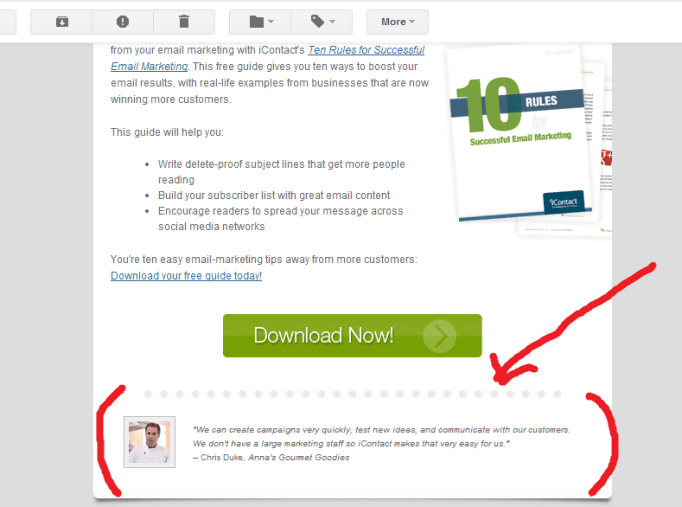 4. Case Studies
You can create a case study on each testimonial that you get. Consumers love ready case studies as these are highly actionable.
You can publish a case study on your website, use it as a lead magnet, or you can use it in your marketing campaigns.
In order to convert a testimonial into a case study, you should expand it. Clearly explain the situation before using your product and then explain how your product helped solve the problem.
Sumaya Kazi shared her personal case study on how she lost 50 pounds with intermittent fasting.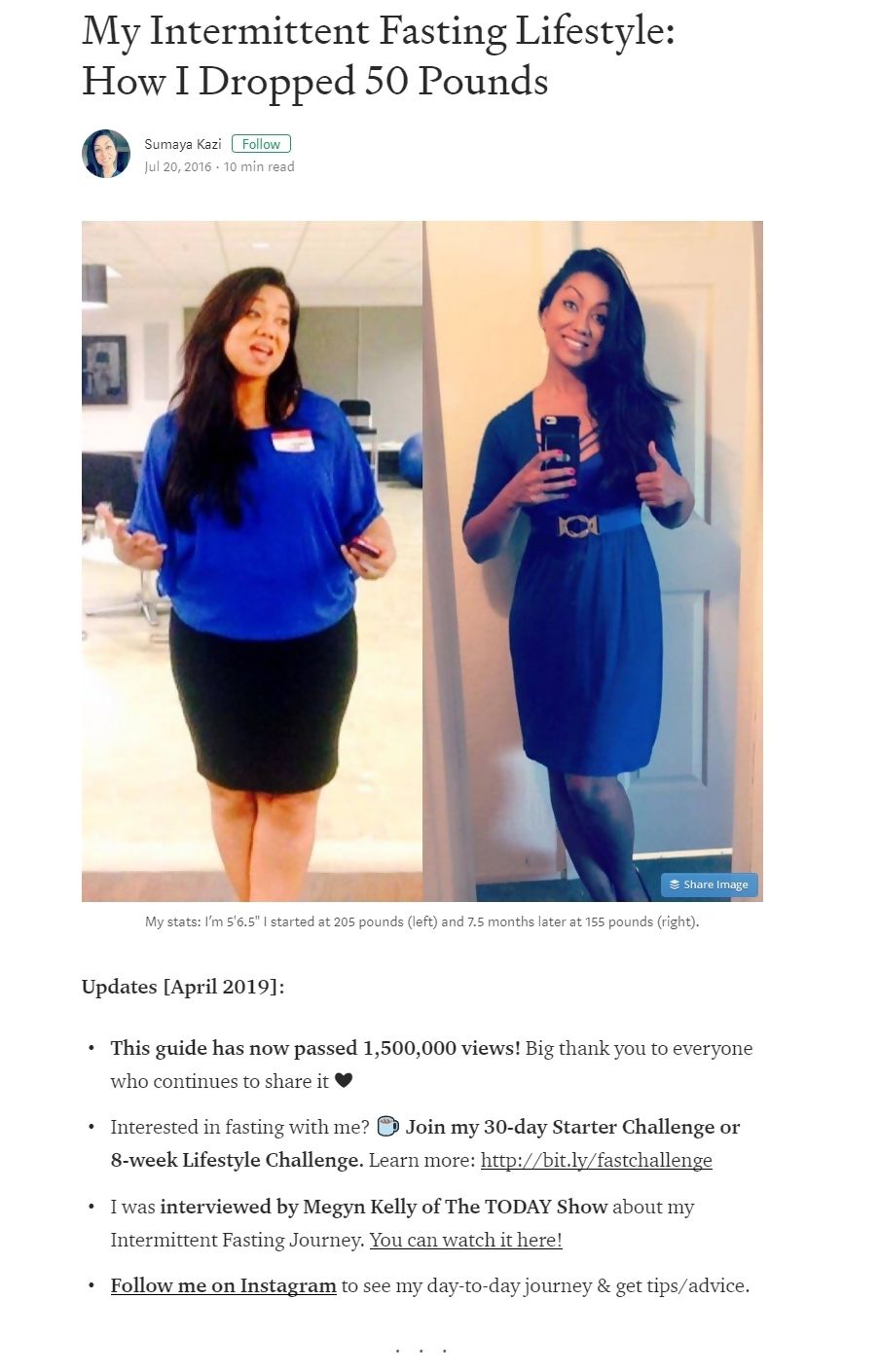 Since case studies are detailed, therefore, consumers prefer reading and sharing case studies. A case study is an advanced version of reviews.
The hard work that you put in to create a case study pays off.
5. Social Media
Share testimonials on social networking sites to engage with followers.
Here is a testimonial on Facebook.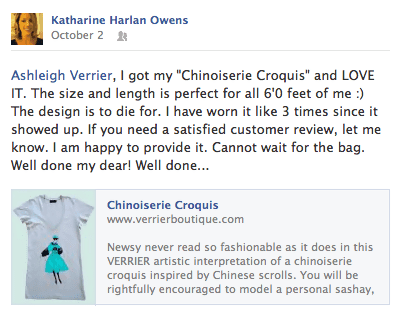 To make things better, you can promote your testimonial post to reach more people. This will work better than any ad campaign. Try promoting a review post on Facebook.
This works the other way around, too. If someone writes a positive comment about you on social media, you can ask to use it as a testimonial. Next, you just upload it to Trustmary and use it on your website!
Final Thoughts
There is no second opinion on the effectiveness of reviews and testimonials for marketing. They work for sure.
You just have to find the best ways to use testimonials.
Luckily, there are tools like Trustmary that help you do that!
Start leveraging the power of testimonials and reviews, and add your existing reviews to your website right away. It only takes a minute!
We can also help you in getting more Google reviews.
Further Reading