Managing Customer Experience: 4 Techniques to Level up Your Business
Managing customer experience is a challenging yet essential task. According to Forrester, businesses that focus on customer experience and are experience-driven have 1.6x higher brand awareness, 1.5x higher employee satisfaction, 1.7x higher customer retention, 1.9x return on spend, 1.6x higher customer satisfaction, and 1.9x higher average order value than their counterparts.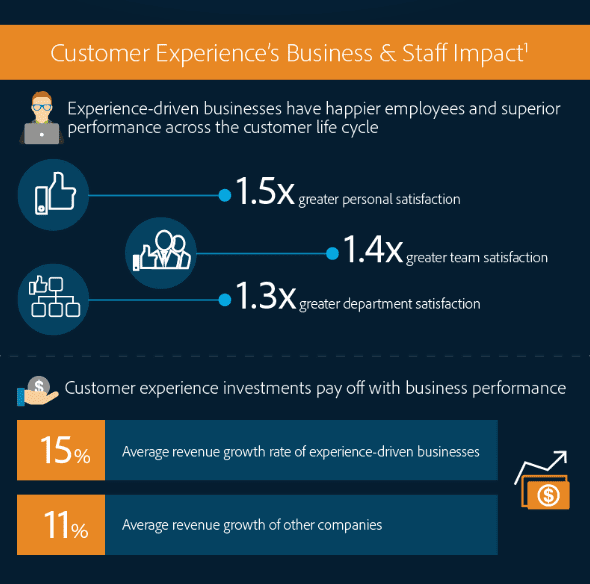 Customer experience either directly or indirectly impacts your entire business so it has to be managed and taken care of – always. Customer experience provides your business with a sure way to outperform your competitors.
Not sure how to manage customer experience? The following techniques will help you do it the right way.
(Pro tip: NPS is one of the best ways to measure your current customer experience and satisfaction. Try Trustmary for free!)
1. Set Clear Objectives
Customer experience begins by setting clear objectives and by defining a clear customer experience strategy – as in what type of customer experience your organization intends to offer.
The best approach to setting objectives is to have a clear statement that describes your business's approach to its customers. Here is an example of how some of the leading companies have defined their approach to customer experience: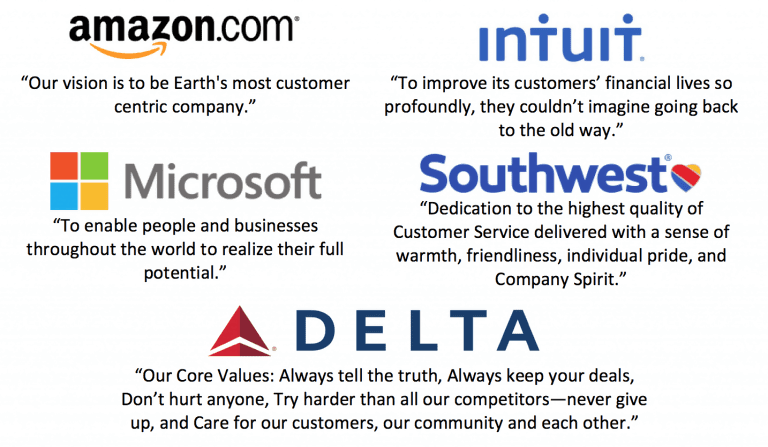 For instance, Amazon's core value is:
"Our vision is to be Earth's most customer-centric company."
It is their vision that's described in terms of customer experience. That's what you should do, to begin with. Define your vision and make it customer-centric. If you don't want to have a focus on customer experience in the vision statement, you can create a separate statement for customer experience.
It will serve as a guiding principle. It will show your employees the importance of customers and how they should interact with them. You can move a step further by defining clear commandments or rules that employees should follow strictly. For instance:
Great customers.
Apologize.
Offer further assistance.
Never say No to a customer.
Always thank customers.
A document that lists and defines the attitude and behavior of your employees and emphasizes the importance of customers will do wonders. It will streamline everything and managing customer experience will get a whole lot easier.
2. Understand Your Customers
You need to understand your customers as well as your target audience. This is one basic rule of managing customer experience. The more you know them, the better.
There isn't a straightforward way to understand your customers. You need to invest in market research, spy on your competitors, collect data, conduct surveys, and more. The starting point is none other than buyer personas.
Buyer personas show you who your ideal customers are, what their interests are, what they like, where they spend their time, what type of content they like, what social network they use, etc. When you have all this information, offering great customer experience becomes a whole lot easier.
If you don't have buyer personas created, you can use this free template to get started. You'll have to enter details about your customers and that's all. When you know your customers and target audience, it gets easier to offer them the experience they will love and managing customer experience becomes a streamlined process.
3. Collect Customer Feedback
An important part of managing customer experience is feedback collection. Real-time feedback from customers provides you with insights that help with decision-making. If you want to improve customer experience, you need to ensure that your decisions are based on customer's feedback.
For instance, if you're planning to add a video on one of the landing pages, you can ask visitors whether they prefer a video on the landing page. You can collect feedback before tweaking the landing page or you can collect it after embedding the video.
When you collect real-time feedback from your audience and customers, you can make changes swiftly. It helps you improve customer experience right on time when it's needed instead of letting customers wait for the change.
So you need to collect feedback across all the channels from your customers as well as the audience – and you need to take timely action. If you don't take action or if you don't take action on time, consider your money (and resources) wasted.
Make sure you don't end up wasting data collected.
4. Use Mobile
You can't ignore mobile when it comes to managing customer experience. As much as 63% of global mobile users access the internet from their phones. In other words, it's estimated that more than 50% of visitors will access your website from a mobile device.
Are you prepared for these visitors?
Managing customer experience on mobile is equally important. It all begins by optimizing your website for mobile devices. You need to make sure that your website loads seamlessly on mobile and it delivers the same or better experience than desktop visitors receive.
Here are a few practical techniques for managing customer experience on mobile:
Use responsive website design as it works best across all devices.

Improve mobile site speed. Your website on mobile should load really fast.

Make shopping experience on mobile easy. If customers can't place an order from a mobile device, they're most likely to switch.

Understand how customers interact with your website and brand from mobile and how it's different from the desktop (and other devices). Use this data to improve the customer experience on mobile.

Track and analyze everything. Use a powerful mobile Google analytics tool.
The mobile experience is different than desktop, and this is something you should realize and understand before anything else. It'd be best to create a different customer experience strategy for mobile. Considering these two experiences similar won't work. In fact, it might backfire.
Give mobile due important. If mobile traffic isn't doing well, it's not because it's mobile but it's because you haven't optimized the customer experience.
The earlier you understand it, the better.
Final Words
Managing customer experience becomes easier if you have a strategy and you and your team know what they're supposed to do. Clear written objectives will solve half of your customer experience problems. The techniques discussed in this article will do the rest.
At the end of the day, it all comes down to how well you know your customers. You can't put customers out of the equation. It's about them and their experience. So whatever you do, make sure you constantly monitor, track, collect, and analyze data about customers and audience. It will never fail to disappoint you.