Conversion Rate Optimization Audit Steps
A CRO audit is an easy process if you know what you must do. The following 6-step CRO audit process will make it straightforward for you to get started:
Set clear goals
Analyze traffic
Understand your audience
Test forms
Analyze design and UX
Craft CRO campaign
Step #1: Set Clear Goals
Setting clear goals for all the pages on your website and what role each page plays in the funnel and conversion is essential. If you have created goals in Google Analytics, you'll know what role each page plays in the funnel.
When you have clearly defined the objectives and purpose of all the webpages (or at least for ones that are important for conversion), you'll be in a better position to optimize the page for conversions. You'll be able to create meaningful headlines, CTAs, and other elements.
You need to define the purpose of all the webpages and set clear goals that you want to achieve from those pages at this stage.
Step #2: Analyze Traffic
After you have defined goals and objectives for important conversion pages, it is time to dig deep and analyze website traffic statistics. You need to analyze the traffic that's visiting those pages and see how relevant it is.
Check traffic sources to ensure you are receiving targeted traffic. This is a critical step in the CRO audit process because your website and webpages could be all well-equipped and fully optimized but if you are sending irrelevant traffic, your conversion rate will sink eventually.
For example, you are selling $19 men shoes and the traffic landing on this page is directed by an ad with headline "free shoes for men", your page will have a significantly low conversion rate and a high bounce rate.
Why?
Because visitors expect to get free shoes for men and as soon as they'll see a $19 price tag, they'll leave your website immediately.
Here is another example of how wrong traffic on the right webpage can ruin conversion rate: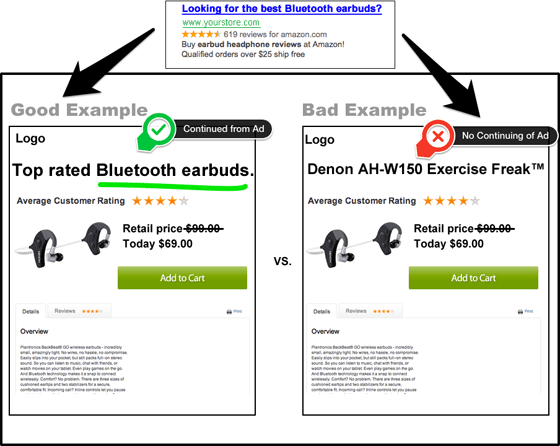 This is what makes traffic analysis a critical conversion rate optimization audit step. Find all loopholes and traffic-related issues that are hurting your conversion rate.
Step #3: Understand Your Audience
Having a clear understanding of your audience is essential for two main reasons:
You can target your audience easily using appropriate traffic sources
You can design landing pages appropriately, so your audience interacts and converts.
Having clear landing page goals and sending the right traffic on your landing pages might not work if your pages aren't designed based on your audience preferences.
You need to inspect if your traffic and audience use and interact with marketing pages according to the goals you have set. This means if you are sending traffic to a squeeze page having a form, the visitors must fill the form and convert.
This can be analyzed using Google Analytics, heatmaps, scroll maps, click maps, surveys, and behavior analysis.
Step #4: Inspect Forms
The forms you are using on your landing pages, squeeze pages, and other webpages play an important role in the conversion rate. Give special attention to forms.
Heatmaps, for instance, help you identify how visitors interact with your forms. If it is a long form, do they really move to the bottom of the form or leave your website after filling the first few fields?
Here is what research tells us about forms and conversion rate: Reducing the form fields to 3 guarantees a minimum of 25% conversion rate. HubSpot predicts that reducing form fields from four to three improves conversion rate by 50%: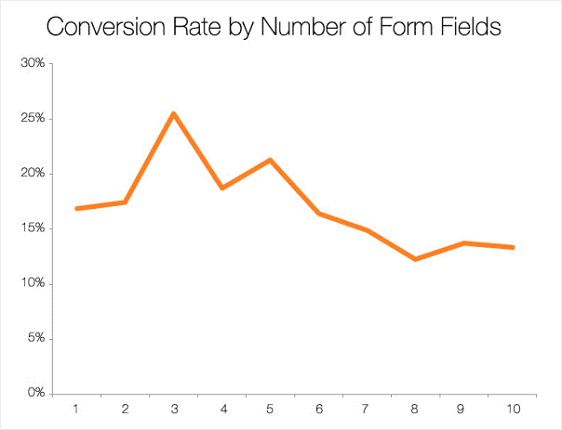 Keep form length and number of fields in mind when analyzing forms on your marketing pages as form size as a direct link with the conversion rate.
Step #5: Analyze Design and UX
Forms are just one part of the CRO puzzle, there are several others that need your attention. The website design, layout, and user experience are important factors that you need to critically analyze.
This is where scroll and click maps and session recordings will help you see how visitors interact with your website, where they spend the most time, how deep they scroll, what element they click, and what elements they don't click at all.
Here is a list of elements that you must test and analyze at this stage:
Above the fold
CTAs
Links and images
Scroll depth
Visitor journey
404 pages
Step #6: Create CRO Campaigns
Finally, you can now create data-driven CRO campaigns based on your conversion rate optimization audit report.
It is essential that you don't make any kind of changes during the audit process instead you have to analyze and report data in an easy-to-use format.
When you have the data, you can then create hypotheses and start with the experimentation process. You can create several CRO campaigns based on the audit you just performed.
Any CRO campaign that you'll develop at this stage must be backed by data you have collected and analyzed in the previous 5-steps. Use a CRO A/B testing tool (e.g. VWO) to create hypotheses and run A/B tests.